Zhaoxing Dong Village
Zhaoxing Dong Village, located in Liping County, southeast of Guizhou Province, is one of the largest Dong Villages in Qiandongnan area in Guizhou. Walking into Zhaoxing Dong Village, one will feel as though the clock is being turned back. All the buildings in the village are wooden-stilt houses. This is a picturesque village noted for the beautiful natural sights and unique ethnic flavor. It is surrounded by verdant mountains with a crystal stream running through.
| | |
| --- | --- |
| Panorama of Zhaoxing Dong Village | Archway in the Village |
The drum tower, being built of wood, is the distinguishing mark of a Dong village, that is to say, every Dong village has its own drum tower, and Zhaoxing is no exception. The tower represents luck and prosperity. In Zhaoxing Dong Village, there are five drum towers, which are known far and wide for their unique styles. Each of them has a particular name and virtue. These are Ren (benevolence), Yi (righteousness), Li (courtesy), Zhi (wisdom) and Xin (faithfulness). They differ in method of construction, external appearance, height and size. Among the five towers, the Zhi Tower is the most beautiful. The drum tower is the place where Dong People gather for meeting and entertainment and there is even a place for sacrifices during January of Chinese lunar calendar.
As supporting facilities to the drum tower, flower bridges and stages are constructed for local people's amusement. In general, one flower bridge and a stage are built with one tower. Corridors are built on the bridge. The creative Dong People built these corridors which provide benches for passers-by to have a rest or run for shelter. It is astonishing that there is not a single nail on the whole bridge. With firm mortise and tenon joints, the bridge is strong enough to withstand the region's strong winds and rains. The appearance of the stage is similar to a wooden-stilted houses and it is a place using for playing Dong opera.
| | |
| --- | --- |
| Drum Tower of the Dong Style | Local Residences Made of Wood |
In Zhaoxing Dong Village, everything is simple and far removed from the influence of modern city life. Only the murmur of the little brooks, the happy songs of Dong People and the rhythmic beating of the rods for laundry will provide the occasional sounds of daily life. The verdant mountains, simple but elegant houses and the smiling faces of Dong People will greet you and complete this natural feast for your senses.
If someone wants to escape noisy city life and would like to experience a special rural life, the Dong village is the best choice, and people can choose to stay there for several days. Many home-stay hostels can be found there and among them Zhaoxing Hotel is a good one. The price for its standard room is around CNY200. Other home-stay hostels include standard rooms as well as dormitories. For a dormitory without washroom, the price for a bed is around CNY 15 to CNY 20 per person per night. The standard rooms have prices around CNY50 to CNY60. Lulu Home Stay, being a hostel, is a unique living place.
How to reach Zhaoxing Dong Village

From Congjiang County:
First, take a high speed train for Congjiang from Guiyang, Guangzhou, or Guilin. Upon arrival, take a public bus to Zhaoxing at the fare of CNY 2. This is the most convenient way to get to Zhaoxing.

From Liping County:
Liping County is connected by flights with Shanghai, Guangzhou, Guilin and Guiyang. From Guiyang, one can even find direct buses to Liping. The bus journey takes about nine to ten hours. From Liping, there are frequent buses for Zhaoxing from 7:20 to 16:45 and the interval is around 1 to 1.5 hours. It takes about 45 minutes from Liping to Zhaoxing and the ticket fare is CNY 22.
Admission Fee
CNY 100
Half price for children between 3.9 and 4.6 feet (1.2 and 1.4m).
Free for children under 3.9 feet.
Battery Car
CNY 10
Opening Hours
All day

Travel Tips: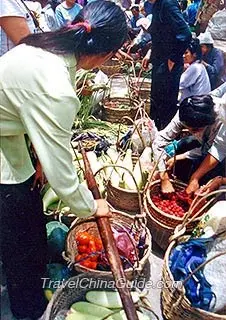 Local Market
Traveling there during the local traditional festival is fantastic. Lusheng Festival, held on August 13 to 15 of Chinese lunar calendar in odd-numbered years, is a good time to stay in Zhaoxing Dong Village.
The mountain where Zhaoxing Middle School lies is a good place to enjoy a panorama of the whole village.
Bonfires and smoking need to be avoided during your trip there. All the local buildings and constructions are made of wood, so one careless act may lead to a disaster for the local people.
People who visit there need to pay heed to the local customs. You have to get permission from local people if you want to climb the drum tower. When you see a rope tied at the gate of the village, it means that the local people are holding a sacrifice ceremony and permission is still needed to enter the village.
In Zhaoxing Town, another six Dong villages and a mountain called Sasui Mountain besides the Zhaoxing Dong Village are worth seeing if time is available. One of them, Tangan Dong Village, lying 7km to the east of Zhaoxing, owns the only Dong People Eco-museum. Their terrace is another highlight of that village.

Top 8 Things to Do in Guizhou
- Last updated on Jun. 07, 2022 -
Questions & Answers on Zhaoxing Dong Village
Asked by Aryeh from UNITED STATES | Dec. 11, 2019 16:29

Reply
Vegan Food
Hello,
I will be traveling with a friend that is Vegan. Do you have any suggestions of where we can find vegan food in Zhaoxing Dong?

Thanks!
Answers (1)
Answered by Charlotte from DENMARK | Dec. 11, 2019 17:28

0

0

Reply
Well, I am afraid that there is no special vegetarian restaurant in this village.
But don't worry. You can order some vegetable dishes in local restaurants. Have a nice trip!
Asked by Alesia from BELARUS | Sep. 23, 2019 00:38

Reply
What are options how to get from Xijiang Miao Village to Zhaoxiang Dong village ?
Maybe bus or train is available?
Thank you,
Alesia
Answers (2)
Answered by Gabriel from USA | Sep. 25, 2019 18:12

0

0

Reply
There is no direct public transport between them. You could go back to Kaili South railway station and take high speed train to Guiyang North railway station, then continue to take train to Congjiang railway station. After your arrival, you can take taxi to your destination.
Answered by Rolf from GERMANY | Oct. 29, 2019 18:40

0

0

Reply
From Xinjiang you could head east to Sansui by bus or train, then take the bus south towards liping. I live in Tianzhu and we have buses either way. If there isnt a direct connection Sansui Liping, changing Buses in Tianzhu still beats heading west to guiyang.
Asked by Alex from SPAIN | Sep. 10, 2019 04:21

Reply
Zhenyuan to Zhaoxing dong village
Hello, id like to know what is the most direct way between these two locations with public transportation. And also, Id like to know what time is the last train from kaili to zhenyuan.

Thank you!

Alex

Answers (1)
Answered by Thomas from UNITED KINGDOM | Sep. 10, 2019 20:49

0

0

Reply
There is no direct bus and other public transport between Zhenyuan to Zhaoxing dong village. The last train departs at 17:49.
Asked by Ariadna from SPAIN | Jul. 05, 2018 07:32

Reply
This year the Lusheng Festival will be held also on August 13-15?
Answers (1)
Answered by Mia | Jul. 05, 2018 23:48

0

0

Reply
The Lusheng Festival was held in March 3 this year.