Deep Touches of Ethnic Villages
705: 15 Days Private Tour of Kunming - Lijiang - Kunming - Lunan - Xingyi - Huangguoshu Waterfall - Guiyang - Kaili - Rongjiang - Congjiang - Zhaoxing - Sanjiang - Longsheng - Guilin - Yangshuo - Guilin
Tour Type:
Private Tour, any parts of the itinerary can be customized
Guide & Driver:
English-speaking guide, experienced driver with an air-conditioned vehicle
Meals:
14 breakfasts, 12 lunches
Highlights:
Explore the nearly 1000-year-old town Lijiang - a UNESCO World Heritage site
Visit ethnic minority villages & experience the unique and diversified folk customs
Marvel at the grand scenes of the Dragon's Backbone Rice Terraces in Longsheng
Take a Li River cruise down to Yangshuo & admire the essence of Guilin landscape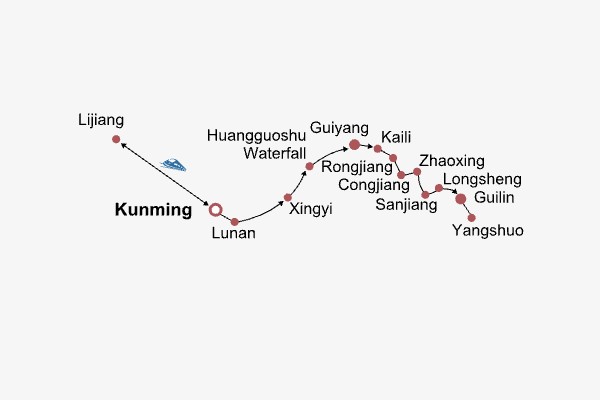 Our guide will be waiting for you outside the baggage claim area at Kunming Airport and transfer you to the hotel. The rest of the day is on your own to explore the city.

Meals: No meals, advice freely available
Lijiang Old Town
You will take a morning bullet train to Lijiang where the local guide will meet you at the railway station after your 3-hour train ride and then transfer you to the hotel. After a short break, start your private tour to Baisha Village. Located to the north of Lijiang Old Town, Basha Village was the first settlement of Naxi people as well as the economic and political center of Lijiang during the Ming and Qing dynasties (14th to early 20th century). You could visit a
Naxi family
to learn more about the local customs and Naxi people's life. Besides the ancient palaces and pavilions, the most attractive site you will see is
Baisha Murals
which absorbed the styles of Han, Tibet and Naxi, reflecting that Buddhism, Taoism and Tibetan Buddhism coexisted harmoniously.
Meals: Western buffet breakfast, Lunch
Full day is free for you to explore the
Old Town of Lijiang
. The best travel time is the early morning when the street is tranquil and peaceful, so that you could walk along the stone roads and take some real nice photos. In the bustling daytime, the hospitable vendors and variety of souvenirs show you a vigorous ancient town. If interested, you can go for a drink with friends at a local bars or café to experience the colorful nightlife of the old town.
Meals: Western buffet breakfast
Day 4
Lijiang - Kunming - Lunan
Stone Forest, Kunming
A 3-hour morning bullet train will take you back to Kunming. Upon your arrival, our local guide will pick you up at the railway station and transfer you to visit the
Stone Forest
at Lunan. Known as the 'world's karst landscape museum', it is famous for the varied karst formations which formed a natural labyrinthine forest. According to the different shapes, people gave the stones interesting names, such as Mother and Son, Camel Riding on Elephant, Buddha Stone, Rhinoceros Looking at the Moon and Beautiful Maiden Ascending from the Water. Besides, the beautiful scenery of lakes, waterfall, woods and caves will also impress you. Tonight, you will stay over at the best local hotel in Lunan.
Meals: Western buffet breakfast, Lunch
Day 5
Lunan - Shizong - Xingyi
We will drive you to enter into Guizhou Province via Shizong and Xingyi. En route, if time permits, stop over at a local Tobacco Farm and a Country Market to enjoy the beautiful landscape and learn about the local people's life. Upon arrival in Xingyi, you will pay a visit to Guizhou Folk Museum of Wedding Rituals which is located in an ancient family yard. Therefore, you can not only learn the unique wedding customs of Miao and Buyi minorities but also appreciate the traditional buildings with fine decorations. Stay two nights at the local hotel in Xingyi.

Meals: Chinese breakfast, Lunch
Local minority people and life, Yunnan
A private morning excursion will take you to Wan Feng Lin (Ten-Thousand Peaks Forest). Located 4.5 km (2.8 miles) from Xingyi City, Wan Fen Lin is covered by nearly 20,000 of hills and peaks, and is regarded as one of the three most famous karst formations in southwestern China. Then head for Maling River Canyon which is actually a 74.8-kilometer-long (46.5 miles) crack appeared after the crustal movement about 70 million years ago and regarded as 'the beautiful scar on the planet'. Finally, you will take a 2-hour hiking at Tianxing Gallery (Heaven-star Gallery). Consisting of 13 beautiful waterfalls, Tianxing Gallery is the most splendid part of Maling River Canyon Scenic Area.

Meals: Chinese breakfast, Lunch
Day 7
Xingyi - Huangguoshu Waterfall
In the morning, you will stop over at Zuoqi Black Miao Village on the way to Huangguoshu. The Miao people in the village prefer black clothes, hence the name. You could see the women in the village wearing big heavy silver earrings, which is also a tradition. Then continue to a Buyi People Village to see their traditional way of spinning and weaving. On arrival at Huangguoshu, you will check in at the local hotel.

Meals: Chinese breakfast, Lunch
Day 8
Huangguoshu Waterfall - Guiyang
Hangguoshu Waterfall
Today, you could see
Huangguoshu Waterfall
, the largest waterfall in Asia. There are all together 18 all sized waterfalls and the major one is 67 meters (220 feet) high and 83.3 meters (97 yards) wide. In the scenic area, you will also be attracted by the astonishing waterfall cave, grotesque rocks and trees. After that, proceed to Guiyang and check in the hotel. During the rest of the day, you are going to visit
Qingyan Ancient Town
, which was originally a military town constructed over 600 years ago with exquisite buildings. The next stop is the
Jiaxiu Tower
which has seen the development of Guiyang City in the latest 400 years and also is the landmark of Guiyang.
Meals: Chinese breakfast, Lunch
Private driving from Guiyang about 170 km, you could get to Kaili today and stay one night at the best local hotel. After lunch, go to Shiqiao Miao Village to see how paper is made from tree roots and barks in traditional way. Then continue to visit Qingman Miao Village where a family visit is specially arranged for you to learn more about the Miao people's life. You will be greeted into the village by drinking the block way wine. Meanwhile, you will find the wooden stilt houses in the typical Miao architectural style. Joint by tenon and mortise other than nail, these houses are usually constructed on hillsides or slopes with pyramid-shape roofs.

Meals: Western buffet breakfast, Lunch
Miao minority girls dancing
Today's first stop is
Langde Long-skirt Miao Village
. It is so named because the Miao people in the village wear long skirts. In addition to visit the unique wooden stilted houses, you can also enjoy the ethnic singing and dancing performances of the villagers. After lunch, you will head for Datang Short-skirt Miao Village because short skirt has been the traditional costume of the villagers for more than 500 years. It is also said that local women still keep the hairstyle of the Tang Dynasty (618 - 907). Besides, their granaries on the water are regarded to be amazing constructions. A Shui People's Village in a deep valley will follow. Wooden houses, traditional costumes and custom of Shui people will leave your another memorable impression on the ethnic minorities. Late in the afternoon, you will arrive at Rongjiang and check in at the local hotel.
Meals: Western buffet breakfast, Lunch
Day 11
Rongjiang - Congjiang - Zhaoxing
A local free market
Basha (Biasha) Miao Village will be your first stop today, which is noted for the local men's hair dresses. Basha Miao people have adhered to their traditions since ancient times, and you can have a glance of these interesting and old folk customs when getting here. They have kept an intense worship of nature especially of trees, which concentrates on their funeral ritual. When a Basha Miao person is born, the family would plant a tree belong to his or her own in the forest by the village. Till he or she is dead, the tree would be cut to make the coffin. Also, on the grave, a new tree is planted to represent the continuation of his or her life, instead of a gravestone. Coming to Basha Miao Village, you may get to touch their worship while enjoy the lush forest in the surroundings. After that, we'll visit Huanggang Dong People's Village, another ancient minority village.

In the afternoon, the trip will be extended to Zhaoxing to visit the largest Dong village. Surrounded by mountains in a basin, this village is famous for the splendid drum towers group which consists of five drum towers of different styles and sizes. A famous night performance of Dong people's chorus songs is in store for you this evening. You will stay one night at the local hotel.

Meals: Chinese breakfast, Lunch

Day 12
Zhaoxing - Sanjiang - Longsheng
As the first ecological museum of Dong people, Tang'an Dong Village awaits you to discover this morning. Afterwards, you will drive to Sanjiang for
Chengyang Wind and Rain Bridge
and other Dong villages nearby. As another typical building of Dong people, the Wind and Rain Bridge merges bridge, corridor and pavilion into a whole, providing a rest place and a shelter. Chengyang Wind and Rain Bridge is the largest of the kind and has a history of over 95 years. Late in the afternoon, you will get to the rural Longsheng and check in the hotel.
Meals: Chinese breakfast, Lunch
Day 13
Longsheng - Guilin
You will go to see the astonishing Longsheng
Dragon's Backbone Rice Terraces
in the morning. Stretching layer upon layer from the base of Longji Mountain to the summit, the rice terraces covers an area of 66 square kilometers (about 16,308 acres) and spans an altitude between 300 meters (about 984 feet) and 1,100 meters (about 3,608 feet), assembling the wisdom and diligence of Zhuang minority people. Then visit a Zhuang People's Village. Before night, we will transfer you to Guilin and help you check in the hotel.
Meals: Western style breakfast, Lunch
Day 14
Guilin - Yangshuo - Guilin
Yangshuo rural scenery
Enduring memories will be created today as you cruise down the
Li River
to Yangshuo. Picturesque sceneries will come into view all the way along the river. You will see undulating hills, crystal water, dense trees, green fields and grotesque peaks. Upon your arrival in Yangshuo, a short trip to the countryside is specially arranged for you to get close to the natural beauty of Yangshuo. On the way, you will also visit a local villager's home to experience the farmer's lifestyle. After that, we will transfer you back the hotel in Guilin.
Tips: The cruise lasts around 4 hours and reaches terminal Yangshuo at about 14:00. Lunch is available on board, but the basic Chinese box lunch may fail to meet with your approval. So we recommend you prepare for the cruise with a generous breakfast at the hotel.
Meals: Western buffet breakfast, Lunch
Day 15
Departure from Guilin
Your Guilin city tour will cover the
Reed Flute Cave
, the
Seven Star Park
and the
Elephant Trunk Hill
. The Reed Flute Cave is well-known for fantastic karst landscape with interesting names, such as Crystal Palace, Dragon Pagoda and Virgin Forest. The Seven Star Park is the largest complex park in Guilin City, consisting of the karst cave, hills, lakes, and ancient temples, bridges and stone tablets. As its name suggests, the Elephant Trunk Hill is a huge rock that resembles an elephant drinking water at the riverside, which may surprise you at the first sight. As your China tour finishes here, our guide will transfer you to Guilin Airport and say farewell to you.
Meals: Western buffet breakfast
B-- Breakfast
L-- Lunch
D-- Dinner
This trip can be customized to meet your individual needs!
| Destinations | Luxury Hotels | Standard Hotels |
| --- | --- | --- |
| Kunming | Green Lake Hotel | Jinjiang Hotel |
| Lijiang | InterContinental Lijiang Ancient Town Resort | Ivy Garden Hotel Resorts |
| Lunan | Yinruilin International Hotel | Yinruilin International Hotel |
| Xingyi | Grand Argyle Hotel | Grand Argyle Hotel |
| Huangguoshu Waterfall | Huangguoshu Waterfalls Yingbin Hotel | Huangguoshu Waterfalls Yingbin Hotel |
| Guiyang | Sofitel Guiyang Hunter | Howard Johnson Plaza Guiyang |
| Kaili | Grand Metro Park Heaven-sent | Grand Metro Park Heaven-sent |
| Rongjiang | The best local hotel | The best local hotel |
| Zhaoxing | The best local hotel | The best local hotel |
| Longsheng | Ping An Hotel | Ping An Hotel |
| Guilin | Shangri-La Hotel | Guilin Bravo Hotel |
Tour Prices
Christmas & 2024 Special:
12% off
- Book before Dec 31, 2023
Tour Prices with Luxury Hotels
2-3 travelers
4-5 travelers

USD4049

USD3559

USD3609

USD3179
Tour Prices with Standard Hotels
2-3 travelers
4-5 travelers

USD3769

USD3319

USD3329

USD2929
Prices are per person on twin sharing basis.
The prices in red reflect 12% discount.
Any part of the itinerary e.g. tour length, activities & hotels can be tailored to your individual interests.
Price Includes
Train fares
Hotel accommodation with breakfasts
Lunches as itinerary specifies
Private English-speaking guides
Private drivers & air-conditioned vehicles
Entrance fees to tourist sites
Price Excludes
Airfares of arrival and departure
Entry visa fees
Personal expenses
Tips or gratuities for guides and drivers
Why Travel With Us
Itineraries you may also like: