Xijiang Qianhu Miao Village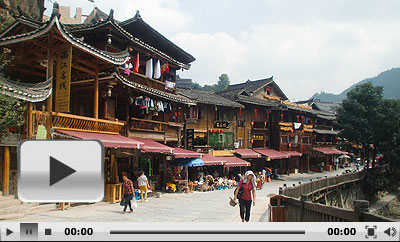 Located on the north side of Leigong Hill, Xijiang Qianhu Miao Village is about 35 km (22 miles) away from Kaili city; the capital of Qiandongnan, and about 260 km (162 miles) from Guiyang City; the capital city of Guizhou Province.

Being the largest gathering place of the Miao in China and even the world, about ten natural Miao ethnic villages exist in Xijiang Town and the Miao culture is best preserved in this area. According to the latest statistics, there are about 1,288 families with a total population of around 6,000 people living there. 99.5% of the local people are Miao nationality.

In Xijiang Qianhu Miao Village, layer upon layer of closely connected wooden-stilted houses are built along the contour of the hill with the Baishui River passing through the bottom of the mountain. Wind-rain bridges connect the banks of the river. During the day the sunlight makes the red wood board shine brightly, and in the evening, smoke from the chimneys spirals, forming a white belt around the mountain's waist.

Things to see in the village

The Miao Nationality Museum: Eleven exhibition halls in the museum show every aspect of Miao life from culture, clothes, living behaviors, customs, construction and art. At the entrance of the museum, visitors are required to show their village entrance tickets.
| | |
| --- | --- |
| Xijiang Qianhu Miao Village, Xijiang, Guizhou | Entrance of the Miao Village |

The Singing and Dancing Show: The Old Songs of Miao Nationality sung by seniors in the village is excellent. Two performances are held twice everyday, one at around 11:30 and the other at around 17:00 on the square. The exact performance time is a little different everyday, so it is suggested to confirm the schedule when you are there.

Two Streets: There are two main streets in Xijiang Qianhu Miao Village, an ancient one and a modern-built Youfang Street. As well as unique shops the old street has many snacks stores, restaurants, and silver products stores.

Original Lifestyle of Miao Nationality: If one wants to appreciate the local life, wandering around maybe the best way. Roaming around the wooden-stilted houses and twisting lanes, travelers can see and absorb the authentic local life. Around Xijiang Qianhu Miao Village, one can see the terrace and appreciate how locals work on the farms.

The Panorama of the Village: The best place to see the panorama of Xijiang Qianhu Miao Village is the Sightseeing Platform. Many visitors like to take photos from here. One can even rent a traditional costume of the Miao people if you are interested. Viewing the night scene on the platform is the most wonderful thing. The lamps of different houses twinkling in the dark make the night bewitching. It is really worth seeing.
| | |
| --- | --- |
| Street in Xijiang Miao Village | Performance of the Miao People |
How to get to Xijiang Qianhu Miao Village
The journey to Xijiang Qianhu Miao Village usually starts from Guiyang or Kaili.

By Bus: From Guiyang East Bus Station, there are two direct buses to Xijiang at 09:00 and 15:00. The bus fare is around CNY80. Or one can take a bus to Kaili from the Guiyang East Bus Station taking about two hours. Then from Kaili General Bus Station, there are frequent buses to Xijiang, and it takes about one hour.

By Train: If one chooses the train, you need to reach Kaili first. From Guiyang, Beijing, Shanghai and Guangzhou, there are direct trains to get there. Upon reaching, take the local public bus line 1 from Kaili Railway Station or bus line 21 from South Railway Station to reach Kaili General Bus Station to find the buses for Xijiang.
See detailed
Kaili Train Schedule and Stations
| | |
| --- | --- |
| Wooden Houses along the Street | Excellent Miao Dancers |

Travel Tips:
1. Admission Fee: CNY 90
2. The sightseeing bus, charging CNY 20, is available and two bus lines are included. One line is from the entrance to the Old Street and the other is from the No. 1 wind-rain bridge to the Sightseeing Platform. One ticket can be used to take the bus four times. Buying bus tickets separately is accepted and the price is CNY 5 per trip.
3. The best time to visit is from May to July, these are the most beautiful times of the year. January is also a great time, for it is the time of local New Year when many traditional and unique activities of the Miao are held. Or you can travel there during other local festivals, and appreciate the authentic local culture.
4. There are many local festivals in Xijiang Qianhu Miao Village. The liveliest among them is the New Year (December 1 to 15 on Chinese lunar calendar), and Gucang Festival which is held every 13 years and the last festival was in 2010.
5. Local wooden-stilted houses offer nice accommodation and are good for sightseeing, but this choice is poor for sound insulation. In addition there is a lack of fireproofing in these houses.
6. Delicate silver artworks and items can be purchased as souvenirs. The famous Yinjiang Village (Silversmith Village) exists in Xijiang and all the silver items there are hand made. There are plenty of restaurants are along the streets. The common snacks are glutinous rice cake, fired potatoes, fire bean curd and fish in sour soup.
7. We advise you take a knapsack instead of dragging your heavy luggage when traveling in the village. Some of the roads are paved with cobbles and dragging luggage on stone roads can be a tough job.
8. Nearby Attractions: Langde Miao Ethnic Minority Village: Langde Village is about a 2-hour drive from Xijiang Town and if you plan to go there you can transfer from Leishan County.



Related Videos:
Folk Performances in Xijiang Qianhu Miao Village - Part 1
Folk Performances in Xijiang Qianhu Miao Village - Part 2



Top 8 Things to Do in Guizhou
- Last updated on Apr. 15, 2021 -
Questions & Answers on Xijiang Qianhu Miao Village
Asked by Manu from GERMANY | Apr. 25, 2020 05:24

Reply
Visit of Foreigners
Are foreigners (living in China and travelled into China 6 weeks ago) allowed to visit Xinjiang Village these days?
Answers (1)
Answered by Declan from UKRAINE | Apr. 26, 2020 20:57

0

0

Reply
As I know, it will be ok. But for the specific situation, you should follow the local rules.
Asked by Amanda from UK | Feb. 14, 2020 06:17

Reply
Xijiang Qianhu Miao Village performance in march
Will the cultural performances happen in March? Also will the buses run direct from Guiyang and Kaili south train station in March? I ask because I am guessing this is low season. Thanks
Answers (1)
Answered by Patrick from UNITED KINGDOM | Feb. 15, 2020 16:57

0

0

Reply
I am not sure whether if there are performances at that time because of the virus situation.
There are direct buses from Guiyang and Kaili.
Asked by Silvia from ITALY | Aug. 07, 2019 01:35

Reply
how can I reach Zhaoxing from Xijiang with public transport?
how can I reach Zhaoxing Dong village from Xijiang with public transport?
Answers (1)
Answered by Stark from USA | Aug. 11, 2019 19:28

0

0

Reply
First, you might need to take car to Duyun Railway Station, then you can take high speed train from there to Congjiang Railway Station with around 50 monutes. Next, you can take taxi to your destination.
Asked by Betty from SINGAPORE | Jun. 05, 2019 19:35

Reply
How do I get to xijiang Miao village from Qingyan Ancient town?
Answers (1)
Answered by Carina from CANADA | Jun. 11, 2019 22:49

0

0

Reply
It is suggested to go back Guiyang City firstly, and take high speed train form Guiyang North Railway Station to Kaili South Station. After you exiting the station, there are many buese to take visitors to Miao Village.