Guiyang Travel Guide
Guiyang, capital of Guizhou Province, is located in the southwest of China, on the eastern side of the Yunnan-Guizhou Plateau. It is a transfer point between most China cities, and the various ethnic minorities' villages in the province. It is said that in ancient times, the city was surrounded by dense bamboo groves, and was famous for producing a musical instrument known as Zhu. Hence the city is also called Zhu for short.
Surrounded by mountains and forests, the city has pretty well environment. As in other Spring Cities; like Kunming, Guiyang is a popular summer resort city in China. The climate is often mild and moist, neither extremely hot nor cold. Spring, summer, and autumn are all wonderful seasons for sightseeing.
The city is renowned for its colorful culture, represented by various ethnic groups and its special landform - Karst. Guiyang is home to more than 30 minority ethnic groups including, Miao, Buyi, Dong and Hui. Consequently, it abounds with unique folk culture and traditions that give rise to colorful ethnic minority activities. With many Karst caves, the city is even regarded as an ecological model on Karst Landform.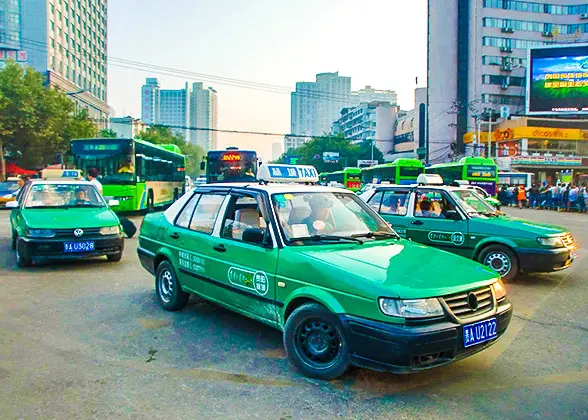 Over 60 air routes connect Guiyang with major cities home and abroad, so flight is the most direct and fastest way to get there. Trains are also convenient. Bullet trains to Guilin, Nanning, and Guangzhou, and tourism trains to Liupanshui, Yuping are in operation. Taxis and subway are helpful for traveling around the city.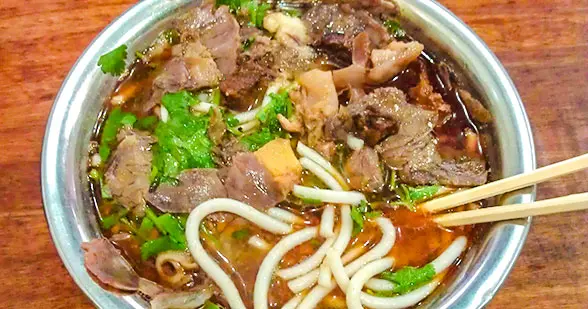 The local food is spicy, some like the Sichuan Cuisine, or Hunan Cuisine. The Miao people in Guizhou prefer sour flavor; their Fish in Sour Soup is a must-try. Various local snacks are inexpensive but tasty, including the Si Wa Wa (Pancake with Shredded Vegetable), Rice Tofu, and Huaxi Rice Noodles with Beef. The North Ring Road, Erqi Road; and Hequn Road are the most popular night food markets.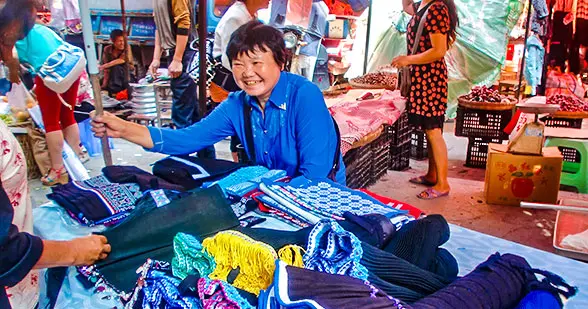 Souvenirs with ethnic minority characteristics are popular with tourists. Items such as their festival costumes, masks, and embroideries can be purchased in the shopping streets in Guiyang City, such as Beijing Road, Zhonghua Road, and Yan'an Road. Local products such as the famous Maotai Rice Wine (Moutai) are widely available in large supermarkets such as Carrefour and Wal-mart.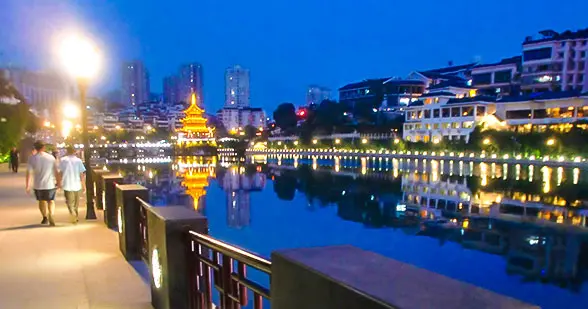 Local people keep a habit of going to bed late and getting up late, so their nightlife is rich. The night display at Jiaxiu Tower area is enchanting. Various night markets with barbecue and snacks cannot be missed. Er'qi Road and Bo'ai Road are the best. Shaanxi Road, with a number of bars, clubs and snack stalls, is also a good place for enjoying nighttime.
Traditional festivals from different ethnic groups with distinctive characteristics highlight the city's appeal. Besides the traditional activities like San Yue San, Si Yue Ba, and Di Xi Festival, there are also many tourism festivals. The summer season festival's from May to August shows the city's special charm as a wonderful summer escape.
Some fast facts and practical information are provided to facilitate your trip, life and business in this city.
Area Code & Zip Code
Useful Numbers
Post Office
Bank
Famous Universities
- Last modified on Sep. 10, 2019 -
Questions & Answers on Guiyang Travel
Asked by CAPRI_1004 from MY | Sep. 18, 2019 07:14

Reply
Are there any shuttle buses from Guiyang East railway station to Qingyan Ancient Town?
I'm planning to have a pit-stop at Guiyang City for 2days (1 night) before heading to Chongqing by train.

Appreciate if anyone could share a 2days 1 night itinerary in Guiyang.

We are planning to visit Qingyan Ancient Town. Thanks.
Answers (1)
Answered by Curt Schatz from CHINA / USA | Sep. 18, 2019 15:26

0

0

Reply
The 203 City bus goes from the train station to Qingyan, but the road it follows is being rebuilt now, so I'd avoid it. I'm sure there are other buses, but a taxi might be a better bet. Your itinerary would depend on your interests and budget, and where you are staying. The Karst park in Guanshanhu District is a pleasant few hours walk; Qianling Park, near the city center, is a pleasant half-day. Qingyan could take all day.
Asked by Aleksei from RUSSIA | Sep. 07, 2019 02:23

Reply
Hi! Are there in Guiyang ATMs which work with Visa/MasterCard?
Answers (1)
Answered by Jake from NEW ZEALAND | Sep. 09, 2019 19:03

0

0

Reply
Maybe you can go to ATM of Bank of China in the city.
Asked by Jerald Johnson from USA | Apr. 30, 2019 16:23

Reply
My school will be in Guiyang Nanming District. What district would you prefer to live?
Thank you
Answers (4)
Answered by Anne from NETHERLANDS | May. 05, 2019 00:33

0

0

Reply
Nanming district is the most prosperous district of the city and it is suggested to live near the school.
Answered by Jerald Johnson from USA | May. 06, 2019 18:09

0

0

Reply
Hi Anne, is Guiyang considered a 3 or 4th tier city AND do you know how many Lao Wei live in Guiyang City. A percentage?
Answered by Anne | May. 07, 2019 19:11

0

0

Reply
It is considered to be a 3rd tire city and most foreigners are around various universities.
Answered by Curt Schatz from USA / CHINA | Aug. 21, 2019 04:58

0

0

Reply
Guiyang is the capital of Guizhou province so it is, technically, a first tier city.

The Namning district is (mostly) the city center. I have lived here for a decade, and can attest that it is a pleasant place to live. It has plenty of shopping, restaurants, parks, etc. It's public transit is often crowded, but is easy to navigate and inexpensive. If you are young, I'm told the nightlife is entertaining. Other districts are pleasant, too, but if you are working in the city center, you will want to live in the Namning district.
Asked by BONBONNG | Mar. 12, 2019 00:53

Reply
Guiyang crowd in May 2019
Hi, I want to know whether is it peak during the period of Labour Day in May 2019? in terms of hotel and sightseeing? How is the water flow in Huangguoshu? Thanks.
Answers (4)
Answered by Kalila from FRANCE | Mar. 13, 2019 02:33

0

0

Reply
Yes, there will be more tourists during the Labour Day in May. You are suggested to avoid that day to tour around Huangguoshu Waterfall.
Answered by BONBONNG | Mar. 13, 2019 22:00

0

0

Reply
Thanks. This year there is no extra rest days on Labour Day as compared to other years. Meaning few days before or after Labour Day will not be considered peak, am I right? I also would like to know the waterflow in May for Huangguoshu, should be alright?

Thanks.
Answered by Faithe from FINLAND | Mar. 13, 2019 23:12

0

0

Reply
Yes, you are right. You can tour around few days before or after the Labour Day. In addition, the waterflow will be normal in May. The best time to see the waterflow is July and August every year.
Answered by BONBONNG | Mar. 14, 2019 01:45

0

0

Reply
Great! Thanks much for the advice.
Asked by Neng Soon Yap from SINGAPORE | Nov. 08, 2018 02:29

Reply
4 days at Guiyang.
I will travel from Guangzhou south(8am train) to GY north railway station in Dec 6 (i will stay at GY for 4 days), would like to know which area should i stay in order for me to take public transport to visit the places of interest, Thanks.
Answers (1)
Answered by Barbary from USA | Nov. 08, 2018 18:58

0

0

Reply
Hi, there are five districts in Guiyang and most attractions are in Huaxi District but it is far from the railway station. Maybe you can live near the Huaguo Garden Wetland Park, railway station, Zunyi Road or Qingyun Road.