Guiyang Attractions - Things to Do
Those that know Guiyang will always remember it for the many minority group people in their colorful traditional costumes and ornaments, their singing and dancing during the festival occasions. Also, the beautiful lake and mountain scenery creates a truly romantic atmosphere.

Top Things to Do

Jiaxiu Tower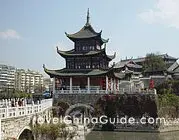 Situated on Fuyu Bridge over the Nanming River, the Jiaxiu Tower is one of the symbols of Guiyang. It's also called the First Scholar's Tower. It is a three tiered wooden tower of an exquisite architectural design that has inspired a great number of writers and celebrities in the past.

Qingyan Ancient Town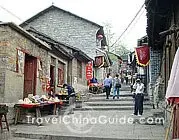 Qingyan becomes famous for it retains the buildings of the Ming and Qing dynasties. As well as the old buildings and delightful scenery, you will find some minority ethnic villages of the Miao people, Dong people and Buyi people. The Diaojiaolou of the Miao people, stone houses of the Buyi people and the Drum Tower and the Wind and Rain Bridge of the Dong people add greatly to Guiyang's natural beauty and folk atmosphere.

Flower Stream Park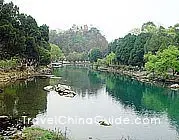 Named after the Flower Stream River, is China's first love river. There are lots of typical gardens and historical sights here and a number of Chinese celebrities have come across and stayed here such as Zhou Enlai and the writer, Ba Jin.

Red Maple Lake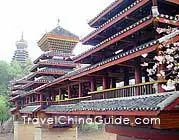 (Hongfeng Lake) is renowned for its lake and island. It is 25 kilometers (15.5 miles) from Guiyang and can be reached within about 20 minutes. It consists of four parts: the North Lake, the South Lake, the Rear Lake and the minority ethnic villages.

Tianhe Pool Scenic Area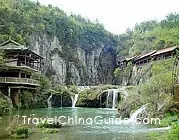 Renowned for karst landscape is 24 kilometers from the city downtown area. It boasts mountains, rivers, karst caves, pools, waterfalls, natural stone bridges, valleys and the places of historical interest. From Guiyang city, you can get to the Tianhe Pool by public bus or special line.
More Attractions

Baihua Lake is situated in the northwest suburb of the city, 22 kilometers from downtown. Owing to its natural beauty of lakes and hills, was given the nickname-'Little Guilin'. There the Birds Island is a place most attracting tourists' eyes.



Forest Park offers a good and quiet summer resort to local citizens. The park is covered by dense trees. Various rare animals inhabit there. It is regarded as one of the most famous eight attractions of Guiyang.



Guizhou Provincial Museum, sizing 7,800 square meters (9,300 square yards), accommodates 200,000 more pictures, precious fossils, handiworks, models etc. Visiting there provides you a good chance to know about prehistoric animals, ethnic culture and the history of Guizhou Province.



Huangguoshu Waterfall in Anshun is about 150 kilometers from Guiyang City. Of the Huangguoshu Waterfalls Cluster, the Huangguoshu Waterfall is the grandest. It's 77.8 meters tall and 101 meters wide. It's the biggest waterfall in China.



Nanjiang Grand Canyon, located at Kaiyang County, about 54 kilometers (34 miles) away from Guiyang City, has the special karst landscape and over 80 natural landscapes and 40 waterfalls.



Qianling Hill Park boasts the famous Hongfu Temple and many picturesque scenes of lakes, mountains, caves, macaque gardens, caves and characteristic bridges.



Xiangzhi Valley is an ideal place for its picturesque landscape. Here visitors are attracted greatly by green mountains covered by bamboos, blue streams and waterfalls dashing down steep cliffs and customs of Bouyei Minority.