Xiangzhi Valley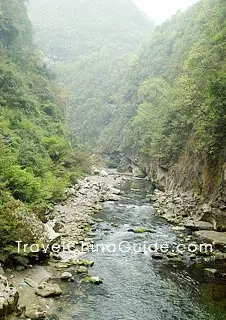 Xiangzhi Valley, Guiyang
The Xiangzhi Valley is located about 40 kilometers (25 miles) northeast of downtown Guiyang City, Guizhou Province. The name of this scenic area is derived from its traditional product-Xiang Zhi (Fragrant Paper). Made from bamboo, this paper is used to commemorate the dead, which originates from the Ming Dynasty (1368-1644). The valley is well-known for its natural landscapes,
Bouyei ethnic group
customs and many ancient paper workshops.
The beautiful natural scenery that attracts tourists to Xiangzhi Valley includes mountains, river, forest, bamboo groves, and karst caves. The mountains, with their varied shapes have inspired visitors for generations while the clear streams and waterfalls that tumble down the steep cliffs add their own charm to the area. Trees and bamboos create a veritable sea of green amid which the mysterious karst caves may be explored by those with a spirit of adventure. In all, there are seven natural scenic spots in the Xiangzhi Valley. Each has its special feature such as canals seemingly hanging in the air and cabins hidden in the thick forest.
The ancient paper workshops inXiangzhi Valley are fascinating. The paper making technology used here is regarded as one of the four great inventions of ancient China. Invented by Cai Lun during the Eastern Han Dynasty (25-220), it was brought here in the Ming Dynasty. The paper making involves seventy-two separate procedures and the workshops situated alongside the streams present a unique spectacle to this part of China.
The Bouyei ethnic group is romantic. In ancient times, the local people prayed to God for a good harvest on lunar April 3rd. Later, it became a tradition for the young men and women to sing antiphonal songs as part of a courtship ritual and an expression of love. Nowadays, the festival has developed as a great singing party combined with many Bouyei customs.
Visitors can stay in the local people's flagstone houses to enjoy the special snacks and to get a feel of the local customs. It is also possible to explore the area on horse back. It's a marvelous way to see the splendors of the valley and these trips are available from the parking lot. The combination of natural beauty and human activity make a visit to the Xiangzhi Valley a rewarding and memorable experience.
How to get to Xiangzhi Valley
1. Fours buses from the Tourist Bus Station in the opposite of
Qianling Hill Park
run to the Xiangzhi Valley at 8:30, 10:30, 14:00 and 16:00.
2. Take bus 51, 56, 101, 103, 104, 105, 108, 111, 222, 234, 246, 251, 251, 253, 605, B247, B258 or B268 to Xintianzhai and then transfer to regular buses to the valley. The regular buses depart at 8:00, 9:30, 11:30, 14:20, 15:30, and 17:00.
| | |
| --- | --- |
| Entrance Fee | Free |
| Opening Hours | All day |
- Last modified on Jul. 11, 2018 -