Qianling Hill Park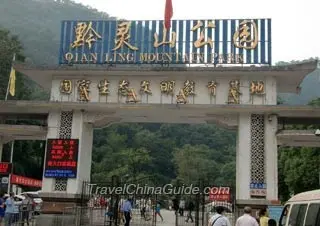 Entrance of Qianling Hill Park
Situated on Qianling Hill 1.5 kilometers (0.9 miles) from the center of Guiyang City, Qianling Hill Park covers an area of 426 hectares (1,052.7 acres). First built in 1957, it is a uniquely large park in the city proper and a 4A National Tourist Attraction. The name was derived from the Qianling Mountain that lies in the park, which is the most famous mountain in southern Guizhou. As one of the noted gardens on the Guizhou plateau, it boasts clear waters, green mountains, tranquil forests and old temples. There are eight predominant scenic locations: Sanlingwan, Macaque Garden, Hongfu Temple, Kylin Cave, the Zoo, Qianling Lake, Two-Dam Wind-Rain Bridge, and the Winding Mountain Path.
Hongfu Temple
Originally built in 1667, it is the largest temple of Zen Buddhism in Guizhou Province. It features majesty and sobriety. Hongfu means to develop Buddha's spirits and to benefit mankind. Today it is rated as one of the 142 National Key Temple Sscenic Areas as well as the Key Cultural Relic Preservation in Guizhou Province.

'Hongfu' is Chinese for 'good fortune', which is an apt name for the temple considering its history. It was in 1672 when Chisong, a monk during the Ming Dynasty (1368-1644) founded the temple. It had very poor beginnings, being little more than a small hut, but Chisong was determined that it should become a revered shrine and through his persistence many local officials gave their support. In time the temple was to become the most important Buddhist temple in the area.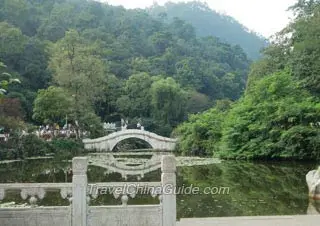 When you visit the temple in Qianling Hill Park, on entering the gate, you will first see the Bell Tower and the Drum Tower on both sides. The bronze bell weighs more than 3,000 jin in Chinese measurement (equal to about 3,300 pounds), and was cast in 1469 during the Ming Dynasty.

On entering the first hall named Heavenly King Hall, you can see the carved statues of Maitreya Buddha and the four Heavenly Kings. On its walls there are also steles of sutra and huge paintings. The second main hall is the Bodhisattva Hall dedicated to Skanda Bodhisattva, and Bodhisattva Avalokiteshvara with 32 arms. Inside the third hall named Mahavira Hall there are gilded statues of Sakyamuni, juuhachi rakan (or the 18 arhats), and others. There's also a jade Buddha statue that is from Rangoon, the capital of Burma. It is 1.5 meters (4.92 feet) high and weighs 900 kilograms (1,984 pounds). The statue is made out of choice jade and looks beneficent but solemn, and it stands among more than 10 other jade statues of Bodhisattva and Maitreya.

Besides these superb halls, the temple is also adorned with galleries, pools, and springs, which are of high artistic value. In recent years many prominent people have visited the temple and in accordance with Chinese tradition have left poetry in praise of the inspiring architecture and its setting. A stroll through the temple compound will enable you to enjoy its peaceful environment while reflecting upon its splendid past.
Qianling Lake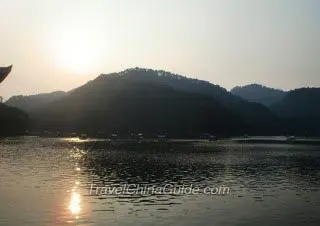 Qianling Hill and Qianling Lake
Qianling Lake was man-made by the damming of Daluo Spring in 1954. Since 1999 when the project of clearing up the silt in the lake was completed, it has an area of 35 hectares (86.5 acres) with clearer water and a steadfast dam. A crystalline surface mirrors the green and gentle willows and the surrounding pavilions that are ornately decorated and finely built. On its western bank stands a memorial for the martyrs who died during the war of liberation of Guizhou Province. Also during 1999, the municipal government of Guiyang rebuilt it, changing the parapet into one of white marble, and beautifying the surrounding plants. Every Tomb-Sweeping Day, thousands of people go there to worship the fallen heroes.
Macaque Garden
Qianling Hill Park, whose percentage of forest cover is over 98% because of the Qianling Mountain, is the perfect habitat for macaques. More than 500 live in Macaque Garden. They frolic and jump, energetic and enchanting. Out of the big cities in China, it is only Guiyang that has such a large garden for monkeys.

Kylin Cave
Down along the 382-step Nine-Twist Path which is the short cut, there is Kylin Cave of Qianling Hill Park. In front of the cave flows a spring at least 400 years old. Amongst stalactites of various shapes hanging inside, there is a huge one weighed down like a kylin, a beast symbolizing auspice in China, giving the cave its present name. The cave is noted for its reputation that Chiang Kai-Shek, the leader of Chinese Nationalist Party at that time, captured the patriotic generals Zhang Xueliang and Yang Hucheng at the cave during the War of Resistance against Japan. Hundreds of thousands of people have visited here because of its story.

Besides these above, there are also other attractions like the new Xiangwang Mountain, Ancient-Buddha Cave, and Kanzhu Pavilion, etc. All of them have their own picturesque charm.

How to get to Qianling Hill Park
Take Bus 1, 2, 10, 12, 13, 16, 22, 23, 33, 41, 53, 72, 77, 209, 217, 225, 226, 227, 228, 231, 232, 235, 238, 248, 311 or 214 to Qianlingshan Gongyuan (Qianling Hill Park).

Entrance Fee
CNY 5;
CNY 2 for Hongfu Temple;
CNY 5 for the Zoo;
Cable Car:
CNY 12 (one-way);
CNY 16 (round-trip).
Opening Hours
6:30 - 22:00
Recommended
Time for a Visit
1h
- Last updated on Feb. 27, 2020 -
Questions & Answers on Qianling Hill Park
Asked by Amanda from UNITED KINGDOM | Feb. 25, 2020 00:41

Reply
Is Qianling Hill Park currently open?
Hi is this open now or closed due to virus?
Answers (1)
Answered by Joanne from GERMANY | Feb. 27, 2020 18:12

0

0

Reply
No, it is still closed now due to virus.