Hongfeng Lake Scenic Area (Red Maple Lake)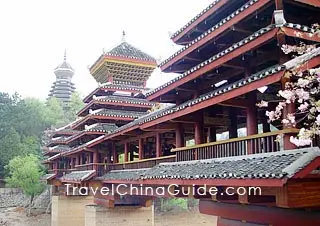 Dong-Style Wind and Rain Bridge,


Hongfeng Lake

Scenic Area
Located about 32 kilometers (20 miles) west of Guiyang is the Hongfeng Lake Scenic Area (Red Maple Lake). It is considered to be the pearl of the Guizhou Plateau, and is the most fascinating among the three lakes in this part of Guizhou. The other two are
Baihua Lake
and Dongfeng (East Wind) Lake.
Hongfeng Lake is the largest artificial lake on the Guizhou Plateau. Its surface covers 57.2 square kilometers (22 square miles) and in area is twelve times the size of the
Ming Tombs
Reservoir in Beijing and six times as large as the famous
West Lake
in Hangzhou. The lake and the surrounding scenic area occupy a total of 240 square kilometers (93 square miles). There are many red maple trees on the surrounding mountain ranges whose leaves turn red every fall - hence the lake's name.
The Hongfeng Lake Scenic Area consists of four parts: the North Lake, the South Lake, the Rear Lake and the minority ethnic villages. The North Lake is the smallest and is famous for its various islands such as Bird Island, Snake Island and Tortoise Island. Along the shore there is a historic complex of ancient tombs left by the Western Han Dynasty.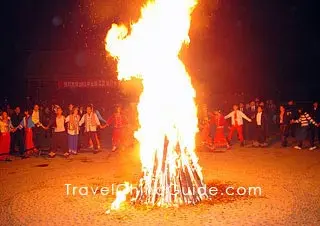 Bonfire Party,

Hongfeng Lake

Scenic Area
The South Lake is noted for its caves, including the General's Cave, Fishing Cave and Underground Cave. The Rear Lake is renowned for its picturesque countryside. The many roads along the lake's shore offer opportunities for leisurely walks to admire the beautiful scenery.
The Hongfeng Lake Scenic Area contains interesting examples of village architecture, including a Miao traditional house (DiaoJiaolou), a Bouyei flagstone house and a Dong drum tower which has a roofed bridge. The drum tower can be reached by boat to enjoy a panoramic view of the Hongfeng Lake. The minority ethnic villages on the shores of the lake are unique. In accordance with village custom, visitors can be assured of a warm welcome-to the extent that they may be reluctant to leave.
Hongfeng Lake Scenic Area is beautiful and serene. It is an ideal tourist destination and can be conveniently included in an itinerary that includes the Dragon Palace and Huangguoshu Waterfall.
How to get to Hongfeng Lake Scenic Area
Take bus 801 or 802 to Yunling Donglu and then take a taxi to the scenic area.
Entrance Fee
Mar.-Oct.: CNY 40;
Nov.-Feb.: CNY 30.
Opening Hours
7:00 - 19:00
Recommended Time for a Visit
2h
- Last modified on Jul. 22, 2019 -
Questions & Answers on Hongfeng Lake Scenic Area (Red Maple Lake)
Asked by Eddie Cheok from NEW ZEALAND | Jul. 13, 2019 13:33

Reply
We will arrive at Guiyang on 23 oct 2019 and leave for Guilin on 29 oct 2019.
During this period, we hope to visit the following places and would be grateful if you could suggest itineraries & mode of transport. We also hope during this time to stay at Zhenyuan Ancient Town for 2 nights-
-Tianhe pool
-Qingyuan ancient town
-Hongfeng lake
- Huanguoshu waterfalls
I look forward to receiving your response.
Thanks
Eddie
Answers (1)
Answered by Alison from USA | Jul. 22, 2019 23:39

0

0

Reply
Oct.24: Visit Tianhe pool first, then take bus to Hongfeng lake
Oct.25: Take bus to Qingyuan ancient town
Oct.26: Take bus to Zhenyuan ancient town
Oct.28: Take train to Anshun Station, then take bus to Huangguoshuo waterfall
Asked by Boon from THAILAND | Dec. 29, 2018 02:08

Reply
Can we see cheery blossom in Hongfeng lake in Guiyang?
How to go there from Guiyang? Thanks for all reply.
Answers (2)
Answered by Charlie from FINLAND | Jan. 07, 2019 22:51

0

0

Reply
Yes, you can see the cheery blossom in this lake. You need to take a coach to Jinyang Coach Station first. Then take bus no.801 to Qingzhen Town. Transfer to bus Qingzhen Line 6 to the lake scenic area.
Answered by Boon from THAILAND | Jan. 08, 2019 00:39

0

0

Reply
Thank you Charlie.