Guiyang Shopping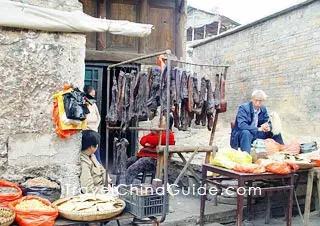 Preserved ham on sale in the market

The main shopping streets in Guiyang are Zhonghua Lu and Yan'an Lu. Department stores are mainly situated on Zhonghua Lu, the busiest commercial street in this city. The Yan'an Lu is where you will find small goods stores and the night market, which are open until the midnight.

Guiyang teems with crafts, local products, especially the Dried Beef, wooden crafts, traditional Chinese medicines, Miao silver ornaments, ox horn products and unsophisticated totem masks. Small gifts like this are widely popular among tourists. An ethnic minority doll and a totem mask as small as a walnut shell would be unusual gifts to take home.

Embroideries and Cross-Stitch Products rank highly among traditional Guiyang crafts. Stores on Beijing Lu offer heaps of this kind of product and the prices vary according to their quality.

Qiancui Hang on Beijing Lu is the best place to buy featured local products and crafts. Goods for sale here are always of good quality and, of course, are rather more expensive. Embroideries and silver ornaments produced in the rural area are treasured in Qian Yi Bao for their strong ethnic features.

Qian Cui Hang: No. 177-181, Beijing Lu
Qian Yi Bao: No. 159, Beijing Lu

Youzha Jie Bird and Antique Market (was on Yangming Lu)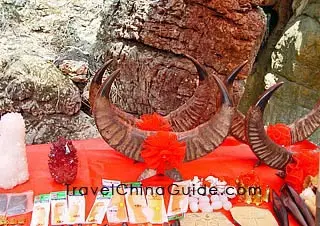 Ox Horn Products

Guiyang people like to roam around this market at weekends. Here in the market you will discover an assortment of flowers, birds, fish, cats, dogs, bamboo crafts and antique coins are for sale. People feel interested in these gadgets may find enjoyment here.

A tip: The price of the goods can be negotiated.

Supermarkets
Supermarkets like Da Chang Long on Jiefang Lu, Hualian on Yanwu Jie and Numart on Dusi Lu have become part of Guiyang people's daily life. Specialties in Guiyang can be found quite easily in these supermarkets.

Wal-Mart (People's Square Branch)
Location: The underground department store of the People's Square, Zunyi Lu, Nanming District, Guiyang

What to Buy
Maotai Wine (Moutai)
Known the whole world over by connoisseurs of Chinese food and drink, the Maotai Wine originates from Guizhou.
Maojian Tea
Originating from Duyun City at the south part of Guizhou Province, Maojian Tea attracts customers by its fine shape and unique style. In the past, Maojian Tea was a tribute for the emperor.
Embroideries
Miao women like needlework. They produce numerous embroidery fabrics with the patterns of golden flowers, silver fruits, colorful birds, the dragon and phoenix and odd fish, etc. During festivals, Miao girls will wear exquisite attire that they have made themselves.
Besides embroideries, Guizhou Miao people are also skilled at cross-stitch work, especially those made by Huaxi Miao girls. Designs in this cross-stitch work take the shape of fish bones, iris, cockscomb and occasionally animals and human figures.
Batik Products
The batik method is a traditional way to dye white cloth with various patterns such as flowers, fish, birds and mountains. Heated wax is used to create these beautiful works of art.
Odd Stones
Guiyang boasts a unique geographic location, where there is a rich resource of odd stones. The stones that are collected in Guizhou have various shapes and colors. They are exhibited in the Yangming Temple (Yangming Ci).
Yuping Flute
The instrument originated in Yuping Dong Autonomous County of Guizhou Province, the Flute is a traditional handmade musical instrument that has a 300 year long history. It was formed part of the tribute given to royal members during the Qing Dynasty (1644-1911). The patterns on the flute embody lifelike depictions of creatures and natural sceneries. The flute when played produces an attractive sound.
- Last modified on Apr. 17, 2019 -