Ethnic Culture Experience
706: 10 Days Private Tour of Kunming - Lijiang - Kunming - Lunan - Xingyi - Huangguoshu Waterfall - Guiyang - Kaili - Guiyang
Tour Type:
Private Tour, any parts of the itinerary can be customized
Guide & Driver:
English-speaking guide, experienced driver with an air-conditioned vehicle
Meals:
9 breakfasts, 8 lunches
Highlights:
Explore the nearly 1000-year-old town Lijiang - a UNESCO World Heritage site
Enjoy the amazing Karst landscape of Wanfenglin and go hiking at Maling River Canyon
Visit Huangguoshu Waterfall, one of the largest and grandest waterfalls in the world
Visit ethnic minority villages & experience the unique and diversified folk customs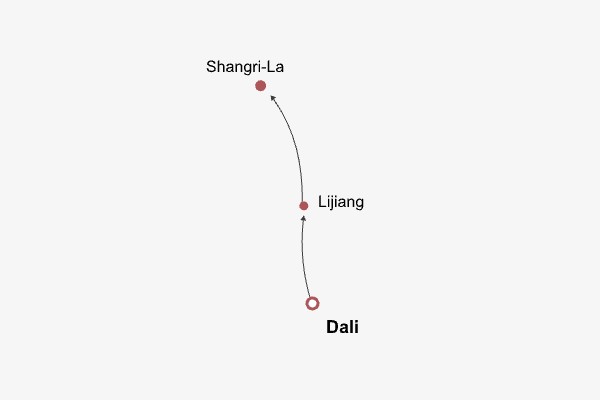 When your flight arrives at Kunming Airport today, you will find our guide is waiting for you outside the arrival hall, holding a welcome banner on which signs your name and TravelChinaGuide. We will take you to downtown Kunming to check in the hotel that we have reserved for you.

Meals: No meals, advice freely available
Lijiang old town
A morning bullet train will take you to charming Lijiang with a duration of around 3 hours. Our guide will pick you up at the railway station and transfer you to the hotel for a two-night stay. Afterwards, a private short drive will take you to Baisha Village, which is one of the oldest towns in Lijiang and the first gathering place of Naxi People. A visit to the local
Naxi family
will help you understand the Naxi culture and history better. Then proceed to visit the
Baisha Murals
which combine the culture of Han, Tibet and Naxi and reflect the religious life of Buddhism, Taoism and Tibetan Buddhism.
Meals: Western buffet breakfast, Lunch
Naxi People in the town
Full day is free for you to explore
Lijiang Old Town
at own leisure. If you are a photographic lover, it is suggested that you get up early and walk along the quiet lanes. You may find that every corner of the town makes a beautiful picture. In the daytime, you can pay a visit to the Mu's Residence which was the residence of the ancient ruler of Naxi from the Yuan Dynasty to the Qing Dynasty (from 13th to early 20th century). You can also wander along the narrow lanes with the bustling crowd, and take a rest at a featured café.
Meals: Western buffet breakfast
Day 4
Lijiang - Kunming - Lunan
Our guide will transfer you to take a morning bullet train back to Kunming. The train journey takes around 3 hours. You will take an excursion to the
Stone Forest
at Lunan. Walking in the maze of stone forest, you will be bewitched by the intricate karst formations of all kinds of shapes, such as the human figures, mushrooms, swords, towers and animals. Stay at the best local hotel in Lunan tonight.
Meals: Western buffet breakfast, Lunch
Day 5
Lunan - Shizong - Xingyi
Chinese traditional haircut
After breakfast, you will head for Xingyi with a private transfer, the southwest gate of Guizhou Province. On the way, stop over at Shizong County and pay a visit to the Local Tobacco Farm and a Country Market if time permits. Upon arrival in Xingyi, visit the Guizhou Folk Museum of the Wedding Rituals to learn about the unique wedding custom of the Miao and Buyi ethnic groups. The museum is located in the Liu's Residence which is a traditional Chinese building with delicate decorations. Then we will transfer you to the local hotel in Xingyi and have a good rest.

Meals: Western style breakfast, Lunch
Today you will have a tour of nature in Xingyi. First visit the Wanfenglin (Ten Thousand Peaks Forest). As its name suggests, there are almost 20,000 grotesque peaks in the Wanfenglin Scenic Area. Due to its unique karst landscape and beautiful scenery, it is regarded as a wonder under heaven. Then proceed to the Maling River Canyon and go for a 2-hour hiking at the Tianxing Gallery (Heaven Star Gallery) in the scenic area, where you will be fascinated by the charming scenery of deep canyon, majestic waterfalls and unique karst waterfalls.

Meals: Chinese breakfast, Lunch
Day 7
Xingyi - Huangguoshu Waterfall
On the way to Huangguoshu, you will stop off at Zuoqi Black Miao Village to discover women's traditional costume with big earring, black turban and black cotton jacket. Then pay a visit to the Buyi People Village to see their traditional way of spinning and weaving. Tonight you will stay at a local hotel.

Meals: Chinese breakfast, Lunch
Day 8
Huangguoshu Waterfall - Guiyang
In the morning, you will take an excursion to the largest waterfall in Asia, the
Huangguoshu Waterfall
. The main waterfall is 74 meters (243 feet) high and 81 meters (266 feet) wide, like a milky way hanging on the cliff. Then we will transfer you to Guiyang. Upon arrival, continue your journey to the
Jiaxiu Tower
. Constructed on a huge rock in Nanming River, the Jaixiu Tower was first built around 17th century during the Ming Dynasty and rebuilt many times in the following years. The three-storey wooden Tower has been standing there for about 400 years and witnessed the development of the city. Then pay a visit to
Qingyan Ancient Town
which has a long history of more than 600 years.
Meals: Chinese breakfast, Lunch
A free market in Kaili
Today we will transfer you to Kaili for a one-night stay. You will have an ethnic minority tour to the Qingman Long-skirt Miao Village. You will be greeted into the village by hospitable Miao villagers. Walking on the flat stone road in the hundreds of years old village, you will see the unique wooden stilt houses of Miao people. Afterwards, continue to sightsee Shiqiao Miao Village with a local family visit to get a deep insight into the Miao people's life. What's more, you will see the process of traditional paper-making during your visit.

You will be astonished by the ethnic costume of Miao people, which is eye-catching with silver ornaments. Undoubtedly, it's a unique beauty of the glittering silver ornaments, especially when they are dancing, as the silver make dulcet sounds with the music. If lucky, you might see the complete set of silver ornaments when the New Year of Miao people comes. A complete set weighs more than 30 jin (33 lb), including the headdress, earrings, necklace pieces, belt, and bracelets full of forearms. It's a long history of Miao people to make silver jewelry for over a thousand of years, so they master the superb skills to make these articles by hand. You will also marvel at the craftsmanship when seeing any piece of the delicate jewelry.

Meals: Western buffet breakfast, Lunch

Day 10
Kaili - Guiyang Exit
In the morning, you will go to visit
Langde Miao Village
. A fabulous Dancing and Singing Performance by local villagers will also be arranged. After that, we will transfer you back to Guiyang for your return flight. Wish you a pleasant trip back home!
Meals: Western buffet breakfast, Lunch
B-- Breakfast
L-- Lunch
D-- Dinner
This trip can be customized to meet your individual needs!
| Destinations | Luxury Hotels | Standard Hotels |
| --- | --- | --- |
| Kunming | Green Lake Hotel | Jinjiang Hotel |
| Lijiang | InterContinental Lijiang Ancient Town Resort | Duofu Resort |
| Lunnan | Yinruilin International Hotel | Yinruilin International Hotel |
| Xingyi | Grand Argyle Hotel | Grand Argyle Hotel |
| Huangguoshu Waterfall | Huangguoshu Waterfalls Yingbin Hotel | Huangguoshu Waterfalls Yingbin Hotel |
| Guiyang | Sofitel Guiyang Hunter | Howard Johnson Plaza Guiyang |
| Kaili | Grand Metro Park Heaven-sent | Grand Metro Park Heaven-sent |
Tour Prices
Christmas & 2024 Special:
12% off
- Book before Dec 31, 2023
Tour Prices with Luxury Hotels
2-3 travelers
4-5 travelers

USD2609

USD2295

USD2369

USD2084
Tour Prices with Standard Hotels
2-3 travelers
4-5 travelers

USD2419

USD2128

USD2179

USD1917
Prices are per person on twin sharing basis.
The prices in red reflect 12% discount.
Any part of the itinerary e.g. tour length, activities & hotels can be tailored to your individual interests.
Price Includes
Train fares
Hotel accommodation with breakfasts
Lunches as itinerary specifies
Private English-speaking guides
Private drivers & air-conditioned vehicles
Entrance fees to tourist sites
Price Excludes
Airfares of arrival and departure
Entry visa fees
Personal expenses
Tips or gratuities for guides and drivers
Why Travel With Us
Itineraries you may also like: