Guiyang Transportation
Air
Longdongbao Airport
Airport Code: KWE
Location: About 7 miles (11 kilometers) east of the central Guiyang
Brief Intro: Guiyang Longdongbao International Airport was opened in 1997 and began to serve as an international airport in 2006. Two terminal buildings are serving here, with T1 used as International Terminal, and T2 as Domestic Terminal. Currently, the airport operates over 110 air routes connecting many cities like Beijing, Hangzhou, Xi'an, Nanjing, Hong Kong and Taiwan.
Airport Hotline: +86 0851 96967

Airport Transportation: city-buses, 5 shuttle bus lines, high-speed trains at Longdongbao Railway Station, and long-distance buses to nearby cities like Bijie, Anshun and Zunyi.

Train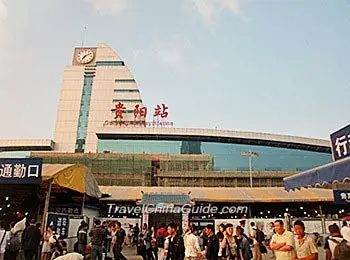 Guiyang Railway Station
The city acts as the transportation center of Guizhou Province. Transportation links depend mainly on the rail system. Three railway stations are in operation in the city, they are Guiyang Railway Station, North Railway Station and Longdongbao Railway Station. Gui'an Railway Station is under construction and will operate high speed train to Beijing, Shanghai, Kunming, Changsha...


See details of the Guiyang Train Schedule

Trains from Guiyang railway station are mainly ordinary ones running to the major cities, eastern area as well as nearby cities, such as Beijing, Shanghai, Kunming, Chengdu, Chongqing, Tongzi County, Kaili City and Duyun City. Also, trains running to tourist destinations such as Fanjing Mountain (train to Liupanshui City), Huangguoshu (train to Yuping County) and Zunyi (train to Zunyi) are operated here.

The north railway station is located near North Jiaxiu Road in Guanshanhu District. It mainly operates high speed trains running along Guiyang - Guangzhou and Guiyang-Kunming High Speed Railways.

The Longdongbao Railway Station is within 5 minutes' walking distance from the terminal building of the airport. Bullet trains from/to Guangzhou and Nanning are available.

Major Rail Lines from Guiyang to:

Tourist Bus Station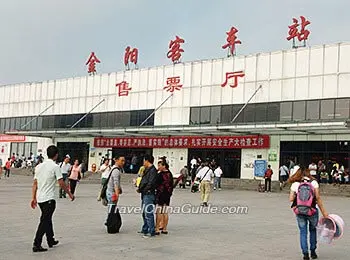 Jinyang Bus Station
Location: No. 278, Beijing Lu
The Tourist Bus Station opposite Qianling Dasha (Qianling Building) deals with tourist bus services only and operates from 7:00 to 20:00. Buses from here mainly serve tourist attractions in Guizhou such as the Huangguoshu Waterfall (two hours), the Dragon Palace Cave Scenic Spot, Zhijin Cave Scenic Spot and the Fanjing Mountain.

It is important to check the exact time of your bus as, though some buses run every thirty minutes, some run only once a day.
You can get to the station via public bus Nos. 1, 2, 10, 12, 13, 16, 23, 61 and 87.



Coach Terminal
Location: No. 32, Yan'an Xi Lu
Coaches here are mainly bound for cities and counties inside Guizhou Province, as well as neighboring cities and provinces, Sichuan, Yunnan, Guangxi, Zhejiang, Fujian, Guangdong and Chongqing. Generally the coaches leave hourly.



Coach Station next to the local railway station
Coaches from the station run between the city and Anshun, Huajiang, Xingyi, Anlong, Zunyi, Duyun, Kaili, Liuzhi, Bijie, as well as cities outside Guizhou such as Shenzhen, Nanning, Dongguan, Chongqing and Zhanjiang. Couches run hourly from 08:00 to 16:00.



Guizhou Provincial Stadium Coach Station
Location: No. 338, Zunyi Lu
Coaches here run between Guiyang and Zunyi, Anshun, Kaili and Duyun. They are available from 07:00 in the morning and run every thirty minutes.

Guiyang Urban Rail Transit Line 1 serves the public, linking Xiamaixi and North Railway Station. In total 9 urban rail transit lines are planned in Guiyang, with line 2, line 3, line S1 and line S2 under construction. In the future, the whole urban rail transit system will cover 467 kilometers (290 miles).


Rail Transit Maps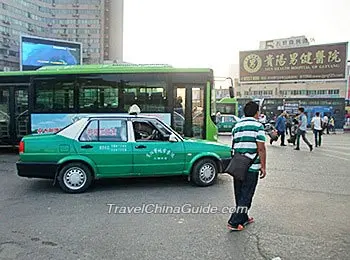 Bus and Taxi
It is the first city in China to adopt self-service ticketing for its public transportation. Its fare is CNY1. Public buses No.1 and 2 run between the Railway Station and Qianling Park throughout the day. Bus No.26 runs between Hebin Park and Huaxi, while bus No.38 between Hebei Park and Tianhetan Scenic Area.

A word of warning: This is a hilly city, so it is suggested that tourists not drive cars themselves to avoid accidents.

Almost 8,000 taxis operate in the city, with a majority of regular cabs and around 200 eco-friendly cars. It is easy to hail a taxi along any street. Most drivers charge by the meter and the two car types obey to different rules:
Car Types
Flag-down Rate (for the first 3km (1.9mi))
Cost of Each Extra Kilometer (0.6mi)
Empty Return Charge (for each extra kilometer (0.6mi))
Waiting Fee (for every 5 minutes)
Fuel Charge
Regular Cars
Daytime (06:30 – 22:00)
CNY8
CNY1.6
CNY2.4 for the distance beyond 5km (3.1mi)
CNY1.6
CNY1
Night (22:00 – 06:30 the next day)
CNY10
CNY1.92
CNY2.88 for the distance beyond 5km (3.1mi)
CNY1.6
CNY1
Eco-friendly Cars
Daytime (06:30 – 22:00)
CNY10
CNY1.8
CNY2.7 for the distance beyond 7km (4.3mi)
CNY1.8
---
Night (22:00 – 06:30 the next day)
CNY12
CNY2.16
CNY3.24 for the distance beyond 7km (4.3mi)
CNY1.8
---
Bicycle
Most people prefer walking and public buses to cycling. Generally bicycles can be hired in parks and at scenic areas. Usual cost is about CNY10 to hire one.



Reading more:
How to Travel between Beijing and Guiyang
- Last updated on Jan. 20, 2023 by Brenda Lian -
Questions & Answers on Guiyang Transportation
Asked by DatLee from VIETNAM | Dec. 10, 2020 05:07

Reply
From Longdongbao bus station to Xijiang Qianhu Miao Village
Which bus can I buy to Xijiang Qianhu Miao Village from the bus station?
Answers (1)
Answered by Mackenzie | Dec. 10, 2020 21:45

0

0

Reply
As I know, there is no direct coach from Longdongbao Bus Station.
It is suggested to take a high speed train from North Railway Station to Kaili South Railway Station. Upon landing, you can find direct tourist bus to the scenic area.
Asked by Claudia from NIUE | Nov. 07, 2019 19:02

Reply
Which bus and from where can I take a bus from Guiyang to Songtao county?
Answers (1)
Answered by Sean from AUSTRALIA | Nov. 10, 2019 22:25

0

0

Reply
You can only take bus from Longdongbao Coach station to Songtao at 10:50.
Asked by Noel from AUSTRALIA | Oct. 06, 2019 08:25

Reply
Guiyang to nanning by bus.
How many busses a day go from Guiyang to nanning and how much is the cost.
Answers (1)
Answered by Selena from MALAYSIA | Oct. 12, 2019 02:44

0

0

Reply
I didn't find the public bus timetable between them. You can take train from Guiyang Railway station to Nanning Railway station at 22:35 and arrive at 9:15 in next morning.
Asked by Jérôme from FRANCE | Jun. 10, 2019 03:31

Reply
What is the best way to reach Kaili South Station starting from Guiyang Airport ?
Answers (3)
Answered by John from CANADA | Jun. 10, 2019 20:08

0

0

Reply
Take high speed train from the airport to Guiyang North Station and then transfer to bullet trains to Kaili South.
Answered by Jérôme from FRANCE | Jun. 12, 2019 13:01

0

0

Reply
What are the tickets fare ?
Answered by John from CANADA | Jun. 12, 2019 18:11

0

0

Reply
The trains from the airport to North Station depart at 15:25 16:11 16:59 18:40 and it takes CNY13-22.
It costs CNY58.5-184 from the North Station to Kaili South.
Asked by Garry from CHINA | Apr. 12, 2019 22:05

Reply
Transport from Guiyang North railway station to Longdongbao airport?
Arriving about 3:30pm on Sunday afternoon from Tongren city. Can take a taxi but figured a bus might be just as simple. I can speak a little Mandarin.

Thanks

Garry
Answers (2)
Answered by Benjamin from DENMARK | Apr. 16, 2019 01:30

0

0

Reply
You can take airport shuttle bus line 1 from the North Railway Station to the airport. The ticket fare is CNY20/person. If by taxi, the cab fare is CNY 50 to 60.
Answered by Garry Kidd from CHINA | Apr. 21, 2019 16:46

0

0

Reply
Actually I found the high speed train to the airport only cost 15 RMB, and since I arrived at the high speed railway station from Tongren, that was the simplest method of getting to the airport. Very short trip.