Guiyang Railway Station
Guiyang Railway Station was put into commercial service in 1959. It is about 5.8 miles (9.4 kilometers) from the Guiyang North Railway Station, and 7 miles (11.5 kilometers) from the Longdongbao International Airport. Currently, the station mainly operates ordinary trains to the eastern area and to nearby cities such as Chongqing, Chengdu, Hangzhou, Shanghai, Jinan, Zhengzhou, Beijing, and Kunming.

Address: Zunyi Road, Nanming District



The bus stop is located at the southwest corner of the station square. While in the east side of the square, there is a large parking lot for private cars. The Tiyuguan Long-distance Bus Station is located 500 yards to the north of the train station. Buses from the station can reach almost all the nearby cities, such as Zunyi, Kaili, and Liping. One needs to remember that the boarding area for buses running to Qiannan area (including Duyun, Fuquan, Weng'an, Longli, Guiding, Huishui and other cities) is located near Tongda Hotel (about 220 yards north of the station), but not in the Tiyuguan bus station.

The station building has three floors. Its main structure is as follows:
Floors
Facilities
East Side
West Side
1F
Ticket office;
Medical shop;
Left luggage office;
Supermarket;
Dicos;
2F
No. 1 waiting room;
No. 2 waiting room;
3F
No. 3 waiting room;
Waiting room for mother and baby, the senior, army man and the disabled;
No. 4 waiting room;
Waiting room for soft ticket holders;
Notes:
1. Ticket office: There are 20 ticket windows in operation in the ticket office.
2. Waiting rooms: Drinking water and wash rooms are available in each room; while smoking rooms are only accessible in the no. 2 and no. 4 waiting rooms.
3. Left luggage: Generally costs CNY5 for each piece per day. Passengers should not place valuables in left luggage.
Main trains from the station:

Major Rail Lines from the Station to:

Timetable to Major Destinations:
(Last Update on Apr 25, 2023)
To
Trains
Duration
Ticket Fare (CNY)
Soft/ Hard Sleeper

Nanning

K144 at 22:18
10h51m
CNY 325/ 214
USD 48/ 31

Kunming

Z53, K137, K473, K1235...
10 departures from 03:10 to 23:10
7h7m - 9h29m
CNY 244/ 161
USD 36/ 24

Kaili

Z78, K740, K112, K942...
8 departures from 08:28 to 15:52
2h24m - 2h59m
CNY 119.5/ 82.5
USD 18/ 12

Chengdu

K142, K872 at 04:54 and 05:24
7h8m - 7h28m
CNY 253/ 169
USD 37/ 25

Chongqing

K1502, K404, K142, K872...
6 departures from 04:32 to 14:23
3h34m - 5h58m
CNY 155.5/ 105.5
USD 23/ 16

Beijing

Z162, K474, Z78, Z54...
6 departures from 02:51 to 18:16
27h27m - 35h17m
CNY 703/ 456
USD 103/ 67

Shanghai South

K80, K740, K112, K496 from 02:58 to 14:22
26h6m - 29h52m
CNY 640/ 416
USD 94/ 61

Hangzhou

K80, K740, K112, K496 from 02:58 to 14:22
23h25m - 26h56m
CNY 580/ 377
USD 85/ 55

Zhengzhou

Z162, Z78, Z54, K508...
5 departures from 02:51 to 18:16
21h11m - 22h56m
CNY 538/ 351
USD 79/ 52

Xi'an

K692, K692 at 05:51 and 05:51
13h22m - 14h6m
CNY 389.5/ 255.5
USD 57/ 38

The above schedule is for reference only. For real-time schedule and ticket booking, please click the arrival stations.
See detailed
Guiyang Schedule
Transportation: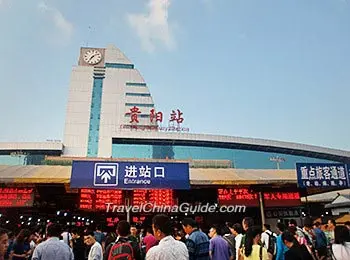 Guiyang Railway Station

To / From the railway station:
Bus nos. 17, 20, 24, 29, 43, 60, 63, 65, 74, 203, 216, 219, 224, 240, 250, 253, 255, K203, Loop line 1, Loop line 2, night line 1.



To other famous locations:
By bus:
1. To Guiyang North Railway Station:
One can take bus no. 261 to reach the north railway station directly.
2. To Longdongbao International Airport:
Take bus no. 216 and get off at the airport.
3. To Jiaxiu Tower:
Take bus no. 24 and get off at Dananmen. And then walk eastwards to reach the spot.
4. To Flower Stream Park:
Take bus no. K203 to Flower Stream, and then walk southwards to reach it.
5. Tianhe Pool Scenic Area:
Take bus no. 17 or 20 to Hebin Park, and then transfer to bus 211 to Tianhe Pool. After, walk southwards for about 450 yards to reach the spot.



By taxi:
| To | Price (CNY) | Time (minutes) |
| --- | --- | --- |
| Guiyang North Railway Station | 25 | 15 |
| Longdongbao International Airport | 30 | 20 |
| Jiaxiu Tower | 10 | 10 |
| Flower Stream Park | 55 | 30 |
| Tianhe Pool Scenic Area | 65 | 40 |
Print

- Last updated on Apr. 25, 2023 -
Questions & Answers on Guiyang Railway Station
Asked by Sammy from UK | May. 13, 2020 19:29

Reply
From Guiyang to Guilin
I plan to take a flight from Guiyang to Guilin, but the flight got cancellation from time to time at this moment, is train the best way?
Answers (1)
Answered by TravelChinaGuide | May. 17, 2020 18:42

0

0

Reply
Yes, exactly. Take train is the best way between these two cities, the Guiyang – Guilin high speed trains only take 2 – 2.5 hours, and it saves a lot of time for transferring to airport in both end. You can search train schedules from our website, the trains leave from Guiyang North and Guiyang East station.
Asked by Luke from AUSTRALIA | Jul. 23, 2019 00:09

Reply
Travel from Anshun West to Guiyang Airport
Hi!

We are staying in Anshun, and will be leaving on the 14th August 2019. We fly out of Guiyang Airport at 11:25am that morning.

Are you able to suggest the best way to get to the airport from Anshun (West) so we can make our flight?

Thanks!
Answers (1)
Answered by Van | Jul. 25, 2019 19:20

0

0

Reply
Will you take an international flight at Guiyang or domestic flight? The time seems too tight. If for international flight, you need to be at airport 3 hours in advance and 2 hours for domestic flight. It would be better if you go to the airport or Guiyang one day in advance and choose a hotel nearby.

I heard that there is bus to the airport from Anshun Tourist Bus Center at 6:30am. If you want to use this bus, you may take a taxi to there.
Asked by Delilah from SAMOA EASTERN | Jul. 19, 2019 03:12

Reply
When is the last and first subway to Guiyang North Station?
Can I stay at any of these stations overnight before taking a train from North Station next morning?
Answers (1)
Answered by Erick from USA | Jul. 21, 2019 18:35

0

0

Reply
I suppose this may not work. Guiyang Station did open 24 hours a day but to enter the station's waiting hall, you need to hold a ticket from this station. If you hold a ticket departing from North Station you cannot enter the waiting hall. The North Station however, does not working 24 hours a day. Maybe it is better if you book a hotel near the North Station instead. The subway service ends at 11:14pm to the North Station and starts at 6:44am.
Asked by Gina from VIRGIN ISLANDS | Apr. 13, 2019 07:31

Reply
Guiyang East
You don't have Guiyang east station updated here. :-)
Answers (1)
Answered by Gina from VIRGIN ISLANDS | Apr. 13, 2019 07:40

0

0

Reply
Oops, my mistake!
Yes you do!
Asked by jay from SINGAPORE | Apr. 07, 2017 01:29

Reply
is there any high speed train from Shenzhen to guiyang
Answers (1)
Answered by Poppy from CANADA | Apr. 07, 2017 05:33

0

0

Reply
Yes, there are usually 2 rides a day G2926 and G2922