Guiyang Longdongbao International Airport
Airport Code: KWE
Location: Guiyang Longdongbao International Airport is located around 11 kilometers (7 miles)east of downtown.
Two Terminal Buildings: T1 is used as an International Terminal and T2 as a Domestic Terminal. They are connected by a bridge. Another terminal building (T3) is under construction, and will open by August, 2021.
T1: 10 Check-in Counters, 12 Boarding Gates, 8 Security Channels
T2: 28 Boarding Gates, 22 Security Channels, 4 Check-in Islands, 8 Luggage Carousels
Flights: 228 domestic air routes to and from 132 cities; 25 international air routes to and from 24 cities

Passenger Guide
1. Time for Taking Flights:
→ Arrive at the airport 2-3.5 hours before flight departure
→ Close Time for Check-in: Domestic Flight: 45 mins. before take-off; International Flight: 75 mins. before take-off
→ Close Time for Boarding: Domestic & International Flight: 20 mins. before take-off
2. Self-service Check in & Self-service Luggage Check in
There are 8 self-service check-in machines on the left side of the ticket hall on the second floor of T1; 20 machines on the left side of Gate No. 10 of T2 and 20 machines on the right side of Gate No. 12; 4 machines for international flights are set in the Check-in Island D. The self-service luggage check-in equipment are located at counter C01 / C02 of C Check-in Island of T2.
There are two terminal buildings: T1 is used as an International Terminal and T2 as a Domestic Terminal. They are connected by a bridge. Another terminal building (T3) is under construction, and will open by 2019.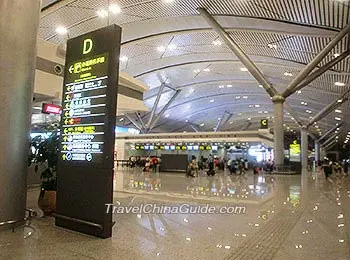 Guiyang Airport
T1: 10 Check-in Counters, 4 Boarding Gates
T2: 28 Boarding Gates, 22 Security Channels, 4 Check-in Islands, 8 Luggage Carousels

Longdongbao Airport Flights
Domestic Destinations: Baoshan, Beihai, Beijing, Changchun, Changzhou, Chengdu, Dalian, Fuzhou, Guangzhou, Harbin, Haikou, Handan, Hangzhou, Hefei, Hohhot, Huai'an, Huizhou, Jinan, Lhasa, Lanzhou, Lijiang, Lianyungang, Linyi, Liupanshui, Luoyang, Nanjing, Ningbo, Quzhou, Quanzhou, Sanya, Shantou, Shanghai, Shenzhen, Shenyang, Shijiazhuang, Taizhou, Tangshan, Tianjin, Wenzhou, Urumqi, Wuxi, Wuhan, Xi'an, Xichang, Xining, Xishuangbanna, Xiamen, Xingyi, Xuzhou, Yantai, Yangzhou / Taizhou, Yiwu, Yinchuan, Yuncheng, Zhanjiang, Zhengzhou, Zhuhai
International Destinations: Bangkok-Suvarnabhumi, Osaka-Kansai, Singapore, Paris-De Gaulle, Melbourne, Seoul-Incheon, Nha Trang, Malaysia-Kuala Lumpur, Myanmar Mandalay, Moscow, Milan, Kathmandu, Sihanoukville
Airline Companies

Domestic Airlines: Capital Airlines (JD), Air Changan (9H), Loong Airlines (GJ), Chengdu Airlines (EU), Spring Airlines (9C), China Eastern Airlines (MU), Colorful Guizhou Airlines (GY), Air Guilin (GT), Air China (CA), Hainan Airlines (HU), Hebei Airlines (NS), China Express Airlines (G5), Juneyao Airlines (HO), Jiangxi Air (RY), 9 Air (AQ), Kunming Airlines (KY), China Southern Airlines (CZ), Qingdao Airlines (QW), Shandong Airlines (SC), Shanghai Airlines (FM), Shenzhen Airlines (ZH), Sichuan Airlines (3U), Tianjin Airlines (GS), West Air (PN), Tibet Airlines (TV), Xiamen Airlines (MF), Lucky Air (8L), Yangtze River Express Airlines (Y8), Fuzhou Airlines (FU), Chongqing Airlines (OQ)

International Airlines: Jetstar Airways (JQ), Korean Air Lines (KE), Malindo Air (OD), Royal Flight (FV), Neos (NO), Himalaya Airlines (H9), Lanmei Airlines (LQ)
Services and Facilities of Guiyang Airport

24-hour Inquiry Hotline: +86 0851-96967

Baggage Inquiry: T2: +86 0851-85498535. T1: +86 0851-85499389

Baggage Packing: beside Gate no. 8 &12, 2F, T2.

Baggage Storage: in the public area, 2F, T2.

Lost & Found Service
Location: Customer Service Center on 2F of T2
Hotline: +86 0851 85497806

Airport Hotel: About 90 meters (100 yards) from T2, it receives guests around the clock.

Restaurants & Coffee: CreaTea, KFC, Dio Coffee, Shamrock Restaurant.

Special Services for the Disabled: free wheelchair, free tram and free guide service for the blind
Note: It is recommended that passengers inform the airlines 72 hrs in advance of needed services and arrive in the airport 3 hours ahead of time to avoid missing the flight. Upon landing the airport, go to the Customer Service Counter in T2 between Check-in Islands B & C to obtain the services.
- Last updated on Jan. 20, 2023 by Brenda Lian -
Questions & Answers on Guiyang Longdongbao International Airport
Asked by Alesia from BELARUS | Sep. 22, 2019 18:16

Reply
My flight should arrive at 23:40 pm
Is it possible to take a bus to Guiyang Railway Station that time? Or taxi is the only option?
Thank you ,
Alesia
Answers (1)
Answered by Cathy from NEW ZEALAND | Sep. 24, 2019 20:50

0

0

Reply
Yes, you can still take shuttle bus line of railway station. If you take taxi, it costs around CNY30.
Asked by gchipic from UNITED STATES | Feb. 14, 2019 22:05

Reply
Taxi fare and whether be able to accommodate 6 luggages in Guiyang
What is the taxi fare from longdongbao international airport to 貴陽中天凱悅酒店?
Can we easily get 1 taxi to fit 3 adults + 6 luggages to take us to Hyatt Regency?
Answers (1)
Answered by Natalie from AUSTRALIA | Feb. 19, 2019 23:08

0

0

Reply
In general, the cab fare is CNY60 to 70 in the day time. But one taxi cannot accommodate 6 pieces of luggage. Thus you are advised to get two taxis.
Asked by DA RE MARISA from ITALY | Oct. 30, 2018 10:58

Reply
is it possible to change money in Guiyang airport?
Answers (2)
Answered by DA RE MARISA from ITALY | Oct. 30, 2018 11:00

0

0

Reply
we are 8 people and we will arrive at guyang airport on November the 3rd at 19:40: is it possible to change money?
Answered by Vida from AUSTRALIA | Oct. 30, 2018 18:17

0

0

Reply
Well, sorry, I didn't find any information online. Thus I am not sure whether there is a Money Exchange Center or not. Thus you'd better prepare RMB in advance.
Asked by ycliew from SINGAPORE | Oct. 20, 2017 02:12

Reply
Luggage storage at Guiyang Airport
I and my wife will arrive at the airport on the morning. Is there any luggage storage area in the airport for us to drop our luggages so we could travel with just a small back-pack for the next 4 days? If yes, where is located and what's the daily/hourly rate?

Thanks
Answers (2)
Answered by John from CANADA | Oct. 23, 2017 02:40

0

0

Reply
Yes, there is a luggage storing place in the right of the second floor.
It costs CNY3 for a small luggage within 24 hours; CNY6 for 2 middle ones; CNY10 for 3 big bags.
And the extra money will be charged for more than 24 hours, in your case, it may cost CNY12.
Answered by ycliew from SINGAPORE | Oct. 23, 2017 03:34

0

0

Reply
John,
thanks. you're helpful
Asked by GUY from UNITED KINGDOM | Oct. 03, 2017 10:14

Reply
I have a train ticket from congjiang to guiyang bei - is it ok to get off the train at airport
I have a flight from longdongbao - i bought a train ticket from congjiang to GY bei - not realising there is a train station at the airport - will it be ok to get off the train early - that is at longdongbao train station?
Answers (1)
Answered by Brain from NEW ZEALAND | Oct. 11, 2017 02:19

1

0

Reply
Of course it is fine to get off early at Longdongbao Station. No one cares and checks!