Guiyang Festivals
Guizhou is a place highlighted for its numerous ethnic minority festivals. Guiyang, as the capital city of Guizhou Province, is an assembly point for the multi-ethnic people. The Buyi and the Miao have the largest population of all. During the festivals, local people put on their gala clothes, which are very beautiful and each have their own characteristics.

Festivals of the Buyi Group



San Yue San
Chinese name: 三月三
Time: the third day of the lunar March
It is one of the traditional festivals of the Buyi people, which was originally related to agricultural production. It is said that the cutworms are going to destroy the crop every spring. In order to protect their harvest, the Buyi people will spray some fried corn in the farmland to feed these pests. What's more, the locals will sing and dance outdoors while eating the fried corn. Nowadays, the festival seems juts to be a singing feast for the Buyi people. On that day, the Buyi people in Guiyang are going to gather together in the Xinbao Township, Wudang District of Guiyang City.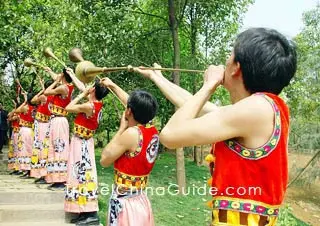 Liu Yue Liu: Buyi People Play Suona

Liu Yue Liu
Chinese name: 六月六
Time: the sixth day of the lunar June
This festival is an important day for Buyi people to worship the cook's god and the mountain god. The Buyi people living in or around Guiyang City will wear their holiday array and come to the Huxi Lake in the Huaxi Town of the Guiyang City. There, a series of celebrations are held, such as singing and dancing performances as well as playing of their musical instruments. The young males and females will take this opportunity to express love for their beloved ones.



Di Xi
Chinese name: 地戏
Time: the fifteenth day of the lunar January
It is a form of local drama, held at Huaxi by Buyi people and other minority groups. The performers put on masks and costumes and engage in dancing and singing. Generally the performance tells a story of a battle or the loyalty between friends of ancient times.

| | |
| --- | --- |
| Di Xi (Nuo Drama in Guizhou) | Si Yue Ba: Miao People Play Lusheng |

Festivals of the Miao Group

Si Yue Ba
Chinese name: 四月八
Time: the eighth day of the lunar April
On this day, large numbers of Miao people put on their beautiful costumes and congregate in the central area of the city to celebrate this great festival by playing the Lusheng and flute, singing antiphonal songs and dancing. It is said that this festival is for the Miao people to pay homepage to their heroes. Currently, it is a public carnival for the Han and the other ethnic minorities inhabiting in Guiyang. So, this day is the best time to enjoy the various kinds of national cultures at the same time.
- Last modified on May. 03, 2018 -
Questions & Answers on Festivals in Guiyang
Asked by Charles Baton from USA | Jul. 24, 2015 10:12

Reply
WHEELCHAIR TRAVEL
I plan to cruise to Hong Kong in March 2016 I travel with a WHEELCHAIR is that a problem
Answers (1)
Answered by Quintes from RUSSIA | Jul. 24, 2015 20:22

2

1

Reply
Oh, it's not difficult for you to tour around HK with the wheelchair.
As I know, most scenic areas, metro and bus stations have speacial passageway for handicapped people. So don't worry. :-)
Asked by Tjiesiung

yahoo.com from INDONESIA | May. 07, 2015 19:38

Reply
Hi, how can I go about around Hongkong for 3 days from airport to the city and back? What is best?
Answers (1)
Answered by Steve from USA | May. 07, 2015 21:16

0

1

Reply
Well, I also wanna give your some suggestions about the transportation.
It's very convenient for you to take metro in this city. And a suitable transportation card can help you save some money.
According to your situation, you can buy Airport Express Travel Pass. It contains one or two Airport Express single journey(s) plus 3 consecutive days of unlimited travel on MTR.
Asked by Tjiesiung from INDONESIA | May. 07, 2015 19:17

Reply
Hi, I will be in Hongkong for 3 dąsy in Mei, what can I do for that time there
Answers (1)
Answered by Steve from USA | May. 07, 2015 21:14

1

0

Reply
Oh, May is a good time to tour around this city. There aren't special activities this year during the month. But you can visit the popular scenic spots. And three days are enough for you. You can arrange your tour in the following way.
Day 1: Ocean Park, Central Area, Causeway Bay
Day 2: Disneyland Resort, A Symphony of Lights
Day 3: Victoria Peak, Madame Tussauds, Tsim Sha Tsui
Sightseeing in the daytime and shopping in the night are good choices for you. Have fun!