Langde Miao Ethnic Minority Village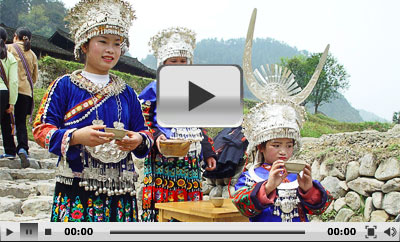 Langde Miao Village Pictures
As one of the most fascinating ethnic minorities in China, groups of Miao people are everywhere in southwest China, mostly in Guizhou Province. But, if you really want to experience the authentic ethnic cultures, go visit Langde Miao Ethnic Minority Village in Kaili. About 50 kilometers north of Kaili, it's no doubt a beckoning tourist village.

Miao Ethnic Minority is both mysterious and exciting. The Miao people are identified by their dialect, dress, location and other customes. In dress we have Long Skirt Miao, Short Skirt Miao, Black Miao, Flowery Miao and Long Horned Miao. By location there are River Miao and Mountain Miao. The villagers in Langde wear long skirts, hence they are "Long Skirt Miao". The Miao style houses "Diaojiaolou" and its featured and creative festivals will cause you spell bound.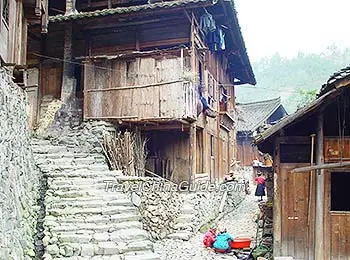 Stilt-houses, Langde Miao Village
Around 500 villagers in ten families, the Langde Miao Village is considered small. Members of the Miao Ethnic Minority, they adopt common habits and customes. Entering the village, visitors would find themselves literarily immersed in works of art.
Welcoming Ceremony
You find it amidst hills and bound by waters. On arriving at the entrance you could behold some beautifully dressed girls blocking your path. It's a welcome party and guests are allowed in after drinking their twelve courses of way-blocking wines -- a most ceremonious etiquette. Here, people are wearing colorful festival dress. Women wear gorgeous and complex silver jewelry, and some young ladies adorn silver horned coronal on their heads; men robe themselves in blue-black, with chuddar of the same color covered their heads. Each man carries a Lusheng (a bamboo-made music instrument) and stands in line to play the Lusheng pipe music.
| | |
| --- | --- |
| Welcoming Ceremony of Miao Minority | Lusheng Festival, Langde Miao Village |
Miao-style House (Diaojiulou)
After the welcoming ceremony, you walk into the Langde Miao Village. The Miao-style Houses are of wood and high above ground. Each has several wood pillars as support. Therefore, it is called "Diaojiaolou" in Chinese. Homes are usually two to four storeys. Upper layer is used to store the provisions; people live in the middle; while fowls are sheltered under the house. An ethnic minority museum was built in this village where some ancient ethnic cultural relics are exhibited. Seen from a distance, the whole village looks like a mirage.
Festivals
Festivals are occasions for the Miao people to get together and show off their culture.They have many traditional festivals all year round. But Lusheng Festival,Sisters' Festival and Dragon Boat Festival are best known. Miao girls'costumes are used in their dance, during which you could hear their silver ornaments twinkling lightly.
| | |
| --- | --- |
| Dance performance of Miao girls | Lusheng Festival of Miao Minority |
After enjoying the wonderful performance, you may be invited to their homes by the local people. Of course, if you still want to linger here, guest rooms on Diaojiaolou are ready.
How to get to Langde Miao Village
1. Take a bus from Kaili Bus Station to Langde and arrive in 40 minutes. The bus departs every one hour; bus fare is about CNY 9.
2. Take a bus from Kaili to Leishan County and get off at the Lower Langde Village on the roadside. Then follow the direction sign to Upper Langde Village. It takes a walk of about 20 minutes.
3. Take a bus from Leishan County to Langde. The bus departs every half hour; bus fare is CNY 5.
4. You can also rent a car to Langde Village. The round-way rent is about CNY 100.
| | |
| --- | --- |
| Admission Fee | Free |
| Opening Hours | All day |
Another village, Nanhua Miao Ethnic Minority Village, is the counterpart of Langde, about twenty kilometers from Kaili. Either will bring visitors unexpected pleasant surprise.

Top 8 Things to Do in Guizhou
- Last updated on Jun. 07, 2022 -
Questions & Answers on Langde Miao Ethnic Minority Village
Asked by Roman Olac-vaw from UNITED STATES | May. 05, 2019 11:14

Reply
We're thinking of doing Kaili --> Paiyang --> hike to Kongbai --> Langde, stay overnight to Langde.
Is it doable? What would be the best way to go from Kongbai to Langde? Should we skip Paiyang and start hiking from Kongbai to Langde instead?
Answers (1)
Answered by Jim from UNITED KINGDOM | May. 08, 2019 00:43

0

0

Reply
Hi, are you sure you give right names of these places? I guess your second place is Kaiyang? I'm not clear your third place so can you verify it?
Asked by Zaneta from CZECH REPUBLIC | Sep. 21, 2016 05:15

Reply
I would like to travel from Guiyang to Guilin with estimated stops at Kaili and Maias villages.
And also Zhaoxing village and Longsheng.
As I am trying to figure out where I could spend the nights, are there any hotels or home stays in Kaili?
Also, does one can only sleep in Longshen town, or Is it possible to find any accommodation in Heping township?

I'm also having difficulties finding transport from Kaili to Liping county and then from there to Longshen.
Are there any buses connecting these places?
I only have 5 days for this journey, is it even doable?

Thank you, any advice will be appreciated! I find this website very helpful so far.
Answers (1)
Answered by Cissy from USA | Sep. 22, 2016 02:37

0

0

Reply
There are many hotels and hostels in Kaili. You can simply walk in and check in. For instance, you can stay at 7 Days Inn on East Huancheng Road. It costs CNY 100-200 per night. You can book a room by dial 86-0855-8680777.

In Longsheng, you may stay at Huamei International Hotel at Sangjiang Northern Bank Development Zone. A standard room costs CNY 150 to 300. You can book a room by dialing 86-0773-7929888. At Heping, there are many hostels for you! Just walk in and check in.

You can take a direct bus from Kaili to Liping for CNY 80 (about 3.5 hours). The buses are available from 8:00 to 17:30. There is no direct bus between Liping to Longsheng. You may take a bus to Sanjiang first (about 3 hours). Then, take a bus to Longsheng (about 2 hours).

I am afraid that your itinerary is a little bit too tight. You might consider skipping Zhaoxing Dong Village or Longsheng. :)
Asked by Laura from SPAIN | Sep. 16, 2016 07:17

Reply
How can i reach the Miao Village from Guiyang Train Station?
Answers (1)
Answered by Cindy from UNITED KINGDOM | Sep. 16, 2016 22:54

0

0

Reply
You can take a normal-speed train from Guiyang Railway Station to Kaili Railway Station. The duration is about 2.5 hours. The ticket fare of soft sleeper is CNY113.5, hard sleeper is CNY74.5 and hard seat is CNY28.5. Then take a car to Kaili Coach Station. There are several coaches that bound for Leishan. You can take it and get off at Langde in the half way.
Asked by Natasha from SINGAPORE | Jul. 05, 2016 03:26

Reply
I would like to know about the name of the festival on March 26, in Kaili.
There's a huge festival going on. Can't remeber the name of it. May i know what it is?


Answers (1)
Answered by Paco from SPAIN | Jul. 06, 2016 03:39

0

0

Reply
Do you refer to Baixi Lusheng Festival in Baixi Village, Shibing County, Kaili?
If yes, the festival is usually held in mid Feburary of Chinese lunar calendar.