Best Time to Visit Guizhou
When is the best time to visit Guizhou? The best time to visit Guizhou is from March to May in spring for blooming flowers, June to August in summer for grand waterfalls, and September to November in autumn for colorful leaves. Also, many ethnic festivals are celebrated then, when you can know China's ethnic monorities in depth.
Peak Seasons: May to October
May to October is the peak season for Guizhou travel, because at this time the temperature is pleasant and the scenery is the most beautiful. Also, as Guizhou is a gathering area of ethnic minorities, the festival times of these ethnic minorities are quite popular among travelers. For example, early April before spring ploughing, early July after summer harvest and October after autumn harvest. However, the ticket price of attractions and accommodation cost will be higher during the peak seasons.
Slack Seasons: November to April
The slack season for Guizhou is from November to next April when there will be frost and the temperature will be comparatively lower. But compared with other Chinese cities, Guizhou is still relatively warm. Accordingly, the admission price of the scenic spots will be cheaper, and the accommodation does not need a lot of expenses. But Chinese New Year usually in late January to Middle February is an exception, when many people go to Guizhou to experience the Spring Festival customs of ethnic minorities, which is also a peak season.
Times to Avoid Travel
Try to avoid the two busiest travel peaks of the year in China –
Chinese New Year
, and
Chinese National Day Holiday
from October 1 to 7. During the two longest holidays in China, there will be large crowds at tourist attractions and you can't really enjoy yourself. Meanwhile, the airfare and hotel accommodation fee is much higher than usual times, and it is difficult to buy train tickets during Chinese New Year. You should also avoid Chinese three-day holidays like
Qingming Festival
, which is in early April, and
Dragon Boat Festival
in June. If it is possible, try to avoid summer vacation, which runs from July to August, when there are a lot of students and parents traveling.

See More about
Public Holidays in China
Travel to Guizhou in Four Seasons
Spring: March to May
The spring weather is usually warmer bur rainy. So it's best to go out with rain gear.
Average temperature: 11.5℃– 21.5℃ (52.7℉ - 70.7℉)
Clothes: Hoodies, thin sweaters, T-shirts, overcoat…

Recommended tour destinations: Rape flowers around Xingyi Wanfenglin are in full bloom, like the golden ocean, forming a beautiful picture. Also, visitors can appreciate flowers in One-Hundred-Li Azalea Belt Scenic Spot. In addition, Xijiang Qianhu Miao Village should not be missed, where you can watch the song and dance performance of Miao minorities, wear the colorful Miao costume, or take a walk on the Wind-Rain Bridge.

| | |
| --- | --- |
| Spring in Guizhou | Guizhou Summer |
Summer: June to August
In summer, it is cool compared with other places in China due to the high altitude, hence a popular summer resort.
Average temperature: 25℃ – 28℃ (77℉ – 82.4℉)
Clothes: short-sleeve T-shirts, short pants, skirts, rain gear…

Recommended tour destinations: You can go to Fanjing Mountain National Nature Reserve to see sea clouds and Buddha light, or appreciate Huangguoshu Waterfalls, enjoy various karst caves of Zhijin Cave. Also grassland scenery of Wumeng Prairie is picturesque and amazing in summer, and rafting in Taoyuan River Scenic Area should not be missed. Libo Zhangjiang Scenic Area also is a nice summer destination.
Autumn: September to October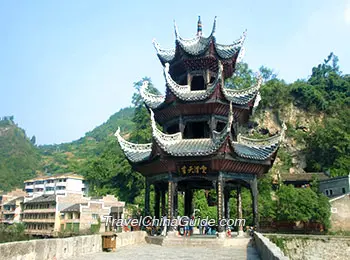 Autumn in Guizhou
There will be sharp temperature difference between day and night.
Average temperature: 20℃ - 27℃ (68℉ – 80.6℉)
Clothes: T-shirts, wind-breakers, jackets…

Recommended tour destinations: In autumn, Red Maple Lake make people feel like wandering in the red ocean. The Jiabang Terraces and Gaopo Terraces are covered by golden rice with pleasant fragrance. Tuole's Ginkgo Village is one of the densiest places in the world for the ancient ginkgo trees. Here, visitors can enjoy the gorgeous autumn scenery with the babbling water under the flagstone bridge. Also, you can pay a visit to Zhenyuan Ancient Town to learn local folk customs. The New Year of Miao minority usually falls in October and Langde Miao Village is recommended to experience it.

Winter: November to February
Winter in Guizhou is relatively warm compared with other cities in China.
Average temperature: 3℃ - 9℃ (37.4℉ – 48.2℉)
Clothes: Thick sweaters, overcoats, scarves…

Recommended tour destinations: Visitors can enjoy the thrill of alpine skiing, snowmobiling and snowboarding in Yushe National Forest Park. Or go to Shiqian Hot Spring to enjoy the warm and comfortable hot spring. At the same time, New Year of Dong ethnic minority is usually celebrated in early November, which is rich and colorful that everybody should not miss. To attend it, Zhaoxing Dong Village if the first choice.


- Last updated on Apr. 15, 2021 -
Questions & Answers on Best Time to Visit Guizhou
Asked by Boon from THAOLAND | Apr. 22, 2020 10:10

Reply
Wumeng grassland
Hi,
I am interested in Wumeng grassland.
May anyone can tell how to go there from
Guiyang? What is the must see.
When is the best time to go?
Please recommend all I should see.
Thanks for every comment.

Boon
Answers (1)
Answered by Alina from FRANCE | Apr. 26, 2020 22:53

0

0

Reply
Generally speaking, April to June and September to October are the recommended sightseeing time.
From Guiyang, it is advised to take a bullet train from Guiyang North Railway Station to Panzhou Railway Station. After arriving, you can find the direct coach to the grassland.