Guizhou Weather
Guizhou has a pleasant and humid climate. It rains in the most time of a year. The sunshine is rare that it is said "sunny weather seldom lasts for more than three days". Abundant mountains and rains all contribute to the coolness of Guizhou weather.
To enjoy your Guizhou travel, the best time to visit Guizhou is from March to November, when it is cool and it is the wet season perfect for watching waterfall scenery like the famous Huangguoshu Waterfall.

Annual Weather Facts of Major Cities
Guiyang Weather Averages
High Temp: 25~28℃ (77~82℉)
Low Temp: 1~5℃ (34~41℉)
Humidity: 78%
Rainfall: 1,073 mm
3-Day Guiyang Weather Forecast
Anshun Weather Averages
High Temp: 23~26℃ (73~79℉)
Low Temp: 2~5℃ (36~41℉)
Humidity: 80%
Rainfall: 1,293 mm
3-Day Anshun Weather Forecast
Guizhou Climate - Seasons & Travel Advice
Located in South China at a low altitude, the province is endowed with a mild climate. In spring, summer and autumn, it is generally 15~25℃ (59~77℉). In winter, the weather is a bit colder than other cities in southern China, but the temperature seldom drops below 0℃ (32℉). Because of the special geographical position, it rains a lot. Rainy days can reach 200 days in a year. Most rain is in May to October, so if you travel during this period, please pay close attention to the weather forecast and take rain gears and thin jackets.

Guizhou's spring is decorated with bright flowers. In Libo, large fields of golden rapeseed flowers provide a great view for photographing. One-Hundred-Li Azalea Belt Scenic Spot in Bijie is described as "a ribbon on the earth". Every March to May is the blossom season. Red, white, yellow and purple azalea flowers will fill up the whole mountain, creating a colorful picture.

What to Wear: shirt & blouse, sweatpants, jacket, walking shoes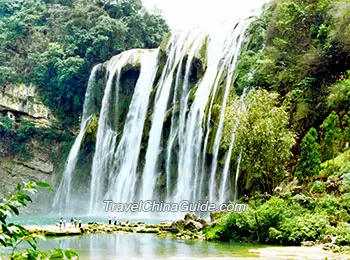 Huangguoshu Waterfall in Summer
The weather in summer is cool that in July, the hottest month, the temperature is 18~26℃ (64~79℉). Guiyang is entitled with "the City of Coolness", ideal to get away from heat. Summer is the most wonderful season to enjoy the waterfalls. From June to August is the rainy season with abundant rainfall, making the waterfalls rich in water content. Huangguoshu Waterfall is the best place to go. It is one of the largest waterfalls in Asia. In summer, the scenery of the waterfall is the grandest and the water is the cleanest. Standing near the waterfalls to feel the coolness brought by water is a great enjoyment. Also you can make a trip to Zhijin Cave, which is famous for the various strange rocks in the cave caused by karst formation.

What to Wear: short sleeves shirt, dress, thin jacket, sandals

Guizhou climate features a short autumn from mid-September to mid-November. In this season, Xiaoqikong in Libo has the most beautiful view. It has the similar scenery to Jiuzhaigou, Sichuan. The water is vivid green and clean with trees reflected like in the mirror. Besides, the Tuole Village in Pan County is also a great place to visit with over 1,200 well preserved gingko trees, most of which have a history of over a thousand years.

What to Wear: sweatshirt, trench coat, baseball jacket, sneakers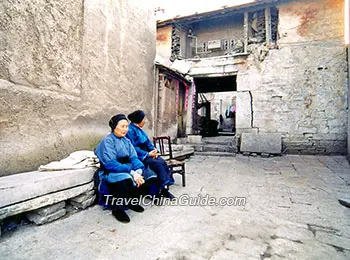 Winter in Guizhou
Winter (Dec - Feb)
Compared with other southern cities, Guizhou has cold weather especially in mountain areas. Sometimes the low temperature decreases to 0℃ (32℉). Thick snow is not common but the rime on mountains formed by humidity and low temperature is special scenery. On the mountain top of Fanjing Mountain National Forest Park, the scene of trees and flowers covered by crystal rime is most attractive. Apart from admiring the rime, visiting Xifeng Hot Spring near Guiyang is also a good choice. In November or December, the New Year of Miao ethnic group is celebrated. You can visit Xijiang Qianhu Miao Village to enjoy the festival with the local Miao people.

What to Wear: sweater, wadded jacket, downcoat, winter pant
- Last updated on Jun. 07, 2022 -