Qiannan Attractions - Things to Do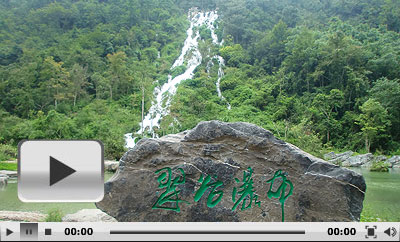 Qiannan Buyi and Miao Autonomous Prefecture, located in south-central Guizhou Province, is inhabited by more than 37 ethnic groups, including Han, Miao, Buyi, Shui and Yao. It boasts a lot of karst stone forests, canyons, primitive forests, waterfalls and many other unique natural scenic spots. Its charming waters and mountains together with strong ethnic minorities' flavors make this region greatly attractive.
The capital city Duyun lies in the south of Qiannan, which is the south gateway from Guangxi to Guizhou. Near to the sea and the tropical zone, it is considered an ideal summer resort. Jianjiang River, the headstream of the Qingshuijiang River, meanders through downtown Duyun. Centering on the Jianjiang River, the Jianjiang River-Doupengshan Mountain Scenic Area has been established.
Top Things to Do
Jianjiang River-Doupengshan Mountain Scenic Area
The scenic area comprises four scenic areas, including Doupengshan, City of Bridges, South Line and the lower reaches of the Jianjiang River. Doupengshan is renowned for primitive forests, rare animals, streams and canyons, pools and waterfalls; City of Bridges, actually refers to Duyun City, where the nine headstreams of the Jianjiang River meet and more than 100 bridges can be found; the South Line Scenic Area mainly shows karst caves, ancient tombs and ancient bridges; and the lower reaches of the Jianjiang River sit many villages of ethnic minorities.
To the southwest of Jianjiang River-Doupengshan Mountain Scenic Area sits the famous Libo Zhangjiang Scenic Area in the southwest of Libo County. Covering an area of 273 square kilometers (105 square miles), Libo Zhangjiang Scenic Area is a vast forest unique in Karst landscapes and water views. It is composed of Daqikong Scenic Area, Xiaoqikong Scenic Area, and Shuichun River Scenic Spot.
| | |
| --- | --- |
| Ancient Bridge, Xiaoqikong Scenic Area | Xiaoqikong Scenic Area |
Libo Maolan Karst Forest Natural Conservation
In the southeast of Libo County lies the state-level Maolan Karst Forest Natural Conservation. It is a rarity of primeval subtropical forest in Karst topography in China, where numerous plants and animals live. Waterfalls, lakes, karst caves and hills of this conservation enhance its beauty.

The characteristic of the traditional Karst topography is stone desertification. Though it created some famous attractions, such as Yunnan Stone Forest and Huangguoshu Waterfall, it is still very hard for the poor soil covering on the stones to provide an adequate breeding ground for the vegetation.

However, in the southern suburb of Libo County, Guizhou Province, an attraction called Maolan Karst Forest Natural Conservation is so different, since the forest coverage rate reaches 91.59 percent. And at present, it's a very rare primeval subtropical forest of Karst topography in China, even in the world. Therefore, some scientists are interested in this place and also many tourists would like to explore this natural Karst forest.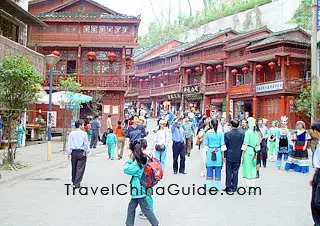 Stone Slab Street, Duyun

This conservation contains abundant plant and animal resources. Vascular bundle plants, ferns and seed plants can be seen anywhere; varied mammals, amphibians, reptiles, and birds inhabit this area. Besides, there are several must-see scenic spots here, including the Xiangshuihe Waterfall, Mandarin Duck Lake and Karst Cave Group. In short, the Karst caves, forests, hills and waterfall mingle together and enhance their beauty.

Additionally, Libo County is full of the atmosphere of the ethnic minorities. Here is inhabited by Miao, Shui, Yao and Bouyei mainly. So when you go to the Maolan Karst Forest Natural Conservation, you could have a good comprehension of those ethnic minorities.

How to get there: You can take a bus of 'Guiyang to Libo' in Guiyang Passenger Station on the morning of weekends (Usually, the bus of 'Guiyang to Libo' is only available at weekends in this station). After reaching Libo, you should take the coach to Maolan and get off at its destination. Then you could find this conservation area.

Related Link:


South China Karst
Additionally, the villages of ethnic minorities are well worth visiting, such as Baimang Buyi Village around Duyun, Yinzhai Buyi Village in Guiding County, and Yaolu Yao Village in Libo. In Baimang, you can go to visit the ruins of Luosike Ancient City built on the Mt. Luosishan. With a very good preservation of wild plants, the Guanyinshan Mountain and the Wengchenghe River in Yinzhai are two must-see attractions. Yaolu, located in Maolan Karst Forest Natural Conservation, is renowned for the culture of Yao people.
- Last modified on Apr. 15, 2021 -
Questions & Answers on Qiannan Attractions
Asked by Habib from MALAYSIA | Oct. 24, 2015 11:29

Reply
Any flight from Guangzhou to Xiaoqikong scenic area?
Pls advised
Answers (1)
Answered by Grace from AUSTRALIA | Oct. 24, 2015 21:47

2

0

Reply
From Baiyun airport, there is a direct flight scheduled at 15:40 available to Libo, but the flight available every day. Here is the flight number CZ3929, you can search for the detaild schedule info online.

The scenic spot is just located in Libo county. Upon arrival, take a taxi from the airport to the spot, and the fare is about CNY50-60.

Asked by colas from EUROPEAN UNION | Sep. 05, 2011 10:39

Reply
Hello! For visiting Maolan Karst Forest, do you need to have a vehicule? Are there pathays ?
Is it possible to walk for several hours? Do you need to stay in Libo to get a bus to go there?
I want to visit Da qikong, Xiaoqikong too in november, and intended to take the train from Guiyang to Mawei. Are there direct buses to Libo too? What is the best?
In my book, they advise to find an hotel in Xiaoqikong. Better in Libo for the access to these sites?
Thank you for reply.
Answers (1)
Answered by Andrew from CHINA | Sep. 06, 2011 03:01

2

0

Reply
Libo Bus Station has bus to Jinchengjiang which passes Maolan Karst Forest. Walk from Libo to Maolan or walk around Maolan? It takes one hour by bus from Mawei to Libo. It takes about 6 hours bus dirct bus from Guiyang Long-distance Bus Station (opposite Guiyang Stadium). 3-4 buses a day, at 8:00, 9:10, 13:00, 14:30. This is just for reference. You need to confirm when you get to Guiyang. Yes, it is better access to Xiaoqikong from Libo.