Zunyi Travel Guide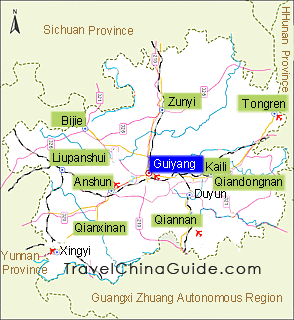 Zunyi Facts
Chinese Name: 遵义 (zūn yì)
Population: 8,000,000
Area: 30,762 square kilometers (11,877 square miles)
Location: in the north of Guizhou Province, southwestern China
Administrative Division: 2 districts (Huichuan, Honghuagang, Bozhou); 7 counties (Tongzi, Suiyang, Zheng'an, Fenggang, Meitan, Yuqing, Xishui); 2 autonomous counties (Daozhen Gelao and Miao, Wuchuan Gelao and Miao); 2 county-level cities (Chishui, Renhuai), 1 new district (Xinpu)
Area Code: 0851
Zip Code: 563000
GDP (2019): CNY 348.332 billion (USD 50.490 billion)
Famous Communist Party History Site
Situated in northern Guizhou Province, Zunyi is the second largest city in Guizhou Province. It bordered with Chongqing to the north and in the neighborhood of Luzhou in Sichuan Province. The capital city of Guizhou, Guiyang, is located 155 kilometers (96 miles) south to it. Zunyi is an important transit station for those who want to go deep into northern Guizhou. This city is also known as a famous Communist Party history site as the Zunyi Meeting was held here in 1935. The meeting adjusted the leftist dogmatism and established the correct leadership of the new Central Committee represented by Mao Zedong, saving the Chinese Communist Party and Red Army in a critical time. Maotai, known as "China's national spirit ", is produced in Maotai Town in the northwest of Zunyi. Zunyi also has the largest tea garden in Guizhou. Zunyi black tea, Zheng'an white tea, Lubaoshi plateau green tea are of excellent quality. Besides, Zunyi features stunning waterfalls, caves, peaks, bamboo sea and Danxia landform.
Zunyi Attractions - Things to Do

Chishui Scenic Spot
: Chishui is the principal tourist destination there. The Shizhangdong Waterfalls which is famous for its spectacular waterfall, bamboo sea and Danxia Landform are praised to be on a par with the distinguished
Huangguoshu Waterfall
. In addition, the Sidong Creek, Ancient Town of Bing'an, Moon Lake, China Jurassic Park, Zhuhai (Bamboo Sea) National Forest Park and many other attractive spots make Chishui the must-go destination for visitors when they are there. Notable is that Danxia landscapes in Chishui enjoy a high reputation. They can be admired in many scenic spots in Chishui. Chishui is located in northwestern of this city. The most convenient way to Chishui is taking plane to Luzhou of Sichuan Province first and then changing to buses to get there.

Tea Culture Park: Located in Meitan, a land of famous tea, the park is a complex tea culture themed park, including a teapot-shaped museum, tea related products exhibition, and tea knowledge education, etc.
Other Scenic Spots
: Loushan Pass,
Site of Hailongtun Tusi Fortress
, Maotai Town, Kuankuoshui Virgin Forest
How to get to Zunyi
1.
Zunyi Xinzhou Airport
is about 40 kilometers (about 25 miles) to the east of the city center. Originally a military airfield, it has been used for passenger transport too since August 28, 2012. Currently, there are flights to / from Beijing, Shanghai, Guangzhou, Chengdu, Xi'an, Sanya, Wuhan, and Hangzhou, etc. It takes about 70 minutes between the airport and the urban area by airport shuttle bus. The ticket fare is CNY 25.
Zunyi Maotai Airport
in Maotai Town is built to serve the public in Renhuai City in Zunyi which is about 16km (10 mi) to the city proper of Renhuai. The air routes have covered about 30 domestic cities including Beijing, Shanghai, Guangzhou, Xi'an, Hangzhou, etc.
2. The local Railway Station stands at the end of the Beijing Road north of the city proper, and is about ten minutes' drive from the downtown area. Through the Guiyang-Zunyi Expressway, the city can be reached from the capital city Guiyang with a bit more than two hours. The central bus station lies near the railway station in Beijing Road. Another is the Zhongzhuang station in Hai'er Dadao of Honghuagang District, about ten kilometers (6.2 miles) from the city downtown area.
Weather
-
Enjoying a subtropical humid monsoon climate, Zunyi is not bothered with chilly winter and torrid summer. The weather is relatively moderate, and the annual average temperature falls between 13 and 18 degree centigrade. The rainy season coincides with the heat season.

When to Go
: Zunyi is an all-year-round tourist destination. Although it will be hotter in summer, it has many summer resorts to help repelling the summer heat.
Zunyi Travel Tips

History: From the 8th century BC to the 5th century BC, the domain of present Zunyi was governed by several kingdoms of local ethnic groups. It was in the Western Han Dynasty (206BC-24AD) that the court established county around present Zunyi city proper. Bozhou, the old name of this icty had been used for 962 years since the year of 639 in early Tang Dynasty (618-907). Three years later, Luomeng County under Bozhou was changed to Zunyi County. This is the first time the name 'Zunyi' occurred.



Physical Features: The city lies in the east of the slope where the Yunnan-Guizhou Plateau stretches toward Sichuan and Hunan. The Dalou Mountains zigzags southwest-northeast through the city and divides the city into the southern part with basins, low mountains and hills as the main landforms and the northern area covered by medium mountains and valleys.



Local Highlights:
Gelao minority is the oldest ethnic group in Guizhou. They have their own spoken language but no written language. The third day of the third lunar month is the Spring Festival of the Gelao people.

Furthermore, Guizhou is the origin of Chinese national liquor Maotai. During July and August, Guizhou will hold liquor festival in this city proper, Maotai Town of Huairen City and Shizhang Cave of Chishui City. Visitors can admire the Shizhangdong Waterfall, Maitai Distillery, and meanwhile taste the local liquors.



Special Local Products: Maotai Liquor, tobacco leaf, wax printing of Miao, Maofeng tea, Chishui sun vinegar
- Last updated on Apr. 09, 2020 -
Questions & Answers on Zunyi Travel
Asked by Joyce from SINGAPORE | Jan. 03, 2020 00:36

Reply
from ZYI xinzhou airport to hui chuan area
Hi, would like to know how can i get to Hui chuan area from Zunyi Xinzhou airport.
By the way, is there any train from Guangzhou to Zunyi airport?
Answers (1)
Answered by Claire from USA | Jan. 05, 2020 22:46

0

0

Reply
To Huichuan area, you can take shuttle bus line of tourist center to Zheshang Hotel stop, then transfer to bus 304 from Hangzhou Road to Huichuan People Government. There is train from Guangzhou South Railway Station to Zunyi Railway Station, so after you arriving, you can take shuttle bus to the airport.
Asked by Justin Amushan from UNITED KINGDOM | Nov. 12, 2018 23:46

Reply
Is there a train from Chengdu to Zunyi ? and if so then what is the details and price etc ?
Answers (1)
Answered by Rebecca from AUSTRALIA | Nov. 13, 2018 18:47

0

0

Reply
Yes, there is. Most bullet trains from Chengdu are operated at Chengdu East Railway Station, departing from about 06:40 to 19:00. The duration is about 3 -4 hours. The ticket price is CNY227/ 202 per person. By the way, you can get the tickets on the website. But it only has Chinese version. If you wanna book tickets in advance, you can contact TravelChinaGuide.com. They provide such service. If interested, their contact information is booking

travelchinaguide.com.
Asked by Dmitry from RUSSIA | Apr. 13, 2018 17:05

Reply
Is there a city bus between Zunyi East railway station (high-speed trains) and Maocaopu bus station?
Thanks! :-)
Answers (2)
Answered by Ritchel from USA | Apr. 15, 2018 22:22

1

0

Reply
Yes, bus 303 can take you to the bus station.
Answered by Dmitry from RUSSIA | Apr. 16, 2018 06:09

0

0

Reply
Thanks, Ritchel! )
Asked by Mr.SIVERIN from RU | Aug. 26, 2017 17:17

Reply
I arrive at Zunyi Airport at 15:35. Is it possible to immediately leave by bus to Chishui?
Answers (5)
Answered by Liela from USA | Aug. 28, 2017 20:19

2

0

Reply
Sorry, but as I know, you can't go to Chishui the day you arrive at the airport. Only buses can take you to the city, but the bus leaves from Maocaopu Bus Station at 7:50, 8:30, 9:30, 9:50, 10:30, 13:30, and 15:30.
By the way, you can take Shuttle Bus to ZY Bus Staton, then transfer to bus 13 and get off at Maocaopu, walk south along the road for about 3 minutes; you will see the Maocaopu Bus Station.

Answered by Mr.SIVERIN from RU | Aug. 29, 2017 09:48

0

0

Reply
Very thanks, Liela! How long does the bus from ZY to Chishui go? Maybe you also know the return bus schedule from Chishui to ZY? After visiting the Chishui Waterfalls, we plan to return to ZY and go to Tongren (for Fanjing Mountain). Do you have information about the bus schedule from ZY to Tongren? How long does it go? With thanks... :-)
Answered by Alex from SINGAPORE | Aug. 29, 2017 20:21

3

0

Reply
1. As I know, the bus takes about 5 hours from ZY to Chishui.
2. As for the returning bus to ZY, it leaves at 6:35 and 10:10 from Chuishui Bus Station.
3. There is only one bus from ZY to Tongren, which leaves at 8:30 and takes about 8 hours.

Answered by Mr.SIVERIN from RU | Sep. 07, 2017 06:10

0

0

Reply
Thanks, Alex! So, for 1 day we can't get to Tongren ... It's a pity. :-(
How much does the bus-tickets for the Chishui - ZY and ZY - Tongren cost?
Answered by Nicole from FINLAND | Sep. 07, 2017 20:26

1

0

Reply
Well, as I know, it costs CNY112 from Chishui to ZY and CNY90 from ZY to Tongren.
By the way, it takes about 3 hours from Chishui to ZY and about 4 hours from ZY to Tongren.
Asked by lula from UNITED KINGDOM | Aug. 17, 2015 05:39

Reply
I want to get to Meitan from Guiyang. Can I get a bus there directly?
Or do I need to go to zunyi first? And how often do the buses run?
Answers (3)
Answered by Coral from NETHERLANDS | Aug. 18, 2015 01:58

0

0

Reply
Yes, several direct long-distance buses from Jinyang Bus Station can take you to Meitan.
The schedules are 08:00, 09:30, 12:00, 14:30, 15:30 and 17:00.
Answered by lula from UNITED KINGDOM | Aug. 18, 2015 09:33

1

1

Reply
Thanks! How long was the bus ride from Guiyang?
Answered by Heidi from IRAN | Aug. 18, 2015 20:12

1

2

Reply
The bus ride is about 4 hours.