Luzhou Travel Guide
Luzhou Facts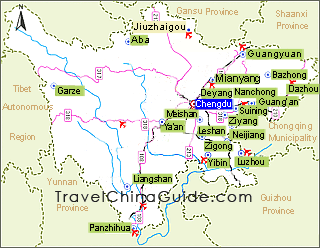 Chinese Name: 泸州市 (lú zhōu shì)
Location: Luzhou stands in the southeast of Sichuan Province, at the convergence of Sichuan, Chongqing, Yunnan and Guizhou. It is bordered by Chongqing and Chengdu in the east and the north. It also shares boundaries in the south with Guizhou Province and in the west with Yunnan Province. The distance from the city to Chongqing and Chengdu is 177 and 263 kilometers (109 and 163 miles), respectively.
Population: 4,850,000
Area: 12,247 square kilometers (4,729 square miles)
Nationalities: Han
Administrative Division: 3 districts (Jiangyang, Naxi, Longmatan); 4 counties (Luxian, Hejiang, Xuyong, Gulin)
Useful Telephone Numbers:
Tourist Complaints: 0830-96927
Weather Forecast: 121
Zip Code Inquiry: 184
Bank of China: 0830-2392413
Luzhou Attractions - Things to Do

Ancient Town of Yaoba: Located in the border area between Sichuan and Guizhou Provinces, the Ancient Town at Yaoba is about 22 kilometers (13.7 miles) from Luzhou, 27 kilometers (16.8 miles) from Chishui City and 37 kilometers (23 miles) from Hejiang County. This ancient town brings together the dense historical culture and folk-customs of the two provinces, so it is a characteristic historical town, a base for making films and a Holy Land of Buddhists in this area.
The richly historical town was a military stronghold and a prosperous marketplace in the Song Dynasty (960-1279). In ancient times, it was an important crossroad between Sichuan Province and Guizhou Province. Carrying official letters to Chishui City, the couriers had to cross this town, so the Yaoba post-house was built by the government. All kinds of merchants who brought varied goods gathered here, so the bazaar was very prosperous and became known as 'Small Hong Kong'.
The town is rich in ancient architecture, such as the 1,000-meter (1,094 yards) long old street made from blue stones, the groups of antique folk houses, archway for Jinshi (former third degree candidate in the national civil service examination), Dahong Rice Store and Dongyue Temple. The group of folk houses enjoys the reputation as a living fossil of old residence in south Sichuan. They were built according to the terrain at different levels, but they stand in good order. The Dahong Rice Store is the benchmark building of this ancient town. It is a two-storied building with spacious courtyards, delicate carved railings with exquisite pavilions and elegant corridors. Standing at the center of this town, the Dongyue Temple was built in the Ming Dynasty (1368-1644) and it is here that a temple fair is held on March 18th (the lunar calendar) every year.
With pleasant climate, luxuriant vegetation and beautiful scenery, the ancient town attracts many directors to make films and serial shows, making it become a well-known 'Film-Video City in Southern Sichuan'.
Getting There:
At Xiaoshi Passenger Station or Tuojiang Passenger Station, there are direct buses to Yaoba Ancient Town.
| | |
| --- | --- |
| Bus | Departure Time |
| | 05:30, 08:00, 09:30, 12:30, 14:30 |
| | 06:30, 07:30, 09:00, 10:00, 11:00, 13:00, 14:00, 15:00, 16:00 |
| | 07:00, 09:00, 13:00, 16:00 |
| | |
| --- | --- |
| | CNY 30 |

Fobao Scenic Spot: This scenic forest resort is located in Hejiang County. Within this scenic spot, are bamboo forests, waterfalls, crags, streams and caves. Especially striking is the harmonious contrast between the emerald forest and red Danxia landscape, making Fobao one of the most stunning scenic resorts of the city.



Other Scenic Spots: Huangjing Scenic Resort in Gulin County, Old Pit of Luzhou Daqu Liquor
How to Get to Luzhou
Luzhou Airport is the second largest airport in Sichuan. The airport is about 8 kilometers (5 miles) southwest of the city proper operating flights to Beijing, Guangzhou, Kunming and Guiyang.
In the city proper, there are seven long-distance bus stations in total. Along with these, bus stations in other areas also operate buses to big cities such as Chengdu, Chongqing, Guangzhou and Shenzhen, or counties within the city. Luzhou is about three hours' drive from Chengdu and only one hour and a half to Chongqing.
Weather
-
Enjoying a subtropical humid climate, the city is warm in spring and autumn, hot in summer and cool in the winter. Due to topographic influence, Luzhou weather in southern part varies in different regions ranging from temperate climate to subtropical climate. Droughts and rainstorms may occur in summer. Visitors can come here at any time during the year, though the end of summer and early autumn are especially favorable for visiting.
Luzhou Travel Tips

History: Around the Qin Dynasty (221BC-206BC), newcomers from Central China brought advanced techniques and civilization to this region, greatly promoting the development of the region's economy and culture. In the Song Dynasty (960-1279), the region became a vital communication hub in Southwest China, busy in vintage brewing and salt production. This period also saw a rapid growth and development in trading with ethnic minorities. In the Qing Dynasty (1644-1911), it was a political, economical, martial and cultural center as the convergent area between Sichuan and the surrounding provinces.



Physical Features: This area lies at the transition area between the southern Sichuan Basin and Yunnan-Guizhou Plateau. The terrain slopes downward from the south to the north. River valleys and hills make northern part a land of milk and honey. Its southern mountainous area boasts rich forest and mineral resources.



Special Local Products: Longan, litchi, Luzhou Laojiao (a kind of Daqu liquor), paper umbrellas