Panzhihua Travel Guide
Panzhihua Facts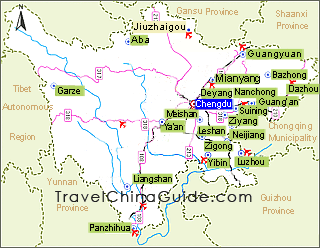 Chinese Name: 攀枝花市 (pān zhī huā shì)
Location: Situated in the southwest Sichuan bordering Yunnan in the south, Panzhihua is where the Jinsha River and Yalong Rivers converge, 749 kilometers (465 miles) from Chengdu and 351 kilometers (218 miles) from Kunming.

Population: 1,079,800
Area: 7,440 square kilometers (2,873 square miles)
Nationalities: Han
Administrative Division: 3 districts (East District, West District, Renhe District); 2 counties (Miyi, Yanbian)
Useful Telephone Numbers:
Tourist Complaints: 0812-3355632, 96927
Weather Forecast: 121
Zip Code Inquiry: 184
Bank of China: 0812-3551578

Dragon Pool Water-Eroded Cave Scenic Spot: 26 kilometers (16 miles) from Miyi county town, the picturesque scenic area includes the Longtan Water-Eroded Cave, the Longyin Canyon, natural bonsai (miniscape) garden, wild plants, arboretum and the Longzhou Mountain.



Ertan Scenic Area: Consisting of Ertan National Forest Park and Ertan Hydropower Station, the scenic area boasts verdant mountains and forest, as well as the largest hyperbolic arch dam in Asian, and several islets in the reservoir.
How to Get to Panzhihua
Panzhihua Airport is located in the southeast of the city proper, operating flights to Chengdu, Chongqing and Kunming. Visitors can get to Kunming by train in about six hours. In addition, buses from Panzhihua to Kunming depart every 20 minutes. There are also about five long-distance buses daily to Dali and Lijiang.
Weather
-
Situated between the south subtropical and north temperate zones, Panzhihua weather is complex and varied with a longer summer. Its four seasons tend to blur, but there are clear wet and dry seasons. Generally, early June to October is the rainy season and November to May is the dry season. The hottest weather usually appears in May, and the temperature varies greatly between day and night. While most of cities in North China are locked in freezing winter, Panzhihua maintains a sunny climate. In fact more than ninety-four percent of the winter days are sunny. Average monthly temperatures are 7-13℃ (45-55℉) that is higher than its nearby cities, such as Chengdu, Chongqing and Kunming. It is definitely a winter resort.
Panzhihua Travel Tips

History: The Qin Dynasty (221BC-206BC) first established the counties and shires of this area. Its territory was initially formed by the ascription of five counties from Yunnan and Sichuan provinces. In 1965, Panzhihua was renamed from a special zone into Dukou City, and gained its present name in 1987.



Physical Features: The terrain of this region slopes downwards from the northwest to the southeast. It has an interleaving distribution of mountains, forming highlands and ravines and valleys and basins. The city has many rivers, belonging to the Yangtze River system.



Local Highlights: Panzhihua International Yangtze River Rafting Festival at Jinshajiang River Rafting Base (Nov.-Dec.)



Special Local Products: Juque Inkstone, tuckahoe