Panzhihua Travel Guide
Panzhihua Facts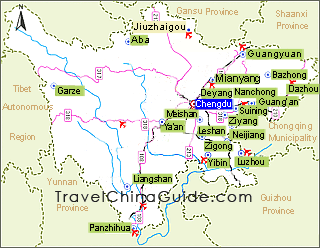 Chinese Name: 攀枝花 (pān zhī huā)
Population: 1,214,000
Area: 7,414 square kilometers (2,863 square miles)
Location: in the southwest of Sichuan Province, southwest China
Administrative Division: 3 districts (East District, West District, Renhe District); 2 counties (Miyi, Yanbian)
Area Code: 0812
Zip Code: 647000
GDP (2019): CNY 101.013 billion (USD 14.642 billion)
A Developed Industrial City in Western China
Situated in the southwest Sichuan, bordering Yunnan to the south, Panzhihua is where the Jinsha River and Yalong River converge, 749 kilometers (465 miles) from Chengdu and 351 kilometers (218 miles) from Kunming. Panzhihua is a new industrial city with rich titanium and vanadium reserves. It mainly produces steel and has been the first rail production base in China and even in the world.

Besides, the mild climate and fresh air make Panzhihua a livable city. In terms of tourism, there are various forest parks in the city. The Dragon Pool Water-Eroded Cave Scenic Spot with an underground cave about 1,100 meters (3,609 feet) long with stalactites in various shapes and Ertan Scenic Area highlighting the largest hyperbolic arch dam in Asian are unmissable. Visitors can also taste many fresh and sweet tropic fruits such as mango, loquat, pomegranate and cherry.

Dragon Pool Water-Eroded Cave Scenic Spot: 26 kilometers (16 miles) from Miyi county town, the picturesque scenic area includes the Longtan Water-Eroded Cave, the Longyin Canyon, natural bonsai (miniscape) garden, wild plants, arboretum and the Longzhou Mountain.



Ertan Scenic Area: Consisting of Ertan National Forest Park and Ertan Hydropower Station, the scenic area boasts verdant mountains and forest, as well as the largest hyperbolic arch dam in Asian, and several islets in the reservoir.
How to Get to Panzhihua
Panzhihua Bao'anying Airport is about 9.5 kilometers (about 6 miles) southeast of downtown Panzhihua, Sichuan Province , operating flights to Chengdu, Chongqing, Beijing, Shanghai, Shenzhen, Nanjing, Xi'an, Wuhan, Shenyang, Xishuangbanna… Airport shuttle bus is available for passengers travelling between airport and Panzhihua City.
Weather
-
Situated between the south subtropical and north temperate zones, Panzhihua weather is complex and varied with a longer summer. Its four seasons tend to blur, but there are clear wet and dry seasons. Generally, early June to October is the rainy season and November to May is the dry season. The hottest weather usually appears in May, and the temperature varies greatly between day and night. While most of cities in North China are locked in freezing winter, Panzhihua maintains a sunny climate. In fact more than ninety-four percent of the winter days are sunny. Average monthly temperatures are 7-13℃ (45-55℉) that is higher than its nearby cities, such as Chengdu, Chongqing and Kunming. It is definitely a winter resort.
Panzhihua Travel Tips

History: The Qin Dynasty (221BC-206BC) first established the counties and shires of this area. Its territory was initially formed by the ascription of five counties from Yunnan and Sichuan provinces. In 1965, Panzhihua was renamed from a special zone into Dukou City, and gained its present name in 1987.



Physical Features: The terrain of this region slopes downwards from the northwest to the southeast. It has an interleaving distribution of mountains, forming highlands and ravines and valleys and basins. The city has many rivers, belonging to the Yangtze River system.



Local Highlights: Panzhihua International Yangtze River Rafting Festival at Jinshajiang River Rafting Base (Nov.-Dec.)



Special Local Products: Juque Inkstone, tuckahoe
- Last updated on Aug. 30, 2023 -
Questions & Answers on Panzhihua Travel
Asked by Jakub from POLAND | Oct. 12, 2017 16:20

Reply
Trains from Panzhihua to Emei or Leshan
5th of November I would like to travel.
which trains from PZH to Chengdu stop at Emei?
Answers (1)
Answered by Kayla from SINGAPORE | Oct. 12, 2017 19:55

0

0

Reply
As I know, there are four normal trains from PZH to Emei a day, which leave at 0:35, 11:54, 23:13, and 23:45.
It takes about 10-11 hours and CNY166.5/154 for a hard sleeper, CNY251.5 for a soft one.
Asked by Jim from PHILIPPINES | Jun. 30, 2016 04:52

Reply
Hello, thank you for the helpful information provided on your web page about Panzhihua.
I have been offered a position at one of the high schools in the town? The offer is RMB 8000 monthly with housing provided. Given that this city is a popular tourist destination, is the salary offer a reasonable amount for this city? Thank you.
Answers (2)
Answered by Lily from USA | Jul. 01, 2016 02:13

0

0

Reply
Dear Jim, the living cost of this city is moderate in China . The basic food, water, transportation, and other necessities cost about CNY 2,000 per month. Now that they provide accommodation for you, the salary is reasonable. Have a great time in the city! :)
Answered by Jim from PHILIPPINES | Jul. 01, 2016 05:16

0

0

Reply
Hello Lily. Many thanks for your reply.
Asked by JEEP from THAILAND | Sep. 24, 2015 05:44

Reply
is there any trekking or hiking place in Panzhihua
I have try to find the information about this place, but lack of in formation in English
is there any place for hiking / trekking with Naturally
Answers (1)
Answered by Jeremy from IRELAND | Sep. 24, 2015 21:58

2

0

Reply
I know several good hiking places with beautiful natural landscape, you can have a try. Shuangqiao Valley, Changping Valley and jinniudao.
Asked by Chrys Akem from NIGERIA | Jul. 04, 2014 08:34

Reply
What is the best connecting route to fly from Lagos Nigeria to Panzhihua, China?
Answers (1)
Answered by Kina from NEPAL | Jul. 04, 2014 22:02

1

1

Reply
I suggest you fly from Lagos to Amsterdam or Frankfurt. Then transfer to a flight to Chengdu. After that, there is direct flight to your destination from Chengdu!
Asked by vishal from INDIA | Jun. 15, 2014 05:27

Reply
china panzhihua city, sichuan province, yanbian chunlin yimin township, ping village , zip 617100 ..
is this address is correct ? how to visit there from india?
Answers (1)
Answered by Antony from GERMANY | Jun. 16, 2014 02:23

0

0

Reply
I did not hear and did not find this address online.
The place "Changping Village, Yimin Township, Yanbian" and "Chunlin Village, Yimin Township, Yanbian" truly exist, but the place you mentioned do not exist.

From India, you need to fly to Shanghai first and then fly to Chengdu. Then take a train from Chengdu to Panzhihua. Then you can hire a local bus to reach your destination. It is too difficult to use the local public buses to reach your destination, so hiring a local car is necessary.