Mianyang Travel Guide
Mianyang Facts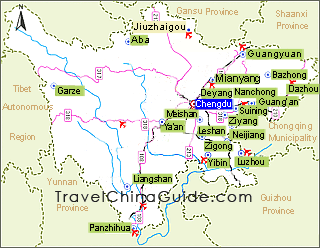 Chinese Name: 绵阳 (mián yáng)
Population: 5,312,000
Area: 20,249 square kilometers (7,818 square miles)
Location: in the northwest of Sichuan Province, southwest China
Administrative Division: 3 districts (Fucheng, Youxian, Anzhou); 4 counties (Santai, Yanting, Zitong, Pingwu); 1 autonomous county (Beichuan Qiang Autonomous County); 1 county-level city (Jiangyou)
Area Code: 0816
Zip Code: 621000
GDP (2019): CNY 285.62 billion (USD 41.400 billion)
Nationalities: Han, Zang, Qiang, Hui
Famous Science and Technology City in China
Mianyang is located in the northwest of Sichuan Province on the middle and upper reaches of the Fujiang River. It neighbors Nanchong, Suining, Deyang and Aba Tibetan and Qiang Autonomous Prefecture within the province, and is bordered by Gansu Province to the north. It is about 131 kilometers (81 miles) from Chengdu, the capital of Sichuan. Mianyang functions as China's important military industry and scientific research production base with 18 national research institutes. Another reason people are familiar with Mianyang is that famous Chinese romantic poet Li Bai of the Tang Dynasty (618 - 907) was born here. There are various buildings, sculptures, and monument forests related to Li Bai in the Libai Monument Forest.

Besides, Visitors can go here to experience the strong Qiang folk customs and culture, look for the footprints of wild animals while enjoying the beautiful scenery in the natural reserve, shuttle through the streets and alleys to experience the local leisure and comfortable living atmosphere, and taste various delicious Sichuan cuisines.
Mianyang Attractions - Things to Do

Beichuan Qiang Tourism Zone: There are ruins and the biggest memorial museum of 5·12 Earthquake. A Qiang custom museum and Qiang village also lie here, through which you can know more about the Qiang nationality.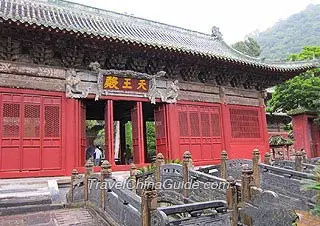 Baoen Temple, Mianyang

Wanglang National Nature Reserve: Located around 94 km (58mi)) northwest from Pingwu County, the Wanglang National Nature Reserve is about 265 km (164.7 mi) away. It is adjacent to the Baiba Tibetan Area in the southeast, the Yellow Dragon Temple of Songpan County in the southwest, and the Jiuzhaigou Valley in the northeast. This nature reserve was built in 1965 for the conservation of giant pandas and other rare wild animals.

As the nature reserve is situated in the intersecting mountain area of the Himalayas, a variety of creatures live there. It is one of the best ecological environments of the country. This area is not only a paradise for giant pandas, but also the home of golden monkeys, gnus, macaques, cheetahs, lesser pandas and sambars. Other lovely animals also live a happy life here, such as takins, zibets, lynxes, hares and weasels. There are birds of first-grade state protection, including Chinese goosanders, monal pheasants with blue tails and sea eagles with jade belts.

Wanglang Nature Reserve is abundant in plants and has virgin forest at a high altitude. Bulky firs, spruces, deodar cedars and redwoods rise skyward in an elegant shape, which have grown for about 500 years. Tourists can find rare trees here, for example, Chinese dove trees, katsura trees, gingkoes, liriodendrons and eucommia barks.

The rippling streams, powerful waterfalls, jokul and meadow in the mountain area are as beautiful as a painting. In addition, the ancient and unique Baima Tibetan nationality preserves the original cultural tradition whose language, customs and history are totally unique.
Admission Fee

CNY50

Opening Hours

The whole day

Best Travel Time

All the year round (rainfall is dense during May and July)

Transportation

There are regular direct buses from Mianyang Central Bus Station and Pingzheng Bus Station to Pingwu County and it takes 3.5-4 hours. Upon arrival at Pingwu, there are two ways to the nature reserve:
1. Transfer to another bus to Baima, where take a taxi to reach;
2. At Pingwu, it is a good idea to rent a car to the natural reserve directly.
(Note: Buses from Mianyang to Pingwu are scheduled from 06:20 to 17:00 every half an hour.)

Other Scenic Spots
: Xiaozhaigou Nature Reserve, Doutuan Mountain, Yuanwang (Ape King) Cave
How to Get to Mianyang
Mianyang Nanjiao Airport is located in the southern outskirts of the city proper,
10 kilometers (6 miles) away from downtown Mianyang. Flights destinations include
Beijing, Shanghai, Guangzhou, Shenzhen, Nanjing and Hangzhou... Bus No.48/ 75/ 79/ 601 and shuttle bus 301/ 302/ 304 will take you to the
downtown
from airport .

Mianyang Railway Station is about 1 kilometer (0.6 miles) to downtown Mianyang, which operates both normal speed and high speed trains to Xi'an, Chengdu, Shanghai, Beijing and more cities.

The Central Bus Station is located in the West Gate of the city, at the juncture of Mianyang Railway Station and Jichang Da Dao. Apart from this bus station, Pingzheng, Nanfu and Fule are all principal stations of the city. Buses to Jiuzhaigou can be found in Pingzheng bus station.

See more
Chengdu - Mianyang Train
Weather
-
The area features a subtropical monsoon climate, and the weather is relatively moderate with an annual average temperature of 19-21℃ (66.2-69.8℉). Mianyang weather also has four distinct seasons, but winter is comparatively warmer. The area is favorable for visiting all the year round but, especially in May and October.
Mianyang Travel Tips

History: Mianyang, called Fujun in ancient times, had advanced in agriculture during the Qin (221BC-206BC) and Han (206BC-220AD) dynasties. It has a history of over 2,200 thousand years since the Emperor Gaozu of Han established the first county in this area in 201BC. Due to its advantageous geographic location, it had always been a town of great military importance and formed a natural defense for Chengdu.



Physical Features: It is situated in the northwestern edge of Sichuan Basin. The terrain of the city slopes downward from northwest to southeast. The northwestern mountainous area occupies over sixty percent of the city's territory, and the ratio of plains to hills is respectively 22 percent to 16 percent.



Local Highlights: Beichuan Qiang Autonomous County and Pingwu County are closely connected with Aba Tibetan and Qiang Autonomous County. Within the two counties, there are many Tibetan and Qiang towns with strong local ethnic content..



Special Local Delicacies: Guoguodian steamed stuffed bun, Xi Liang Fen (cold jelly), Guan Guan Tang (pot soup), Cai Dou Hua (tender bean curd with special sauce), Pian Fen (noodles made of mung bean) and crisp cake of Zitong County
- Last updated on Apr. 25, 2023 -
Questions & Answers on Mianyang Travel
Asked by carol from UK | Sep. 20, 2018 02:55

Reply
Is there anywhere in Mianyang to buy dress making fabric?
Answers (3)
Answered by Kent from USA | Sep. 20, 2018 20:51

0

0

Reply
Dear, you can have a try in Garden Wholesale Market near the railway station, located at West Lingyuan Road, Peicheng District
Answered by carol from UK | Sep. 21, 2018 03:09

0

0

Reply
Thank you that's very helpful, do you know if its on every day and is morning the best time to go?
I'm in Mianyang for a week for work, and I'd love to look if time allows.

Cheers Carol :)
Answered by Kent | Sep. 24, 2018 19:13

0

0

Reply
It is opened every day and you are advised to go there after 10am.
Asked by Umer Mushtak from PAKISTAN | Aug. 24, 2018 03:02

Reply
Hello, can anyone tell me how to go from mianyang airport to southwest university SWUST
Answers (1)
Answered by Green from FINLAND | Aug. 26, 2018 20:45

0

0

Reply
You can take a taxi and the fare is no more than 40yuan.
Or, take the bus line 79 from the airport to the Railway Station Square and then take the bus line 38 to Xikeda Beimen. After that, you can get to the university.
Asked by MARGIN45 | Jan. 10, 2018 02:20

Reply
Hi, how to get to Tianfu College at SWUFE in Mianyang by mrt, bus or anything?
Thanks!
Answers (5)
Answered by Kayla from SINGAPORE | Jan. 10, 2018 21:17

0

0

Reply
Bus 45 goes to Tianfu Xueyuan directly; or you can take bus 91/ Sightseeing Bus 601 to Chuangye Dadao and walk northeast for 10 minutes to the school gate.
Answered by MARGIN45 | Jan. 12, 2018 02:46

0

0

Reply
Thanks a lot! Actually I did not say it but I meant how to get to Tianfu College from the train stations or airport maybe? Is the same info still applying to that? Thanks again!
Answered by Phill from ITALY | Jan. 14, 2018 20:39

0

0

Reply
From MY Railway Station, you can still take sightseeing bus 601.

From MY East Railway Station, you need to walk southeast for 10 minutes to Zifucun Sanshe and take bus 67; then, transfer to bus 77 at Chuanxibei Dengju Shichang and get off at Caiyuan Likoy. Walk northeast for 5 minutes to the school.

From the MY Airport, you need to take a taxi and the fare is around 30RMB.
Answered by MARGIN45 | Jan. 15, 2018 02:57

0

0

Reply
Gracia Phill! Does sightseeing bus 601 pass through nice places? what are recommendable places to see in Mianyang? Thanks again Kayla too!
Answered by Phill from ITALY | Jan. 15, 2018 20:04

0

0

Reply
Prego! LOL
As I know, the bus 601 passes by Anxian Wetland Park, and a Cultural Square.
In MY, you are suggested to go to Fuleshan Park in 103-10 Furong Rd, Youxian District. Besides, you may travel to the suburban area, like Yaowang Valley, Beichuan Qiangcheng Scenic Area, Foye Cave.
Asked by MAX from MONTENEGRO | Jul. 06, 2017 19:41

Reply
Bus to Mianyang Airport
Hi. Is there a public bus that can take me from the city to the airport or should I take a taxi?
If there is a public bus, what is the number of the bus, and when does the last departs for the airport?

Thank you.

Answers (1)
Answered by Lan from CANADA | Jul. 06, 2017 20:09

0

0

Reply
You can take bus 48/75 and get off of nanjiao sirport station. The last bus departs at 20:00.