Mianyang Travel Guide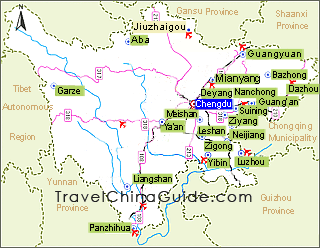 Mianyang Facts:
Chinese Name: 绵阳市 (mián yáng shì)
Population: 5,290,000
Area: 20,249 square kilometers (7,818 square miles)
Nationalities: Han
Administrative Division: 2 districts (Fucheng, Youxian); 5 counties (Santai, Yanting, Anxian, Zitong, Pingwu); 1 autonomous county (Beichuan Qiang Autonomous County); 1 county-level city (Jiangyou)
Seat of the City Government: No.74, east section Linyuan Road, Fucheng District
Useful Telephone Numbers:
Tourist Complaints: 0816-96927
Weather Forecast: 121
Zip Code Inquiry: 184
Bank of China Mianyang Branch: No.46, Fucheng Road, Fucheng District
China Post Mianyang Branch: No.48, west section of Linyuan Road, Fucheng District

Location:
The area is located in the northwest of Sichuan Province on the middle and upper reaches of the Fujiang River. It neighbors Nanchong, Suining, Deyang and Aba Tibetan and Qiang Autonomous Prefecture within the province, and is bordered by Gansu Province in the north.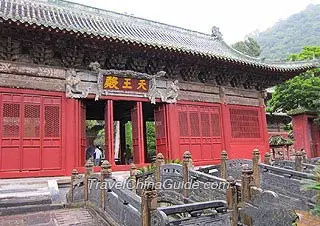 Baoen Temple, Mianyang

History:
Mianyang, called Fujun in ancient times, had advanced in agriculture during the Qin (221BC-206BC) and Han (206BC-220AD) dynasties. It has a history of over 2,200 thousand years since the Emperor Gaozu of Han established the first county in this area in 201BC. Due to its advantageous geographic location, it had always been a town of great military importance and formed a natural defense for Chengdu.

Physical Features:
Northern Mianyang is situated in the northwestern edge of Sichuan Basin. The terrain of the city slopes downward from northwest to southeast. The northwestern mountainous area occupies over sixty percent of the city's territory, and the ratio of plains to hills is respectively 22 percent to 16 percent.

Climate:
The area features a subtropical monsoon climate, and the weather is relatively moderate with an annual average temperature of 19-21℃ (66.2-69.8℉). It also has four distinct seasons, but winter is comparatively warmer.

When to Go:
The area is favorable for visiting all the year round but, especially in May and October.

Local Highlights:
Beichuan Qiang Autonomous County and Pingwu County in western Mianyang is closely connected with Aba Tibetan and Qiang Autonomous County. Within the two counties, there are many Tibetan and Qiang towns with strong local ethnic content..

Special Local Delicacies:
Guoguodian steamed stuffed bun, Xi Liang Fen (cold jelly), Guan Guan Tang (pot soup), Cai Dou Hua (tender bean curd with special sauce), Pian Fen (noodles made of mung bean) and crisp cake of Zitong County

Mianyang Travel Tips:
Mianyang Nanjiao Airport is located in the southern outskirts of the city proper, operating flights to Beijing, Shanghai and Guangzhou. Bus No.48 will take you to the airport from downtown. Mianyang central bus station is located in the West Gate of the city, at the juncture of Mianyang Railway Station and Jichang Da Dao. Apart from this bus station, Pingzheng, Nanfu and Fule are all principal stations of the city. Buses to Jiuzhaigou can be found in Pingzheng bus station.

Attractions:
Beichuan Qiang Tourism Zone: There are ruins and the biggest memorial museum of 5·12 Earthquake. A Qiang custom museum and Qiang village also lie here, through which you can know more about the Qiang nationality.

Wanglang National Nature Reserve: Located around 94 km (58mi)) northwest from Pingwu County, the Wanglang National Nature Reserve is about 265 km (164.7 mi) from Mianyang downtown. It is adjacent to the Baiba Tibetan Area in the southeast, the Yellow Dragon Temple of Songpan County in the southwest, and the Jiuzhaigou Valley in the northeast. This nature reserve was built in 1965 for the conservation of

giant pandas

and other rare wild animals.
As the nature reserve is situated in the intersecting mountain area of the Himalayas, a variety of creatures live there. It is one of the best ecological environments of the country. This area is not only a paradise for giant pandas, but also the home of golden monkeys, gnus, macaques, cheetahs, lesser pandas and sambars. Other lovely animals also live a happy life here, such as takins, zibets, lynxes, hares and weasels. There are birds of first-grade state protection, including Chinese goosanders, monal pheasants with blue tails and sea eagles with jade belts.
Wanglang Nature Reserve is abundant in plants and has virgin forest at a high altitude. Bulky firs, spruces, deodar cedars and redwoods rise skyward in an elegant shape, which have grown for about 500 years. Tourists can find rare trees here, for example, Chinese dove trees, katsura trees, gingkoes, liriodendrons and eucommia barks.
The rippling streams, powerful waterfalls, jokul and meadow in the mountain area are as beautiful as a painting. In addition, the ancient and unique Baima Tibetan nationality preserves the original cultural tradition whose language, customs and history are totally unique.
Admission Fee

CNY50

Opening Hours

The whole day

Best Travel Time

All the year round (rainfall is dense during May and July)

Transportation

There are regular direct buses from Mianyang Central Bus Station and Mianyang Pingzheng Bus Station to Pingwu County and it takes 3.5-4 hours. Upon arrival at Pingwu, there are two ways to the nature reserve:
1. Transfer to another bus to Baima, where take a taxi to reach;
2. At Pingwu, it is a good idea to rent a car to the natural reserve directly.
(Note: Buses from Mianyang to Pingwu are scheduled from 06:20 to 17:00 every half an hour.)
Other Scenic Spots
: Xiaozhaigou Nature Reserve, Doutuan Mountain, Yuanwang (Ape King) Cave
-