Deyang Travel Guide
Deyang Facts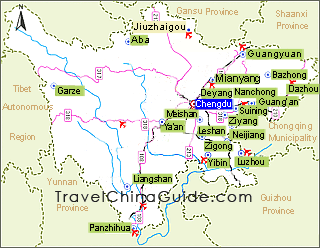 Chinese Name: 德阳 (dé yáng)
Population: 3,877,000
Area: 5,911 square kilometers (2,282 square miles)
Location: in the central area of Sichuan Province, southwest China
Administrative Division: 2 districts (Jingyang, Luojiang); 1 county (Zhongjiang); 3 county-level cities (Shifang, Guanghan, Mianzhu)
Area Code: 0838
Zip Code: 618000
GDP (2019): CNY 233.59 billion (USD 33.86 billion)
A Major Manufacturing City in China with Sanxingdui Cultural Ruins
Deyang City is located in the northeast of the Chengdu Plain in central Sichuan Province, neighboring Chengdu, Mianyang and Aba. It is 50 kilometers (31 miles) from the Chengdu Shuangliu International Airport.

Deyang is a major equipment manufacturing base in China with many first-class heavy equipment manufacturing enterprises. The equipment includes nuclear power products, hydropower units, thermal power units, steam turbines and so on. It also produces high-quality cigars and the production scale is the largest in Asia.

In addition, its Sanxingdui Cultural Ruins are known as one of the greatest archaeological discoveries of the 20th century. Many rare treasures like the standing bronze human sculpture, bronze masks, and bronze-sacred trees, are currently displayed in the Sanxingdui Museum. Tourists can also enjoy Deyang Confucian Temple and Mianzhu New Year Picture which is one of the four major Chinese New Year pictures. The Mt. Yinghua Scenic Area highlighting lush trees, waterfalls sunrise and sea of clouds is also worth visiting.
Deyang Attractions - Things to Do

Sanxingdui Museum is the exhibition hall for all the precious relics discovered in the Sanxingdui Cultural Ruins, including gold, bronze and jade articles, pottery and many other excavated artifacts. All these discoveries push forward the history of the ancient Shu civilization 1,500 years earlier. The discovery of a bronze scared tree, huge bronze mask, golden staff and the standing bronze human sculpture may prove that the seat of Sanxingdui ruins was the capital of the ancient Shu.



Mt. Yinghua Scenic Area
Yinghua Mountain Scenic Area is situated to the northwest of Shifang City, about 98 kilometers (60.9 miles) from Chengdu downtown. Covering an area of 106 square kilometers (41 square miles), it is a good tourist resort with high mountains, towering peaks, deep valleys, luxurious vegetation and abundant rivers and lakes.

This mountain is located in the transitional area of the Chuanxi Plain and the Qinghai-Tibet Plateau, with the altitude of 3,160 meters (10,367 feet). Waters dash down from high to form delicate waterfalls from large to small. The most beautiful waterfall falls in three levels. The excellent natural scenery of the Yinghua Mountain is sea of clouds, sea of mist, sea of forest and sea of flowers. Admiring the Virginia Bright Leaf in the morning and Saint Light at evening is another pleasure.

Some rare trees and many ornamental plants grow on the Mountain, such as Chinese dove trees, ancient ginkgoes, katsura trees, nanmu and redwoods. In spring, azaleas, fairy primroses, camellias and lilies spread all over the mountain, making it like an ocean of vivid wildflowers. With an area of nearly 8 square kilometers (3.1 square miles), the famous swan forest mainly consists of pines, fir trees and coquettish willows. The mount scenic area is also a home of giant pandas, green monkeys, golden monkeys, red-belly tragopans and deer. On the both sides of the mountain roads stand the mystery karst water-eroded caves. The exquisite pavilions and ancient temple bring more enjoyment for tourists.
Admission Fee
CNY 30 per adult;
CNY15 for kid between 1.1m and 1.4m in height;
free for kids under 1.1m in height
Opening Hours
08:00-18:00
Transportation
1. At Chengbei Coach Station, Shangmaocheng Coach Station and Zhaojuesi Coach Station of Chengdu, there are direct buses to Shifang. Upon arriving at Shifang, you can easily transfer to a bus to Hongbai town, where Mt. Yinghua is located. Then you can take a taxi or rent a car to the scenic area.
2. At Deyang Bus Station, frequent buses are scheduled to Shifang from 06:30 to 19:00 every around 10min.

Other Scenic Spots in Deyang City: Confucius Temple, Art Wall
How to Get to Deyang
The city is about 60 kilometers (37 miles) from Chengdu Shuangliu International Airport, and adjacent to Mianyang Nanjiao Airport to the north, about 70 kilometers (43 miles) away. Furthermore, the city's bus station stands in the Changjiang Xi Lu, Jingyang District, where buses to Chengdu and Mianyang depart every ten minutes and reach their destinations within one hour.
Weather
-
The city enjoys a subtropical humid monsoon climate bearing obvious features of continental climate. Deyang weather is humid with clear four seasons and abundant in rainfall concentrating in the period from May to October. The coldest month –January, has an average temperature of 5-6℃ (41-42.8℉) and that of the hottest –July, is about 25℃ (77℉).
Deyang Travel Tips

History: Present Deyang area belonged to the territory of the ancient Shu (Sichuan), and the world famous Sanxingdui cultural relics discovered in Guanghan City are probably the best annotation to the Chinese Shu Culture. A county was first established on this land in 620, the Tang Dynasty (618-907). This is the genuine commencement of the city's over 1,300 years of history.



Physical Features: Situated in the northeast edge of the Chengdu Plain of western Sichuan Basin, the terrain here slopes downwards from northwest to southeast and is orderly occupied by mountains, plains and hills in a basin.



Special Local Products: Mianzhu New Year painting, Jiannanchun liquor, Tianfu salty peanuts, Shifang flat duck
- Last updated on Aug. 25, 2023 -
Questions & Answers on Deyang Travel
Asked by Daniela from AUSTRIA | Aug. 10, 2019 07:26

Reply
What is the best Dumpling-Restaurant in Deyang?
Answers (1)
Answered by Moria from USA | Aug. 12, 2019 20:40

0

0

Reply
It is hard to say which restaurant is the best one. Maybe you can go to Beijing Dumpling Restaurant, which is located at No.52, South Taishan Road, Jingyang District.
Asked by Daniela from AUSTRIA | Jul. 31, 2019 04:26

Reply
is it possible to get to the "old chinese wall" from the city of deyang?
how far away is the wall there, how long does it take time to get there?
and how does it look like - do you recognize it as a wall or is it fallen into decay?
Answers (1)
Answered by Egan from USA | Aug. 04, 2019 23:09

0

0

Reply
Do you refer to " old Chinese wall " as a tourism attraction or just a wall?
Asked by Glenn Watts from UNITED KINGDOM | Feb. 12, 2018 08:03

Reply
Is there a post in Deyang Sichuan Province?
and is it true that it is one of the biggest provinces in china
Answers (2)
Answered by Clair from SWITZERLAND | Feb. 12, 2018 20:26

2

0

Reply
do you refer to Postal Office? If so, you can go to 4 West Chadian Rd, Jingyang District.
Yes, Sichuan is one of the biggest provinces, or rather, it's the sixth biggest.
Answered by Glenn watts from ENGLAND | Feb. 13, 2018 00:36

0

0

Reply
Thankyou clair you have been very helpfull. yours respectivly glenn x
Asked by El from CHINA | Aug. 09, 2016 20:23

Reply
Hi do you know if there is a bus that runs from Deyang to Pengzhou?
Or where I can find timetable for this?
Not on China bus guide for some reason.
Thanks
Answers (1)
Answered by Mary from USA | Aug. 11, 2016 02:03

0

0

Reply
Yes, you can take a direct bus to Pengzhou from North Passenger Transport Station. The buses depart at 7:00, 8:10, 9:05, 10:05, 10:55, 12:00, 14:00 14:40, and 16:30. The fare is CNY 17 per person.