Kangding, Sichuan
Kangding Facts
Chinese Name: 康定 (kāng dìng)
Population: 135,861
Area: 11,600 square kilometers (4,478.8 square miles)
Location: in the east of Ganzi Tibetan Autonomous Prefecture, west Sichuan Province, southwest China
Area Code: 0836
Zip Code: 626000
Nationality: Tibetan, Han, Hui, Yi, Qiang
Main Gateway to Tibet from Chengdu
Kangding is the capital of Ganzi Tibetan Autonomous Prefecture, Sichuan Province. Kangding China has a long and splendid history and culture. In China, it is known for "the Love Song of Kangding". As it is located on the Tibetan-Sichuan border, Kangding is an important town of the ancient Tea-Horse Road and also one of the main gateways to Tibet from Chengdu Sichuan. Since ancient times, it has been the political, economic, cultural, commercial, information center and transportation hub of the Kham Tibetan region. Kangding Sichuan is rich in tourist attractions, among them, Mugecuo Scenic Area, Mount Gongga, Mount Pao Ma and Yajiageng Red Beach Scenic Spot are top places to visit. Kangding Airport is suited in this city, and travelers can take a flight from Chengdu and Chongqing to Kangding.
Top Things to Do in Kangding
You may need 3-4 days for Kangding travelling.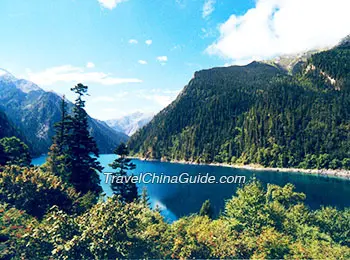 Mugecuo Scenic Area, Kangding

Visit
Mugecuo Scenic Area
With lakes, waterfalls, dense forests, hot springs and grassland, it is a hot place for travelers. It is also the home of love songs. Mugecuo Lake is the largest mountain lake in northwest Sichuan. Travelers can appreciate its beauty at different times including the foggy clouds and sparkling lake when the sun rises and the beautiful afterglow of the sunset. Rhododendron Valley is a gorgeous belt in this scenic area. During late April to July, the rhododendrons are in blossom. With many hot springs, travelers can also enjoy the excellent spa service.

Hike & Trek in
Mount Gongga
It is the main peak of the snowy mountain which is surrounded by 45 mountains around 6,000 meters (19,685 feet) above sea level. It is the highest mountain in Sichuan Province. All these make Mount Gongga become a hot place for travelers to hike and trek. As a high-altitude mountain, it is even more difficult for explorers than Mount Everest. While exploring the mountains, travelers can view its famous glaciers or spend a good time in its Kangding Erqiao Hot Spring.

Attend Horse Races in Mount Pao Ma
Every April 8th of the Chinese lunar calendar, in order to commemorate the birthday of Buddha Sakyamuni, the local people will hold a grand event and horse racing. Travelling during this lively festival, travelers can also enjoy the scenery here. Yongxue Pavilion is the best place to appreciate the snowy mountains and snowy scenery. Travelers can not miss the Colored Sea. The plants at the bottom of the lake and the water will reflect different colors on sunny days which looks like an oil painting.

Photograph in Xinduqiao Town
It is a typical Tibetan village scattering on both sides of a shallow river. More than 10 km (6.2 mi) along Xinduqiao Town is known as the "Corridor of Photographers", where you can take beautiful photos. The best time to photograph in Xinduqiao Town is from June to November. The blooming flowers in June, golden leaves covering in the mountain in October and Tibetan-style dwellings will let travelers fully experience the unique Tibetan scenery. Photographers can stand on which next to the curved road, on a high slope, or on the hillside opposite the Mount Gongga Observation Platform to take the best photos.

Other tourist attractions: Yajiageng Red Beach Scenic Spot, Moxi Ancient Town, Tagong Grassland.
Best Time to Visit Kangding
The best time to visit Kangding is from May to October. Due to the complex terrain, there is a clear vertical difference in Kangding, and the climate here belongs to the unique high-prototype continental monsoon climate. The annual average temperature in Kanding Sichuan is 4-14℃ (39.2-57.2℉).

May and June are the best months to visit Mount Gongga. During this time, there is less rain and the temperature is 9-18.5℃ (48.2-65.3℉) which is suitable for climbing and go hiking. But during this time, the ultraviolet rays on the plateau are very strong, and you should pay more attention to sun protection. And due to the large temperature difference in day and night, you should bring some warm clothes.

July and August are the best time to appreciate the flowers blooming in Tagong Prairie. And between September and October, it is a good time for travelers to view the natural scenery and take beautiful photos. But during this time, Kangding Sichuan is cold with a temperature of 7.5-16.5℃ (45.5-61.7℉) and tends to snow, you should bring thick clothes and shoes.
Kangding Weather Forecast
-
Transportation
Kangding Airport is about 45 km (28 mi) from the city center of Kangding Sichuan. But there are only two airlines available. So travelers can transfer in Chengdu or Chongqing first. After getting off the plane, travelers can take an air bus line to the city center. There is no railway station in Kangding, so it is available to take trains to Wusihe first, and then take buses to Kangding. Travelers can also choose to take coaches to Kangding Sichuan. You can take coaches at Chengdu Tourism Passenger Transport Center, Siyang Bus Station or Chengdu North Bus Station to Kangding Sichuan, the ticket fare is CNY105-130 and the whole journey takes about 5 hours.

There is no metro within the city. The taxi charges CNY 5 for the first 1 km, CNY 2/km for subsequent distance. Travelers can choose to take a charted car from Kangding to Xinduqiao Town, the fare is about CNY 150-200 for a single journey.
Best Kangding Food to Try
As the main gateway to Tibet from Chengdu, Kangding is a great place to taste both Sichuan Cuisine and Tibetan food. Bean Jelly, Roasted Barley Flour, Mutton Soup, Kangding Guokui and other local foods are worth tasting.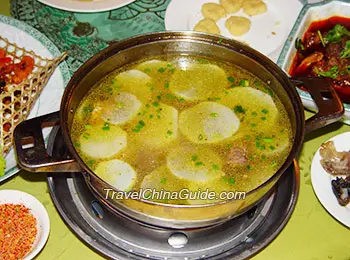 Kangding Mutton Soup

Mutton Soup
It is famous for tender mutton meat and fresh soup with a rich flavor. With excipients such as coriander, burnt salt and chili pepper, its great taste satisfies travelers' buds.

​ Bean Jelly
Bean Jelly is very popular in Kangding Sichuan. With chili oil, salty sauce, sesame oil and chopped green onion, the bean jelly tastes spicy, fragrant and tender.

Lamaya Tibetan Restaurant
It is a restaurant serving Tibetan food. There is a good environment with Tibetan decoration, travelers can have a taste of its famous Beef, Buttered Tea and Roasted Barley Flour.
Address: 6th floor, Shuijing Plaza, Yanhe East Road, Kangding.
Must-buy Local Products
Pepino Melon, Kangding Yak Meat, Kangding Snow Tea
- Last updated on Aug. 07, 2023 -