Mugecuo Scenic Area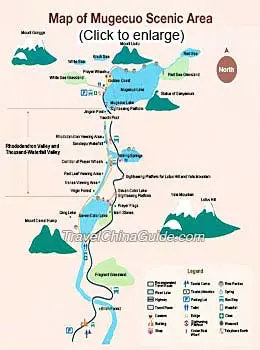 Map of Mugecuo Scenic Area
(Click to enlarge)
Endowed with numerous lakes, waterfalls, hot springs, dense woods, fragrant flowers, peculiar peaks, and grotesque rocks, Mugecuo Scenic Area presents picturesque scenery all the year round. As it is situated in the north of
Kangding
County, the home of love songs in Ganzi Tibetan Autonomous Prefecture of Sichuan, this site is also known as Kangding Love Song Scenic Area. As a main attraction within
Mount Gongga
, the whole site occupies an area of about 74,132 acres (300 square kilometers), integrating pristine landscape with diverse entertainment activities.
To tour inside, visitors need to take the sightseeing bus up to the Mugecuo Lake. After a stay there and the surrounding Red Sea Grassland, stroll down while appreciating the amazing scenery. One can also use the sightseeing bus to get down, which can be hopped on and off freely at any of the stops set beside major attraction sites.
Also called the Wild Man Lake, Mugecuo Lake, with an altitude of 12,140 feet (3,700 meters), is a large plateau lake. The water surface covers about 741 acres (three square kilometers) and the deepest point is more than 230 feet (70 meters) below the sea level. The lake is surrounded by pines, cedars, and rhododendron trees on three sides and neighboring the vast Tagong Grassland on the rest side. With unpolluted water and lush vegetation, the lake and its surrounding areas are frequently vitalized by wild animals, like goats, ducks, deer and grouse.
Connecting Wild Man Lake, Rhododendron Valley is a gorgeous belt traversing the scenic area. More than 68 kinds of rhododendrons are growing here. When all the rhododendrons are in blossom, the valley becomes a world of flowers. The flower season usually lasts from the late April to July.
Continuing downward, you will reach Yaochi Feiquan, the amazing boiling springs with medical effects. Containing lots of trace elements beneficial to health, the springs have distinctive medical effects on eye diseases, gastrosia, and rheumatism. One unique spring, originating from rocks, is named Stomach Nursing Spring by the local people. It is said that by drinking the water, your stomach will be invigorated. The temperature of this spring can reach 194 ℉ (90 ℃), providing the perfect conditions for making the special snack Beancurd Jelly Egg. Put an egg in the spring pool and wait for about ten minutes. Ladle out the egg and open a hole on the shell. One will find the egg whites are not totally cooked and very much like beancurd jelly. Suck the egg whites and then peel the shell to eat the yolk, it is an enjoyable experience. Beside the Stomach Nursing Spring, there is an Eyesight Improving Spring, for it's said that the spring water can heal eye diseases and improve one's eyesight. Next to Eyesight Improving Spring is the spring where you can enjoy a foot spa.
About 3,281 yards (3,000 meters) far from the boiling springs, there is the Seven-Color Lake, also a plateau lake. The lake surface takes the shape of a crescent, covering approximately 49 acres (20 hectares). The tones of the lake vary among seven colors according to weather conditions, hence its name. In the morning, the lake is as clear as a bright mirror, reflecting the blue sky, white fleecy clouds and snow-capped mountains. When the sun is setting in the evening, the shimmering lake resembles a beauty wearing a golden veiling. The temperature of the Seven-Color Lake can rise up to 153 ℉ (67 ℃), making it an excellent spa resort.
The mount opposite to the Seven-Color Lake is Mount Camel Hump. There is a legendary story about the origin of this mount. Once upon a time, the camel of a deity survived in the Gobi Dessert. When passing by this place, it was obsessed with the beautiful Seven-Color Lake. Then the camel bent its head down into the lake and drank, with its humps upright. Finally, the humps formed Mount Camel Hump. On the left side of the Seven-Color Lake, there is a snow-capped hill. As it looks like the lotus seat of the Goddess of Mercy, it is called Lotus Hill.
The last major spot is the Fragrant Grassland, which leads to the exit of Mugecuo Scenic Area. The grassland, decorated by flowers, is a pretty carpet surrounded by endless undulating hills, providing a good place for galloping a horse.
Transportation

From Kangding:
Mugecuo Scenic Area is 16 miles (26 kilometers) from Kangding downtown. Currently, there are no buses running between them. Passengers can only rent a car for a round trip, which may cost around CNY 200. The single short journey takes about half an hour.

From Chengdu:
There are many long-distance buses running daily to Kangding from Chengdu. Duration is about 8 hours. Upon arrival, rent a car to the scenic site.
1. Take a bus at
Chengdu Xinnanmen Bus Station
(Chengdu Tour Bus Center). The buses depart at 06:30, 07:10, 08:00, 09:00, 10:00, 11:10, 12:10, 13:10, and 14:00, with a fare of CNY 139 in general. However, the bus that departs at 09:00 charges CNY 160 and CNY 149 for the bus departing at 10:00.
2. Take a bus at Chengdu North Passenger Transport Center. The buses depart at 07:00, 08:30, 10:30, 12:00, and 14:00, with a fare of CNY 139.
3. Take a bus at Shiyangchang Passenger Station. The buses depart at 11:00 and 12:40, with a fare a CNY 137.
4. Take a bus at Chadianzi Bus Station. The bus departs at 09:00, with a fare of CNY 139.
Tips
Admission Fee
April 1 to November 30: CNY 105 + CNY 90 for sightseeing bus + CNY 5 for insurance
December 1 to Next March 31: CNY 75 + CNY 90 for sightseeing bus + CNY 5 for insurance
Free for children below 4.3 feet (1.3 meters).
Note:
1. All tourists are required to buy the combo ticket, which covers the fees for admission, sightseeing bus and insurance.
2. Children have to be accompanied by an adult to enter the scenic area.
Sightseeing Boat on Mugecuo Lake
April 1 to November 30: CNY 66
December 1 to Next March 31: CNY 48
Opening Hours
8:00 to 17:00
Time Needed to Enjoy
3 - 8 hours

Note: Temperature on the mountain differs greatly, so additional clothing is required. Umbrellas and raincoats are required during summer.
- Last updated on Apr. 07, 2021 -
Questions & Answers on Mugecuo Scenic Area
Asked by Linda from SINGAPORE | Dec. 09, 2018 23:45

Reply
Mugecuo to Xinduqiao or Tagong transport.
Hi. Does anyone know if there's a bus/minivan/taxi from Mugecuo to either Xinduqiao or Tagong? We are thinking of going direct to either village after visiting Mugecuo, rather than going back to Kangding, but not sure how doable it is. Would it be easier if we booked a private car with driver/taxi? What would be the likely cost? Thanks.
Answers (1)
Answered by Mlian from SINGAPORE | Dec. 10, 2018 23:36

0

0

Reply
You are advised to hire a car with a local dirver, which is much convenient and easier. The fee is about CNY 500 - 600 per day.
Asked by Kean from SINGAPORE | Sep. 23, 2018 03:03

Reply
Transport from Kanding to Chengdu
Hi. Is there any public transport from KangDing back to Chengu? I am travelling by flight from Chengdu to Daocheng Yading. And going the reverse way back to Chengdu.
ChengDu>DaoCheng>YaDing>LiTang>XinDuQiao>KangDing>ChengDu.

Answers (1)
Answered by Nelson from USA | Sep. 25, 2018 23:09

0

0

Reply
Yes, there are many buses from 06:00 to 17:30 at Kangding Bus Station. And you can buy the tickets at the station and board the bus back.
Asked by Nooknik from THAILAND | Apr. 24, 2017 00:49

Reply
What is the average temperature in march at Mugecuo Scenic Area?
Answers (1)
Answered by Mason from AUSTRALIA | Apr. 26, 2017 04:05

0

0

Reply
According to the previous statistics, the average temperature in Mar. is 5C. It would be cold. You'd better prepare enough warm clothes.
Asked by James Lee from SINGAPORE | Nov. 30, 2015 08:49

Reply
what is the average temperature in late April and early May at Mugecuo Scenic Area?
is this an off peak period?
Answers (3)
Answered by Amy from USA | Dec. 01, 2015 02:44

1

0

Reply
Well, the temperature may range from 50 F to 60 F during that period of time. It won't be cold. You can bring jackets, thin sweaters, long underwears and jeans. In addition, May is the peak time of tourism.
Answered by James Lee from SINGAPORE | Dec. 01, 2015 04:57

0

1

Reply
Thank you for your prompt reply, I am planning to travel in mid April 2016 before the peak period.
Will be grateful if you could send me a 9 or 10 days tour itinerary covering Moxi town, Kangdin, Hailuoguo, Danba and Xinduqiao areas.

Thank you again.
James Lee
Answered by Josey from CHINA | Dec. 08, 2015 20:17

1

0

Reply
Garze coves a large area including many scenic spots. Without knowing which section you will depart from, here is just my general suggestion about your itinerary:
Day 1-2: Luding Bridge - Trumpet Shell Valley (Hailuogou)/Moxi Town
Day 3-4: Kangding – Xinduqiao Town – Mugecuo
Day 5-7: Daocheng Yading
Day 8-9: Danba for Beauty Valley, Jiaju Tibetan Village, etc.
May help!