Danba Tibetan Villages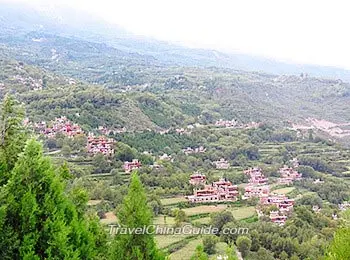 Danba Tibetan Villages
Danba Tibetan Villages, a retreat from the world, are known as the most beautiful villages all over China. They are located at Danba County, Ganzi Tibetan Autonomous Prefecture in Sichuan Province and famed for unique architectures. In the past, the typical buildings there were Zhaifang and Diaolou, which respectively refers to stockade houses and watchtowers. As time goes by, the two kinds of constructions integrate with each other and form the distinctive Tibetan style folk houses we see today.

Usually distributed along the southern mountain slopes facing the sun, houses in the Tibetan Villages are painted with whitewash. Most of the houses consist of three or four floors, with the exterior walls of the top floors painted yellow, black, dark red and decorated with the patterns of sun, moon, star and other religious designs. The ground floor often makes a barn for livestock, while the upper floors are the kitchen, storeroom, living room, and scripture hall. On the four corners of the roof, there are four white turrets, which are used to show respect to the deities in charge of hills, trees, rivers and lands. Pray banners hanging around the houses ripple in the wind, adding more charm to the region.

Outside the stone and wood built houses, apple trees, pear trees, peach trees, and pomegranate trees grow everywhere. In the hillside fields not far away, villagers plant crops, such as highland barley, rape, corn and potato. Watching from a distance, the colorful exquisite buildings are hidden in lush woods with a backdrop of snow-capped mountains, giving a sense of mystery and sanctity. When in spring, with flowers coming into blossom successively, the villages are more gorgeous shined by the sun.
Jiaju Tibetan Village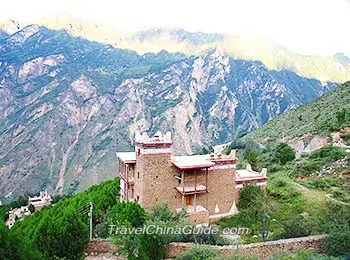 A Tibetan Style Folk House
Lying in the north of Danba, Jiaju Tibetan Village in Niexia Townstands out from all villages. It is about 5 miles (8 kilometers) from the county town and occupies an area of 1,200 acres (486 hectares), with more than 140 families residing here. Generally speaking, a house is dwelled by one family independently. Some houses gather in an advantageous position while some are far away from the main architecture complex. Stepping into the Tibetan houses, you will find yourself in a world of wonder. The walls, beds and cabinets are all adorned with delightful patterns in various bright colors, such as lotuses, trees, rivers, mountains and lamas. Besides Jiaju Tibetan Village, the Tibetan houses in Zhonglu Town and Badi Town are very famous too.

Suopo Watchtowers
In Danba, where there was a village, there were watchtowers. That's why Danba was renowned as the "ancient country of thousands of watchtowers". Although many of them has lost their traces or integrated with the folk houses, some of them have been preserved. Suopo Town till today is densely scattered with watchtowers. You can go there to have a feast for your eyes. Built with clay and stone, the watchtowers are solid lofty columns with four, six, or even thirteen margins on the cross section. These towers, with a height ranging from 100 to 200 feet (30 to 60 meters), have been established for more than a thousand of years. Initially, they were used for exorcising demons. Later on, some were used to defend villagers from enemies while some maintained the original functions.
Beauty Valley
Apart from peculiar buildings, the Tibetan Villages are noted for beauties. Many girls there are endowed with stunning beauty, which gives the region a lovely name - Beauty Valley. It is said that once upon a time, a phoenix flied to Mo'erduo Mountain, the most famous holy mountain within this area. Shortly afterward, the phoenix turned into thousands of charming beauties. From then on, the region at the foot of Mo'erduo Mountain abounds in good-looking girls. A beauty contest is held every three year in Danba to select a "golden flower", namely, the prettiest girl in this region. Wearing a headdress made of figured cloth and a long red dress of ethnic style, girls in Danba exhibit elegant manners.
Transportation
Take a bus to Danba at Chadianzi Bus Station in Chengdu. There are two buses to Danba departing respectively at 06:30 and 09:30, with a fare of CNY 105. The whole journey takes nine to ten hours.

To Jiaju:
After arriving at Danba, take a county bus at Danba Bus Station at the price of CNY 5 per person or rent a car to Jiaju. The rent is between CNY 60 and 80 per car. You can negotiate the rental price with the owner of the car.

To Suopo:
As the town is only 2 miles (3 kilometers) from Danba County, you can rent a car to go there or on foot. The rent is about CNY 30 per car.

To Zhonglu:
You can take a 7-seat bus to go there, at the fare of CNY 8 to 10. Alternatively, you can hike from the county town to the village and it takes about two hours.
The villages are not far from each other. You can travel between them on foot.
| Village | Admission fee | Opening hours |
| --- | --- | --- |
| Jiaju Tibetan Village | CNY 50, free for children below 3.9 feet (1.2 meters) | Whole day |
| Suopo Watchtowers | CNY 30 | Whole day |
| Zhonglu Tibetan Village | CNY 20 | Whole day |
- Last modified on Oct. 25, 2019 -
Questions & Answers on Danba Tibetan Villages
Asked by Sc from ISRAEL | Oct. 22, 2019 00:38

Reply
Holiday 25-26.10 Danba?
Is there holiday soon in Danba area ? I read about costume holiday 25.10 and lighting holiday 26.10 Danba Genzi. But I don't find more details about it. Can you help? I schedule my trip to this. I plan to arrive danba tomorrow . Thank you
Answers (2)
Answered by Emma from SINGAPORE | Oct. 24, 2019 20:35

0

0

Reply
The holiday refers to October 25-26 of Tibetan calendar.
Answered by Sc from ISRAEL | Oct. 25, 2019 03:54

0

0

Reply
Thank you. And when is it this year 2019?
Asked by Joanna from POLAND | Sep. 04, 2019 03:21

Reply
Hello, how to get from Danba to Tagong? Are there any buses?

Answers (1)
Answered by Eliza from CANADA | Sep. 08, 2019 18:31

0

0

Reply
Sorry, there is no bus between them. Maybe you can hire a car.
Asked by Boon from THAILAND | Feb. 26, 2019 07:07

Reply
I want to know, is there any bus from Danba to Jinchuan?
And bus from Jinchuan to Chengdu?
Thanks for all reply.
Answers (1)
Answered by Kylie from UKRAINE | Feb. 26, 2019 19:31

0

0

Reply
Yes, you can take the direct coach from Danba to Jinchuan. The duration is around 3 hours.
But I didn't find the bus schedules on the internet.
From Jinchuan to Chengdu, you can take the bus from Jinchuan Coach Station. The bus schedules are 06:30 and 06:40. The ticket fare is CNY162/person.
Asked by JC from THAILAND | Nov. 07, 2018 17:44

Reply
Would like to get information how i can get to Dang Ling ...TQ
Answers (2)
Answered by Tim from CANADA | Nov. 07, 2018 22:55

0

0

Reply
There used to be buses at Danba Bus Station to Danglin, but I'm not sure if they are still running. Or you can carpool a car with other tourists to Dangling.
Answered by PS from MALAYSIA | Nov. 08, 2018 00:33

0

0

Reply
Hi thanks but heard Dang Ling not commercialized like Yading ... not much tourist know this places ... sigh
Asked by Lily from THAILAND | Nov. 01, 2018 08:47

Reply
Anyone knows is there any bus from Xinduqiao to Danba (or where can I get the shared car)?
And the bus from Danba to xinduqiao? How long does the ride take?
Thanks
Answers (3)
Answered by Zachary from FRANCE | Nov. 01, 2018 23:03

0

0

Reply
Well, Lily, as I know, there is no direct bus that runs between these two places. If you wanna take the bus, you can take the bus to Kangding first. Then transfer to the bus to Danba. But the transportation is not that convenient. Thus you are advised to hire a private car or shared a car with other tourists. Generally speaking, you can find it at the bus station.
Answered by PS from MALAYSIA | Nov. 07, 2018 17:38

0

0

Reply
Sawadee,
1. Xingduqiao to Bamei first. (Xingduqiao - u can "pin che", since there no bus, the van served as connection of 2 villages or more, do ask the price but the prices is standard even you are tourist or local)
2. Then Bamei to Danba. You will stop at old bus station which the river side of the north town.
Answered by PS from MALAYSIA | Nov. 07, 2018 17:41

0

0

Reply
Danba to Xingduqiao - you can go to bus station tell the counter your route, they will either ask you take to Kanding, Litang or etc and tell bus driver to stop you exact location you want to stop like Xingduqiao town, if u only said Xingduqiao you will maybe stop at the Y junction road (Tagong, Xingduqiao and Litang) which around 3 km from XDQ town. Bus from Danba station all is quite early morning ...