Trumpet Shell Valley (Hailuogou)
Trumpet Shell Valley, called Hailuogou in Chinese, is located on the eastern slope of the Gongga Snow Mountain, southeast of Garze Tibetan Autonomous Prefecture, Sichuan Province. It's around 52 kilometers (approx. 32 miles) from Luding County and 76 kilometers (about 47 miles) from Kangding, the capital of Garze. It has been well known for its natural resort with miraculous glaciers and hot springs.
The climate of Hailuogou Scenic Area is deeply influenced by its surrounding landscapes. The four seasons are greatly distinguish in this area. One can enjoy the spring atmosphere at the foothill all year round. As the region is covered by dense vegetation, the yearly average temperature is around 15°C (59°F) as compared to the mountain top, where average temperature is always around minus 9°C ( −48.2°F). As a local saying goes, 'The valley has the features of the four seasons at any one time and different weather exists in different locations.' It's cool in summer and warm in winter, which makes it a good place for sightseeing, holidays, convalescing, mountaineering, research exploration and adventuring.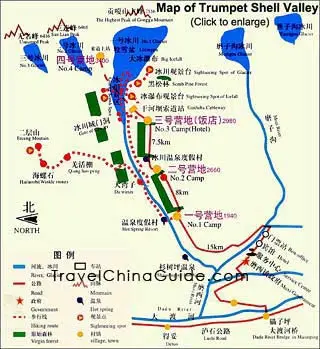 Map of Trumpet Shell Valley
(Click to enlarge)
The Trumpet Shell Valley originated from a melting-ice river valley and it has three distinguished characteristics:
Firstly, Gongga mountain is always covered with snow throughout the year. Standing in the valley and looking up to the mountain, one can feel the grandness and glorious radiation of Gongga.
Secondly, there are 74 glaciers on the Gongga Snow Mountain. Among them, the glacier in Trumpet Shell Valley, also called No.1 Glacier, is the longest. It has a total length of about 14.7 kilometers (approx. 9 miles). Moreover, it is unique in itself for it is a low-altitude glacier. Its lowest point being at an altitude of 2,850 meters (about 9,350 feet).
The No.1 Glacier is made up of three stages: the firn basin (the origin of the glacier), the great frozen waterfall and the glacier tongue. The frozen waterfall is between 500 (1,640 feet) and 1,000 meters (3,281 feet) wide and 1,080 meters (3,543 feet) high. It's so rare that it's very difficult to find another frozen waterfall like it in anywhere else in this world. When an avalanche occurs, snow and ice thunder down the glacier with great force. The glacier tongue extends into primitive forests for about six kilometers (about 3.7 miles). Dense forests coexist with glacier. The No.1 Glacier is hyperactive and over time, a lot of ice holes, ice ladders, ice gates, ice lakes and ice peaks came into being.
Third, in this ice and snow world, there are more than ten hot springs. Tourists can enjoy a bath on the ice. The temperature of the spring is from 40°C (104°F) to 80°C (176°F). Even there is one with a temperature of 90°C (194°F). Cold and heat coexist, which is extremely astonishing.
Tips on Hot Spring for your reference
Additionally, the valley possesses very abundant plants and animal resources. Over 2,500 kinds of plants can be found there, such as Chinese dove trees, katsura trees, tetracentrons, circaeasters, kingdonia balfs and rhododendrons. And more than 400 kinds of animals live there, including wildebeests, giant pandas, golden monkeys, white-lipped deer, wild donkeys, leopards, and back-neck cranes, water dogs, and Tibetan snow cocks and so on.



A Visit to Hailuogou Scenic Area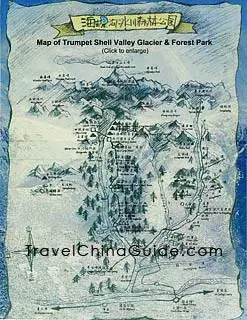 Hand Painting of Trumpet Shell
Valley (Click to enlarge)
The scenic area includes four encampments. The first encampment is at an altitude of 1,940 meters (6,365 feet). The major tourist activities include visiting the 56°C (133°F) hot spring and seeing the No.2 Glacier and primitive forests from a distance. The second encampment is at an altitude of 2,580 meters (8,465 feet), where you can see the 92.5°C (199°F) hot spring, monkeys, Chinese yews and the Shuihaizi Lake. The third one is at 2,940 meters' altitude (9,646 feet), where you can see rhododendrons and Tibetan macaques, and stroll in the primitive forests. Finally, you may go to visit the fourth encampment, which has an altitude of about 3,600 meters (11,811 feet). There the great frozen waterfall can be seen.
Tips: 1. You may reach the Fourth Encampment through the cable car directly. Arriving there at around 05:00, you could see the beautiful sunrise. Bright sun shines on the Gongga Snow Mountain and everything is immersed into the golden warm.
2. Dining & Accommodation: You can find Gongga International Hot Spring Hotel, Gongga Hotel, Hailuogou Glacier Hotspring Holiday Village and Hailuogou Changzheng Hotel in the scenic area.
3. Considering the existence of tourist risk, you are suggested to purchase travel insurance for yourself.
| | |
| --- | --- |
| Admission Fee of Hailougou Scenic Area | CNY90 |
| Sightseeing Bus | CNY70 |
| Cable Car | CNY150 for round trip |
- Last modified on Oct. 11, 2018 -
Questions & Answers on Trumpet Shell Valley
Asked by Eiw from THAILAND | Sep. 21, 2019 01:54

Reply
How is beautiful to visit Hailuogou Glacier Park on Oct 27?
Is it good to go Hailuogou in this period? What can I see in the area? Autumn leaves ? beautiful Glacier?
Asked by Kean Tan from SINGAPORE | Oct. 06, 2018 11:27

Reply
Hi. I am planning to visit HaiLuoGou around end of October.
Is there any direct public transport from Kangding to HaiLuoGou and from HaiLouGou back to ChengDu? What other alternative transport do I have? And the cost? Thank you!
Answers (1)
Answered by Kenneth from USA | Oct. 11, 2018 19:13

0

0

Reply
From Kangding to HaiLuoGou, some people said across from the Kangding Bus Station, there are the direct buses to Moxi Town and the ticket price is about CNY30.
Or you can take the minibus outside the Kangding Bus Station. The fee is about CNY60 per person.
Or you can take the bus at Kangding Bus Station to Luding Bus Station and then take the bus at Luding Bus Station to Moxi Town. The whole ride need about CNY60.

From HaiLouGou back to ChengDu, some locals said that you can take the bus from Hailuogou to Luding. On the way, you can get off at Caihong Birdge. There may be many buses to Chengdu. Or you can go back to Luding Bus station directly and then take the bus to Chengdu.
Or, there is direct bus across from Changzheng Hotel in Hailuogou to Chengdu, departing at 09:00am every morning. And get to Chengdu Xinnanmen Bus Station. Sorry I didn't find the specific ticket fare and it may be CNY150 or so.

Of course, you can choose to take a car-sharing with other tourists.
Asked by Choomeanah from MALAYSIA | Feb. 25, 2013 09:21

Reply
How much is president room at Hailougou camp 2 glacier resort? Can you book for us?
Answers (1)
Answered by Nancy from UNITED KINGDOM | Feb. 25, 2013 21:48

0

0

Reply
The president room you mentioned cost about CNY850 per night in the end of 2012. But I heard that its price has climbed up a little. If you don't go for travel during high season, it is not necessary to book. Just reach there and check in!
Asked by Choomeanah from MALAYSIA | Jan. 24, 2013 02:25

Reply
What time is Bus leaving moxi back to Chengdu?
Is there many buses in march? Is march low season or high season?

How is sunset view?
Answers (1)
Answered by Linda | Jan. 24, 2013 21:18

0

0

Reply
There is only one bus departing at 07:30 from Moxi back to Chengdu. March is the low season for sighseeing. The sunset view there is attractive.
Asked by Choomeanah from MALAYSIA | Jan. 23, 2013 07:26

Reply
Which hotel to stay if we wish to view sun rise?
We read sun rise is beautiful. What about sunset?
Answers (1)
Answered by Jenny | Jan. 24, 2013 02:24

0

0

Reply
Yinshan Hotel near the camp 3 is suggested to see the sun rise. I think the seeing sunsut at camp 3 is very nice, but I am not very clear about other camps.