Litang, Sichuan
Litang Facts
Chinese Name: 理塘 (lǐ táng)
Population: 70,420
Area: 14,352 square kilometers (5,541.3 square miles)
Location: in the southwestern part of Ganzi Tibetan Autonomous Prefecture, west Sichuan Province, southwest China
Area Code: 0836
Zip Code: 624300
GDP (2018): CNY 10.39 billion (USD 1.57 billion)
Nationality: Tibetan, Han, Mongol, Hui
One of the Highest Towns in the World
Litang County is affiliated to Ganzi Tibetan Autonomous Prefecture, Sichuan Province, southwest China. With an over 4,000 meters (13,123 feet) altitude, it is one of the highest towns in the world. Many Tibetan Buddhist figures were born in Litang including the spiritual leader of Mongolia Buddhism, also the 10th Dalai Lama Jebtsundamba Khutughtu, and Jam-yang-shay-ba Trulku, the 5th living Buddha of the Labrang Monastery. The famous poet, also the sixth Dalai Lama, Tsangyang Gyatso had written his last poem about Litang. Litang Temple, Mount Genik, Maoya Prairie and other tourist attractions are worth visiting. Horse racing festival held on August 1st is a traditional festival with a long history in Litang Sichuan. It is a great time for travelers to watch its unique ethnical performance and horse races. Also, travelers can enjoy the Tibetan Opera at that time.
Best Places to Visit & Top Things to Do in Litang
You may need 1-2 days for Litang travelling.

Maoya Prairie
It is an alpine grassland in western Sichuan and is the largest mountain grassland in the Shaluli Mountains. It is praised as one of the six most beautiful grasslands in China. Close to the mountain, snow-clad peaks, white clouds and blue sky, it has a multifaceted beauty. Travelers can enjoy the endless grassland here.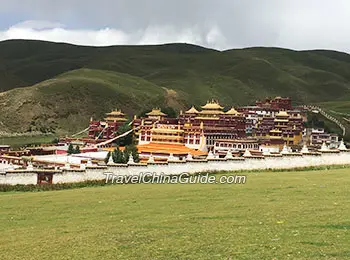 Ganden Thubchen Choekhorling Monastery

Ganden Thubchen Choekhorling Monastery (Litang Temple)
It is one of the oldest and largest Tibetan Buddhist temples which was built by Sonam Gyatso. Butter-Lamps Festival will be held on every January 15th of the Tibetan calendar, which attracts countless travelers to pray for luck. It is also a treasure house of Tibetan religion, culture and art. Travelers can visit the splendid architecture, the dazzling array of instruments, various statues of Buddha, the exquisite sculptures and the vast collection of documents in this temple.

Mount Genik
Surrounded by forests, hot springs, snow-clad peaks and temples, it forms a natural scenic spot which takes Mount Genik as the core. The snow-clad Mount Genik is shining under the sun which can be seen from a distance. The mountainside is decorated with forests, and the waterfalls cascade down. There are vast grasslands under the mountains, as well as clear lakes. Travelers can climb the mountain while appreciating the beautiful scenery along the way.

Attend Horse Racing Festival
Holding on every August 1st on Maoya Prairie, this lively festival attracts millions of travelers. Travelers can not only watch the exciting horse races, but also enjoy the excellent performance by local people in their ethnic costume.
Best Time to Visit Litang
The best time to visit Litang is spring and autumn. Litang Sichuan belongs to the plateau climate zone with strong sunshine and distinctive dry and wet seasons. The annual average temperature is -1-12℃ (30.2-53.6℉). In spring from March to May, the average temperature is -1.5-12.5℃ (29.3-54.5℉). And in the autumn from September to November, the average temperature is 0-13℃ (32-55.4℉). In winter from December to February, the average temperature is -10-7℃ (14-44.6℉).
Travelers should pay more attention to sun protection, altitude sickness and bring warm clothes.
-
Transportation
There is no airport nor railway station in Litang Sichuan. Travelers can choose to transfer in
Chengdu
or
Kangding
. Chengdu is about 550 km (341.8 mi), and Kangding is about 280 km (174 mi) from Litang Sichuan. There is one long-distance bus from Chengdu Xinnanmen Bus Station to Litang, which departs at 06:30, takes about 10 hours in total and the ticket fare is CNY 223. At present, there is also one bus from Kangding Bus Station to Litang Sichuan. This bus departs at 07:00, taking about 6 hours to the destination and the ticket fare is CNY 102.
Within the city area, the public bus is available. Travelers can choose to take a charted car which costs CNY 1,000/day. Travelers can also choose to take s self-driving tour.
Best Litang Food to Try
The Food in Litang integrates the characteristic of
Sichuan Cuisine
and
Tibetan food
. When coming to Litang Sichuan, you cannot miss Roasted Barley Flour, Plateau Squid, Tuanjie Steamed Stuffed Bun, Qingke Beer and Dried Beef.

Roasted Barley Flour
Travelers who want to taste Tibetan food cannot miss this. It is a traditional staple food of Tibetans. It is made of barley flour, buttered tea, sugar and milk residue. With rough taste and high calories, it is suitable for defending against the cold.

Plateau Cod
This kind of fish is cooked with fresh meat and rich in nutrition. It is often made into spicy taste with tofu, pickled Chinese cabbage, green shoots and other vegetables.

Tuanjie Steamed Stuffed Bun
It has a unique shape which is like the combination of cake and bun. Local People will make it on holidays or when they meet friends and relatives. With various fillings, it is very delicious, oily but not greasy. It is often eaten with buttered tea.
- Last updated on Aug. 17, 2020 -