Mount Gongga (Minya Konka)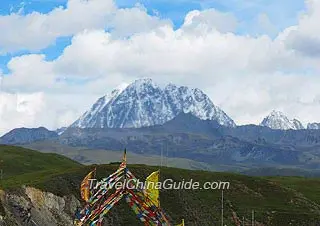 Mt. Gongga, Ganzi
Mount Gongga is located at the eastern edge of the Tibetan Plateau, between the Dadu River and the Yalong River, in the middle section of the Hengduan Mountains. It covers an area of about 30 kilometers (about 19 miles) east-west length by about 60 kilometers (about 37 miles) south-north. It lies among Kangding, Luding, Shimian and Jiulong, the four counties of the Tibetan Autonomous Prefecture of Ganzi in Sichuan Province. It is the highest mountain in Sichuan, with the highest peak of 7,556 meters (about 24,790 feet) above sea level, enjoying the fame as 'King of the Mountains in Sichuan Province'
Mount Gongga scenic area was founded in 1996 and was given national natural reserve status in 1997. Centering on The whole scenic area covers 10,000 square kilometers (about 3, 861 square miles) and is regarded as the biggest scenic location in China. Covered by thick forest, it supports 4,880 species of plants and over 400 species of plateau and forest animals, most of which are under special state protection.
In the scenic area, there are more than ten plateau lakes, including Mugecuo, Wuxuhai, Renzhonghai and Bawanghai. Some of them are at the foot of glaciers and some are surrounded by forests, all of which keep their original natural features. There are also some hot springs here, of which the most famous are Kangding Erqiao Hot Spring and Hailuogou Hot Spring. The temperature of the hot springs always lies between 40℃ (104℉) and 80℃ (176℉). (Tips on Hot Spring for your reference) In addition, there are several Tibetan Buddhism lamaseries in the scenic area, such as Gongga Lamasery and Tagong Lamasery.
As one of the places where maritime glaciers originate, Mount Gongga is best well-known for its 159 glaciers which cover more than 390 square kilometers (about 151 square miles). The most famous glaciers are Hailuogou Glacier No.1, Kunba Glacier, Bawang Glacier, Yanzigou Glacier and Mizigou Glacier, with ice that can be 150 to 300 meters (about 492 to 984 feet) thick. The largest is Hailuogou Glacier No.1 at 6 kilometers (about 4 miles) long and 0.4 to 0.7 kilometers (0.25 to 0.43 miles) wide, which is believed to have formed 1,600 years ago.
There are three wonders about the glaciers. First, you will not feel cold, even if you wear thin clothes when walking on the glaciers in summer or autumn. Second, the ice-clad waterfall in Mount Gongga is active all year round, where ice calving of all scales happens at all times. An avalanche of ice will cause the collapse of millions of cubic meters of ice. This is a magnificent sight, when it happens, with ice cubes and snowflakes dancing in the air and the roaring sound filling the whole valley. The tird wonder is the varied shapes of ice formed during melting, such as ice mushrooms, ice tables, and ice bridges.
Mount Gongga is also a famous place for climber and explorers. Along with Mount Everest and other six mountains, it was opened to foreign mountaineering parties in 1980. It now attracts many of he best climbers and explorers in the world.
Main Attractions in Mount Gongga: Trumpet Shell Valley Glaciers Forest Park, Mugecuo Scenic Area, Wuxuhai Scenic Resort, Tianwanhe Scenic Resort

Transportation (from Chengdu)
A: Take Hailuogou Tourism Bus (starting at 09:00) at the Xinnanmen (new south gate) Bus Station, which will take you to Mount Gongga directly.
B: Take Chengdu-Kangding Bus Line (starting at 09:00, 11:00, and 13:00) at Chadianzi Bus Station to Kangding, from which there are special tourism buses to Gongga Mountain directly.
Best Time to Visit
May to June (the period between raining and dry seasons)
Opening Hours
08:00-18:00 (Hailuogou Glaciers Forest Park)
08:00-17:00 (Mugecuo Scenic Resort)
Whole day (Wuxuhai Scenic Resort)
08:00-17:00 (Tianwanhe Scenic Resort)
Admission Fee
Hailuogou Glaciers Forest Park:
CNY 90, CNY 70 for a sightseeing bus (round-way), CNY 150 for a cable car (round-way)

Mugecuo Scenic Resort:
CNY 105 + CNY 90 for a sightseeing bus (round-way) during the peak season (April 1 to November 14)
CNY 75 + CNY 90 for a sightseeing bus (round-way) during the low season (November 15 to March 31)

Wuxuhai Scenic Resort: CNY 60

Tianwanhe Scenic Resort: CNY 20
- Last modified on Nov. 29, 2019 -
Questions & Answers on Mount Gongga in Garze
Asked by Nizam from MALAYSIA | Aug. 02, 2018 04:20

Reply
Weather / Transport / Bus Station Platform
Hi. I Want To Go To Hailuogou Glacier Park. I Plan Go On September 2018.
Can I Know The Weather ?
If I Take Bus From Xinanmen Bus Station How Long It Takes And Where We Will Drop At?
Is It Near If I Book Hotel At Moxizhen ?
From Hotel How To Get To Hailuogou Glacier Park?

Sorry For Ask So Many Question.
Plan To Go Jiuzhaigou And Songpan And Just Noticed That The Road Is Closed For Both Place Due To Flood.

Answers (1)
Answered by Victor from GREECE | Aug. 06, 2018 20:37

0

0

Reply
The temperature may range from 20C to 25 C. The bus departs at 9:30 and it takes about 8 hours to get there. You will drop at Moxi Town which is at the entrance of the scenic area. Yes, it's not far. You can walk to there.
Asked by Sam from SINGAPORE | Jul. 31, 2018 18:51

Reply
Busses from Chengdu to Hailuogou
Hi I will be arriving Beijing Railway Station at 8.55am.
May i know the bus schedule in Xinnanmen Bus Station to Hailuogou? I read elsewhere there are busses departing Xinnanmen at 9.30 and 9.50? Could someone please advise on the timings?
Also from Beijing Railway Station to Xinnanmen if i were to take subway line 1 and drop off at Huaxiba.. how long is the ride? Thanks in advance
Answers (3)
Answered by Bowen from SWEDEN | Aug. 01, 2018 19:07

0

0

Reply
I guess you mean CD Railway Station. You can take Metro Line 1 to the Stadium Station and transfer to Metro Line 3 to Xinnanmen Station. Get out of the exit C and walk about 100m. It takes around 30 minutes. The departure time should be 9:30 and 10:10.
Answered by Sam from SINGAPORE | Aug. 05, 2018 04:02

0

0

Reply
Thanks a lot Bowen. I think i'll be able to make it for the 10:10 bus to Hailuogou.
Do you happen to know if there are busses that travel from Hailuogou to Yading? Or if taxi is the only option, how much would that cost? Thanks in advance :)
Answered by Bowen from SWEDEN | Aug. 06, 2018 18:53

0

0

Reply
Yes, the bus departs at 9:30 and the fare is around CNY 120.
Asked by Tommy from THAILAND | Oct. 09, 2017 09:41

Reply
How to go to Hailougou glacier park from Kangding?
Answers (1)
Answered by Black from DENMARK | Oct. 09, 2017 21:14

1

0

Reply
As I know, no public bus is available. You are suggested to take a local minivan sharing with other visitors, which may take 3hours and around CNY60. Or you can take a bus to Luding County for a transfer.
Asked by Joshua from PHILIPPINES | Aug. 07, 2017 02:35

Reply
Is it possible to get to Kunming or cities near it from Gongga by bus or train connections?
Or do I have to return to Chengdu?
Answers (1)
Answered by Joyce from DENMARK | Aug. 07, 2017 20:47

0

0

Reply
No, as I know, no bus or train is available, you need to return to Chengdu, then take a train from Chengdu Station to Kunming, it takes more than 20 hours and CNY261.5 for a hard sleeper.