Ganzi (Garze) Travel Guide
Ganzi Facts
Chinese Name: 甘孜藏族自治州 (gān zī zàng zú zì zhì zhōu)
Population: 920,000
Area: 152,629 square kilometers (58,930 square miles)
Location: in western Sichuan Province, southwet China
Administrative Division: 18 counties (Kangding, Luding, Danba, Jiulong, Yajiang, Daofu, Luhuo, Ganzi, Xinlong, Dege, Baiyu, Shiqu, Seda, Litang, Batang, Xiangcheng, Daocheng, Derong)
Area Code: 0836
Zip Code: 626000
GDP (2018): CNY 26.15 billion (USD 3.95 billion)
Nationalities: Tibetan, Yi, Qiang, Miao, Hui

Located in western Sichuan Province, Ganzi Tibetan Autonomous Prefecture is an important Tibetan area in China on the southeast edge of the Yunnan-Guizhou Plateau. It borders Yunnan Province on the south and Qinghai Province on the north, are separated from Tibet by the Jinsha River. Kangding is the political, economic and cultural center of the prefecture. Mount Gongga, Mugecuo Scenic Area, Yading Nature Reserve and Trumpet Shell Valley in Ganzi are worth visiting. Interwoven ethnic cultures also make Ganzi a hot tourist destination.
Ganzi Attractions - Things to Do

Gongga Mountain
Kangding is not only the administrative center of the Ganzi, but also the hometown of a love song, well known as the 'Kangding Love Song'. From Kangding, there are special-line buses to Gongga Mountain, a snow mountain ranking as the highest peak in Sichuan Province. Gongga is Tibetan for supremacy and spotless white, and it is the sacred mountain for climbers. Moxi Valley in Liuba Town of Kangding County is a key scenic spot of Gongga Mountain combining a glacier, virgin forest, alpine lake and waterfall landscapes. Bridges, streams, trees and Tibetan villages together with the distant mountains constitute a pastoral painting of Xinduqiao, a picturesque town 70 kilometers (43 miles) west of Kangding.

Daocheng Yading Nature Reserve
Daocheng was spoken of as the 'last pure land on earth'. The startling images of Daocheng and the way of life of local tribes and ethnic groups were first shown to the world when the famous American adventurer Joseph Rock issued his article and photographs of Daocheng in the National Geographic after traveling in the county. Daocheng is in the south end of Ganzi prefecture with Yading Nature Reserve as its core scenic area. Over ninety-six percent of the people living in Daocheng's town seat are Tibetans. The snow-capped mountains of Chenrezig, Jambeyang and Chanadorje are considered sacred by local Tibetans. And the Chonggu Monastery, at an altitude of 3,880 meters (12,730 feet) under the Chenrezig is the campsite and inevitable pass to the three sacred mountains. In addition, the Zhenzhu (Pearl), Wuse (Five Clolor) and Niunai (Milk) lakes appears as glittering fragments of jasper on the plateau. The most unforgettable pastoral scenery of Daocheng is at its best between Sangdui and Sela townships.

Other Scenic Spots: Haizi Mountain, Trumpet Shell Valley, Mugecuo Scenic Area, Danba Tibetan Villages, Danba Meiren (Beauty) Valley, Luding Bridge, Paoma Mountain, Tagong Scenic Area, Erlang Mountain, Lianhua (Lotus) Lake
| | |
| --- | --- |
| Jianziwan Mountain, Ganzi | Yading Nature Reserve, Daocheng |
How to Get to Ganzi
Kangding Airport is 4,290 meters (4,692 yards) above sea level and 38 kilometers (24 miles) away from the downtown. Kangding Airport has flights to/from Chengdu, Hangzhou, Chongqing, and Lhasa. And airport shuttle bus runs between airport and downtown.

Roads provide the primary means of transportation in Ganzi Tibetan Autonomous Prefecture. Kangding Bus Station is located at 129, Xinshi Qian Jie.
For self-drive tourists, there are usually two routes of choice from Chengdu to Kangding:
Route 1: leaving westward along the Chengdu-Yaan Expressway, passing through Erlang Mountain Tunnel and Luding Bridge over the Dadu River to Kangding
Route 2: Leaving Chengdu and passing through the Chengdu Wolong Panda Reserve, Four Maiden's Mountain, Danba County, then arriving in the destination.
There are also two options to Daocheng. Visitors can get there through Shangri-la of Yunnan or through Chengdu:
North line from Chengdu to Daocheng passes through Dujiangyan, Wolong, Four Maiden's Mountain, Danba County, Tagong Scenic Area, Xinduqiao. The south line passes through Yaan, Luding, Kangding, Xinduqiao. Choosing one route to Daocheng and the other back to Chengdu, visitors can get an eye feast of almost all the fascinating spots in western Sichuan.

Daocheng Yading Airport
Weather
-
The prefecture enjoys a plateau monsoon climate, and the Garze weather is complicated and varies in accordance with the spatial variation, such as the differentiation of altitude, terrain and latitude. The annual average temperature of most regions is below 8℃ (46.4℉). Spring (April to May) is the best season for appreciating flowers scattered all around the mountains in the fresh air, while for photographers, autumn is the best time to grasp the colorful scenery. If visitors expect to see the snow-capped plateau, they should make a trip during November and December. It is suggested to not travel here in January and February for snow may block the way to mountains.
Garze Travel Tips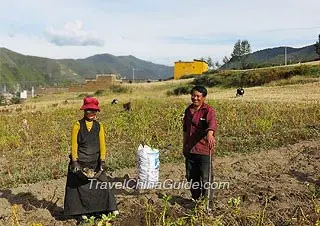 Xinduqiao Town

History: Garze is also referred to as Kangba or Kangqu. Dege County in northwestern Garze, Lhasa City in Tibet and Xiahe County in Gannan Tibetan Autonomous Prefecture of Gansu Province are the three ancient cultural centers of the Tibetan ethnic minority. Kangding, the seat of the prefecture government, has been an important trading market since the Song Dynasty (960-1279). After the liberation of the region, the Xikang Province Tibetan Autonomous Region was established here in 1950, and changed to Garze Tibetan Autonomous Prefecture under Sichuan Province five years later.



Physical Features: Situated in the transition area from Yunnan-Guizhou Plateau to Sichuan Basin, the region is comprised of plateau, and highland and alpine valley. Its terrain slopes generally from the northwest to the southeast, with an average altitude of 3,500 meters (11,483 feet). The main branches in the upper reaches of the Yangtze River, Jinsha River, Yapan River and Dadu River, flow through the prefecture.



Special Local Products: Specialities: herbs, white mushroom (Bai Jun), matsutake mushroom (Song Rong)
Foods: Hua Momo (Tibetan moon cake popular in Daofu County), Zanba or Tsampa (roasted highland Qingke barley flour), Tibetan blood sausage, buttered tea
Handicrafts: butter sculpture, wooden utensils, carpet, golden and silver articles



Local Highlights: Tibetans make up nearly eighty percent of the total population of Sichuan. Traditional festivals, such as the love song festival, temple fair, the horse racing festival and Tibetan New Year, provide a panorama of folk customs in the Tibetan area.
- Last updated on Apr. 12, 2022 -
Questions & Answers on Ganzi Travel
Asked by Amanda from SOUTH AFRICA | Jul. 16, 2020 04:39

Reply
Travel for foreigners in Sichuan
Hello,
Do you have any information about whether foreigners are allowed to travel around Sichuan at the moment (due to Covid 19) to areas such as Litang, Yading, Danba, Tagong, etc (mostly Tibeten areas). I live and work in Chengdu, so would not be coming from another province.

Thanks!
Answers (2)
Answered by Christian from FINLAND | Jul. 19, 2020 20:32

0

0

Reply
Well, I am not sure. You are suggested to consult the local government. Different regions have different requirements.
Answered by Amanda from SOUT | Jul. 20, 2020 03:56

0

0

Reply
Okay, thanks.
Asked by sanal nandakumar from SINGAPORE | Dec. 02, 2019 20:58

Reply
What are the road travel options available to reach garze from deqin(diqin).
I would like to know about the transport options available for reaching garze from diqin . I'm planning to travel end of December
Answers (1)
Answered by Ben from UNITED KINGDOM | Dec. 05, 2019 17:27

0

0

Reply
Garze covers a large area, and there is no public transport between most of places. Most travelers choose self-drive tours.
Asked by Mingi from HONG KONG | Sep. 19, 2019 21:57

Reply
Do they have bus run from Luding to Danba on S211 mountain road?
What time they depart from Luding? Everyday or certain day a week? This is much faster road than via Kangding. Thx
Answers (1)
Answered by Cathy from FINLAND | Sep. 19, 2019 22:53

0

0

Reply
Well, as I know, there are several buses that run between these two places. However, I didn't find the bus schedules. You are suggested to consult the staff at Luding Coach Station.
Asked by MINGI | Sep. 15, 2019 11:30

Reply
Is any bus from Four Sister Mountains to Danba on Saturday? Is any daily bus from Danba to Luding?
Answers (3)
Answered by Carol from CANADA | Sep. 18, 2019 20:06

0

0

Reply
Yes, you can take bus from Rilong county (at the foot of four sister mountain) to Danba. You can take bus from Danba to Luding at Danba Coach station, which departs at 7:05. But it doesn't run every day.
Answered by Mingi from HONG KONG | Sep. 19, 2019 21:54

0

0

Reply
Do they also has bus run from Luding to Danba on S211 mountain road? What time they depart from Luding? Everyday or certain day a week? This is much faster road than via Kangding. Thx
Answered by Carol from CANADA | Sep. 19, 2019 23:05

0

0

Reply
I only find there is bus departing from Luding Coach station to Danba at 7:00.
Asked by Helen from AUSTRALIA | Sep. 08, 2019 16:13

Reply
I am hoping to travel from Tagong/Lhagong to Daocheng by bus or minivan on 14 October.
I know there is an early morning bus from Kangding to Daocheng, but since I am travelling from Chengdu-Kangding-Tagong, I was hoping to be able to avoid returning to Kangding to get to Daocheng. I'd want to go directly from Tagong/Lhagong to Daocheng.

After Daocheng, I want to go to Zhongdian/Shangri La in Yunnan Province in one trip. (I know there are public buses for that). I want to be in Shangri La / Zhongdian by 17 October.

My other option was to go from Tagong/Lhagong to Litang by bus/minivan.
I have been unable to find websites for accommodation in Litang to book accommodation in Litang, so far.
If I go from Tagong to Litang, I would hope to then go to Shangri La/Zhongdian. Is that possible -- to get a mini van or bus from Litang to Shangri La/Zhongdian in Yunnan Province?

Thank you for any help.
I'd also like to say that this website is excellent.
Helen
Answers (1)
Answered by Brenda from UNITED KINGDOM | Sep. 10, 2019 19:02

0

0

Reply
Once there is no public transport you can take, it is common to hire a car or mini van, or pool the car with other tourists.