Qiang Nationality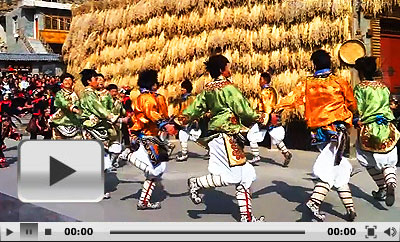 Mutuo Qiang Village - 2
Qiang ethnic group lives mainly in the counties of the Aba Tibetan Autonomous Prefecture, Sichuan; Maowen Qiang Autonomous County is the largest area that is home to the Qiang people. They have a profound history of over 3,000 years as evidenced by inscriptions on oracle bones. According to the 2000 census, they have a population of 306,072.

Language and Character:
Their language belonging to the Tibetan-Burman group of the Sino-Tibetan phylum is divided into two dialects. Qiangs do not have a written language, but most can write in Chinese.

Belief:
They believe that everything in nature has a spirit. They especially consider white quartz stone as the symbol of rightness having the power of gods, while the black quartz represents evil. Every third day of a New Year, the Qiang go to white stones on their roofs to worship gods, such as the god of the mountain, the god of the stone king, the god of the ox king, etc.

Food:
Staple foods include corn, wheat, potatoes, beef, mutton, pork, chicken and fish. The Qiang ferment and drink wine. Children and women prefer to drink wine with honey; men tend to have a great capacity for liquor. They are also expert at preparing medicinal dishes.

Crafts:
Qiang handicrafts are outstanding among minority groups. As early as the Ming (1368 - 1644) and Qing (1644 - 1911) Dynasties, their embroidery and carpet weaving were well known. Their shoes, sewn and embroidered by local women, look like delicate boats and are comfortable.

Architecture:
They are also adept at building. The Diaolou, rope bridges, plank roads, as well as weirs have high artistic value. The Diaolou is a kind of building as high as 10 -30 meters (33 - 98 feet) with the materials of stone and clay, functioning to store food and firewood and to defend enemy's aggression.

Festivals:
The first day of the tenth lunar month is the Qiang New Year's Day when natives take flour food and meat to sacrifice to ancestors and gods. The other grandest day is on the sixth day of the sixth lunar month. All except married women join in the worship activities.

Arts:
They are versatile. They create folk stories expressed through music. The 'armor dance' performed with armor, copper bells and long weapons, reflects the character of the Qiang – brave, simple and unconstrained. They have many musical instruments, among which the most famous is the Qiang flute mentioned by the famous poet of the Tang Dynasty (618 - 907) Wang Zhihuan. The Qiang flute, made of bone or bamboo, sounds soft, lingering, and bright.

Taboos:
In the Qiang daily life, there are several taboos that all their people should observe and that others should respect: if there is a patient in a family, the family hangs a red ribbon on the door to indicate that guests are not welcome; it is forbidden to walk over a burner, to sit on the threshold and stairs; and to put chopsticks across the bowl which Han people often do.



More Ethnic Groups in Sichuan Area:
Yi Zang (Tibetan) Tujia Miao
- Last updated on Mar. 29, 2019 -
Questions & Answers on Qiang Nationality
Asked by Ms.Helen Shao from USA | Mar. 30, 2009 11:22

Reply
Hi - Is it possible to get some information about this group of people so I can complete an integrative project for my training class for missionaries going to bring the good news of the Gospel to them?
Answers (2)
Answered by Mr.Bob Fuller from USA | Jan. 11, 2010 22:41

2

0

Reply
I am curious about your missionary efforts with this group [about whom my fiancee has a special interest]. Where can I learn more?

My mother was the first woman officer of the Southern Baptist Foreign Mission Board, my father devoted his life's work to missions and my sister's family were missionaries in Costa Rica, Dominican Republic and Puerto Rico.
Answered by Mr.Nate Sims from CHINA/USA | Jul. 27, 2010 14:50

2

0

Reply
Hi there! I have lived in Qiang areas for a few years now and have some information that might be helpful to you. my email is
yahoo.com|nateinasia
feel free to contact me if you would like anymore information.
Nate