Yading Nature Reserve, Daocheng
Honored as the "last pure land on our blue planet", Daocheng Yading Nature Reserve was first introduced to the world when the famous American adventurer Joseph F. Rock published an article and photographs of
Daocheng
in the National Geographic in 1928. "Where in all the world is to be found scenery comparable to that which awaits the explorer and photographer!", he wrote. The snow-capped mountains, steep cliffs, crystal clear lakes, vast pastures, as well as the dense woods compose a harmonious utopian land.
| | |
| --- | --- |
| Jambeyang (Yangmaiyong) Holy Mountain | Map of the Yading (Click to enlarge) |
Three Holy Mountains
The most important spots in the scenic area are the three sacred snow-clad mountains, Mts Chenrezig, Jambeyang and Chanadorje. They are completely separated from each other, but within a short distance, forming the shape of a triangle. The three mountains are worshipped as embodiments of three Bodhisattvas: the Bodhisattvas of Mercy, Wisdom, and Power, respectively. Local Tibetans believe that the three holy mountains protect them and if one sincerely makes pilgrimages to the three mountains, his wishes will come true.
| | |
| --- | --- |
| Chenrezig (Xiannairi) Holy Mountain | Pearl Lake |
Mt. Chenrezig (Xiannairi), with an altitude of 19,790 feet (6,032 meters), is the highest peak in Daocheng County. The whole peak takes the shape of an honorable Buddha who is leaning back. The Buddha, often regarded as the Bodhisattva of Mercy, sits in a lotus seat, with a giant pagoda in her arms. When the sun shines, the whole mountain is draped in a veil of golden light, presenting a really magnificent view. Waterfalls arising from snow-capped peaks rush down the hillside. Grasses, lakes, and forests display the mountain at its best. Pearl Lake (Zhenzhu Hai), at the foot of Chenrezig, and believed to be the cosmetic mirror of fairies, is an excellent spot to admire the mountain. On sunny days, you can see the reflection of Chenrezig on the lake surface.

Mt. Jambeyang (Yangmaiyong) has an elevation of 19,547 feet (5,958 meters) and presents a holy, white appearance, very much like a pure and dignified maiden. From a distance, the lofty peak towers up into the clouds, as if the Bodhisattva of Wisdom is pointing at the sky with a sharp sword.

Described by Joseph F. Rock as a huge bat spreading its wings and the God of Thunder in Greek mythology, Mt. Chanadorje (Xianuoduoji) rises against the skyline. As high as Mt. Jambeyang, it is in the shape of a triangular pyramid, grand and precipitous, just like a handsome young man.
Chonggu Monastery
At the foot of Mt. Chenrezig, is the Chonggu Monastery, which you pass on the way to the holy mountains. It is said that at one time, an eminent monk built this temple for the purpose of worshiping the three mountains. However, disease attacked the surrounding areas at that time. This selfless monk prayed day and night to the god to save the people. Finally, all the people were saved while he was sacrificed. To commemorate his great deeds, people buried him on this land and piled majestic Tibetan cairns in his memory.
| | |
| --- | --- |
| Chonggu Monastery | Luorong Pasture |
Luorong Pasture
Surrounded by rolling mountains, Luorong Pasture is the best site to view the three holy mountains. Leisurely herds of sheep and cattle enjoy the green grass, clear water and warm sunlight there. When there is a breeze, the lovely creatures are barely visible standing between flourishing grasses. It is as if some wool balls are rolling around.

In addition, the Five Color Lake (Wuse Hai) and Milk Lake (Niunai Hai) are well worth visiting.
Important Tips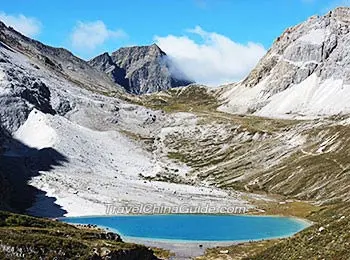 Milk Lake
1. Because the altitude is as high as 12,303 feet (3,750 meters) and the air is comparatively thin, it is recommended that the elderly and infants do not travel there.
2. Take the medicine Herba Rhodiolae for a week before setting out on your journey. Take with you regular drugs as well as drugs against altitude sickness.
3. Take a scarf, sun block, lip balm, sunglasses and a sunhat to protect you from the ultraviolet rays and dry weather.
4. Take clothes and shoes suitable for hiking. It is suggested you also take a raincoat, an alpenstock and a pair of gloves.
5. Take some instant food or food with high calories, such as candy, cakes, and chocolates.
6. Throughout the trip, refrain from drinking, eat more vegetables and fruit, and avoid strenuous exercise.
7. Lighting a fire, camping, or killing animals in the reserve is not permitted.
8. Do not litter the scenic spot with batteries, plastics, etc.
9. For your safety, follow the established paths and do not enter the forbidden areas.
10. Do not pick and eat wild fruit or mushrooms.
11. Respect the local religious beliefs and customs.
Transportation
Yading Nature Reserve is nestled in Daocheng County, Ganzi Tibetan Autonomous Prefecture, South Sichuan Province. Visitors usually start their journey to there from Chengdu, the relatively closest and largest city.



By Air:
Take a plane to Yading Airport. Upon arrival, take the airport bus to Daocheng at a fare of CNY 35 or to Shangri-la Town (also called Riwa Town), where the ticket office of Yading is located, at a fare of CNY 85. From Shangri-la, there are sightseeing buses to the scenic site. From Daocheng, you can charter a car to the scenic area; the rental fee is about CNY 250-300 per car.



By Bus:
1. Take the Daocheng bus leaving at 10:00 am from Chengdu Xinnanmen Bus Station, at a fare of CNY 254. The bus will stop overnight in Kangding before leaving at about 06:00 the next morning and arriving in Daocheng at 18:00 on the same day. The ticket can be booked two days in advance. Upon arrival in Daocheng, it is advisable to stay overnight in the town and rent a car to the tourist site next morning.
2. Take a bus from Chengdu to Kangding. There are many long-distance buses running daily (see the table below). Duration is about 8 hours. Upon arrival in Kangding, stay overnight and take a bus from Kangding Bus Station to Daocheng at 06:00 the next morning; the fare is CNY 151. Stay overnight in the county town and rent a car to Yading next day.
| Depart From | Departure Time | Fare |
| --- | --- | --- |
| Chengdu Xinnanmen Bus Station | 06:30, 07:10, 08:00, 09:00, 10:00, 11:10, 12:10, 13:10, and 14:00 | CNY 139, CNY 149 for the bus departing at 10:00 and CNY 160 for the bus departing at 09:00 |
| Chengdu North Passenger Transport Center | 07:00, 08:30, 10:30, 12:00, and 14:00 | CNY 139 |
| Shiyangchang Passenger Station | 11:00 and 12:40 | CNY 137 |
| Chadianzi Bus Station | 09:00 | CNY 139 |

As there is only one bus per day departing from Kangding for Daocheng, you may not be able to get a ticket. In this case, you can rent a car or share a car with others to get to the tourist site. On your way, you will pass Sela Town, Banghe River, and Gongga Langjieling Temple. You can ask the driver to stop every now and then to enjoy the pastoral scenery and take pictures.
Recommended Tour Plan

Day 1: Set out from Chengdu to Daocheng. After arrival, stay overnight at a hotel in the county area or Shangri-la Town.


Day 2: Go to the tourist center in Shangri-la Town, buy the admission ticket and take the sightseeing bus to the core zone. Then visit Longtong Dam - Chonggu Monastery - Mt. Chenrezig - Pearl Lake. Stay the night at a hostel in Yading Village.


Day 3: Get up early in the morning and hike from Longtong Dam to Chonggu Monastery. Then take the electric car from Chonggu Monastery to Luorong Pasture. Hike or ride a horse from Luorong Pasture to Mt. Jambeyang and Milk Lake. After arriving at the lake, you can climb upward to Five Color Lake. Then go back to Longtong Dam and take the sightseeing bus to the exit.


Note: The fare for the electric car is CNY 50 for a one-way trip and CNY 80 for a round-way trip. The horse rent is CNY 300 for a round-way trip.
| | |
| --- | --- |
| Admission Fee | CNY 270 = CNY 150 (admission) + CNY 120 (sightseeing bus) |
| Opening Hours | Whole day |
| Best Seasons to Visit | April, May, September, and October |
| Recommended Visit Duration | Two or three days |

Further Reading:
15 Most Beautiful Places in China
- Last updated on May. 16, 2023 -
Questions & Answers on Yading Nature Reserve, Daocheng
Asked by Kristel from THE NETHERLANDS | Sep. 13, 2023 22:31

Reply
Entrance
If we stay in Yading Village, do we still need to pay the entrance fee every day? Planning on staking 6 days in Yading Village.
Answers (2)
Answered by Frank | Sep. 13, 2023 22:43

0

0

Reply
As I know, the ticket is valid for 3 days. You may ask for help from your hotel to see if they can help extend the validity of the ticket. BTW, the altitude of the scenic area is high and make some preparations for it.
Answered by Kristel | Sep. 14, 2023 22:15

0

0

Reply
Thanks Frank!
And yes, we will acclimatise for sure.
Asked by Hai from VIETNAM | May. 10, 2023 09:25

Reply
From Shangrila (Zhongdian) to Yading
As I know there's a new road ~ 200km from Zhongdian to Riwa Town, is it correct? If not, how long does it take if we rent a private car from Zhongdian to Riwa Town?
Answers (3)
Answered by Nick | May. 10, 2023 20:13

0

0

Reply
Yes, the new road is about 250 km between the two destinations.
Answered by Anne | May. 16, 2023 11:35

0

0

Reply
Do you know best time to visit Yading, 18-19 Oct this year is good to see golden leaves? (There're two February in Lunar calendar this year, same as 2017 and 2020)
Answered by Emily | May. 16, 2023 18:21

0

0

Reply
September and October are generally considered the best time to visit Yading. Your visit time is perfect but remember to prepare some warm clothes.
Asked by SP from MALAYSIA | Jul. 04, 2020 01:13

Reply
Best time for autumn colours at Yading Nature Reserve, Daocheng
If I want to see the deep autumn colours, when would be the best time to go? Would it be too cold during that time?
Answers (1)
Answered by Pandora from DENMARK | Jul. 06, 2020 01:59

0

0

Reply
It is suggested to go there from mid October to mid November.
Asked by SUHANA from MALAYSIA | Jan. 17, 2020 03:48

Reply
Is it OK to travel Daocheng Yading between 5th - 13 Nov?
Can give some suggestion on our itinerary?
Answers (1)
Answered by Sami from THAILAND | Jan. 18, 2020 18:38

0

0

Reply
Yes, it is a good time to visit Yading. You can go to Luorong Cattle Ranch, Chonggu Temple, Yading village, Sela county, etc.
Asked by Lina from MALAYSIA | Dec. 06, 2019 18:43

Reply
Hi, can i visit Chonggu Grassland only at Yading nature park in early january?
Answers (1)
Answered by Benny from UNITED KINGDOM | Dec. 09, 2019 19:29

0

0

Reply
Yes, of course.