Qinghai Travel Guide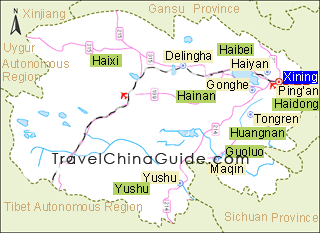 Named after Qinghai Lake, the largest inland saltwater lake in China, Qinghai Province is located in the northeastern part of the Qinghai-Tibetan Plateau in western China. The province covers an area of more than 720,000 square kilometers (about 278,000 square miles), making it the fourth largest in China. Its total population is about 5.5 million, among which Han, Tibetan, Hui, Tu, Salar Uygur, Mongolian and Kazak minority ethnic groups are represented. Xining is the capital and also the largest city of the province.


Cities in Qinghai
When to Go
This province has a typically continental cool climate, with a large difference in its day and night temperature. Warm clothes are thus required at all times. Annual precipitation is low and comes mostly in summer. Characterized by short cool summers and long freezing winters, the best time to visit this place is from May to October. Due to its high altitude, long sunshine duration and a higher level of ultraviolet solar radiation, it is very important for visitors to come prepared. Essential items to bring along are sunglasses, sunblock cream and sun visor to name a few.
| | |
| --- | --- |
| Tibetans in Qinghai | Cole Field in Menyuan County |
What to See
Qinghai is a broad nature reserve, surrounded by snow-covered mountains, icy peaks, the Gobi deserts, and vast pastures. Over 250 wild animals found here are under national protection. They include wild camel, chiru, white-lipped deer, snow leopard, black stork and yak. In July, fields around
Qinghai Lake
are cover with yellow rape flowers, while flocks of rare birds, Tibetan Sheep and yaks will emerge before your very eyes. Visitors will not only be fascinated by the various traditional festivities and unique cultures of ethnic groups, but also by natural scenery of the plateau under the blue sky.
Whilst the vast Qinghai Lake is like a translucent sapphire sparkling under the sun,
Kumbum Monastery
(Ta'er Monastery) is considered one of the six great monasteries of Gelugpa in Tibetan Buddhism. With both considered as the highlights of the province, they attract people from all over the world who have a fascination with Buddhism as well as nature lovers who enjoy camping, hiking and bird-watching. Other places of interest amongst tourists are the 'Small Imperial Palace in Qinghai' called the Qutan Monastery, snow-capped A'Nyemaqen Mountain, beautiful
Chaka Salt Lake
, the best-preserved
Hoh Xil Nature Reserve
and the Highland Xishuangbanna Mengda Nature Reserve.
Others that are worth mentioning here are, firstly, that Qinghai is also the Three-River Source Region where the Yangtze River, Yellow River and Lantsang River originate. Secondly, the cultural Repkong Art shows the creative talents of local people through painting and sculpture. And finally, the Qinghai Lake International Road Cycling Race (UCI 2.HC) is held annually around July, attracting over 20 teams of about 150 participants from all over the world and plenty of media attention.
Nature has endowed Qinghai with both beauty and mystery. Indeed it is a paradise for adventurers.
It is waiting to welcome you with open arms!
Sutra Debating,

Kumbum Monastery

Qinghai Lake
- Last modified on Feb. 14, 2019 -
Questions & Answers on Qinghai Travel
Asked by Max from INDIA | Jun. 07, 2018 16:55

Reply
I want to go to qinghai in the first week of July. Minimum,
How many days are enough to see around there? And where to find budget ,clean hotel. Thanks
Answers (1)
Answered by Kaitlyn from UKRAINE | Jun. 08, 2018 01:53

1

0

Reply
Generally speaking, the suggested sightseeing time is 5-6 days. As I know, you can easily find budget and clean hotel nearby main railway stations. Don't worry. Have a nice journey!

Asked by Sue from SINGAPORE | May. 23, 2018 11:53

Reply
Clarification:how much to hire a minivan with a driver for a Day trip to Qinghai Lake?
Answers (1)
Answered by Haily from SWEDEN | May. 27, 2018 22:27

0

0

Reply
RMB550 - RMB600 per day (Off Peak Season - Nov - Apr)
RMB800 per day (May - Sep)

Asked by Lee from MALAYSIA | May. 14, 2018 03:35

Reply
Hi - I'd like to rent a car and drive around the beautiful scenery of Qinghai and Gansu;
Can you recommend an itinerary for about 6 Days? We are ok to fly in to Xining or Lanzhou and would like to see the classics (Jiayuguan, the Grottoes, etc)

Also can you recommend a good agency for Car Rental? (i heard shenzhou zu che is good) - I am a foreigner but i have a china driving license.

Thank you
- Lee-
Answers (4)
Answered by Mia from CANADA | May. 20, 2018 21:26

1

1

Reply
Day 1: Fly to Xining and go to pedestrian zone to taste local food and go to visit Sutra Debating, Ta'er Monastery. At night, live in Heimahe Town
Day 2: Qinghai Lake, Chaka Salt Lake
Day 3: Crossing the Qaidam Basin to get Demon Castle Qinghai Ya Dan to enjoy the sunset view. Then get to Dunhuang.
Day 4: Mogao Caves, Yumenguan Pass, Crescent Lake.
Day 5: Jiayuguan, Zhangye Danxia National Geological Park.
Day 6: Qilian Grassland, Gangshka Snow Peak, Menyuan Cauliflower, and then go back to Xining.
This is my itinerary. You can make it as a conference. I used to use "ehi car services", it's ok and you can connect them.
Email: customer

ehicar.com
Tel: 400-888-6608
Answered by Shirlene from SINGAPORE | Feb. 12, 2019 19:42

0

0

Reply
Hello Mia and Lee, my friends and I are planning to travel to Qinghai and Gansu end May to early June this year using this itinerary as well but we're unable to drive. May we know the estimated costs that you guys spent for this trip and whether you guys have any travel tips for us? :) Thank you!!
Answered by Lee from MSIA | Feb. 13, 2019 21:34

0

0

Reply
I didn't end up using any rental car as my friend dropped out last minute. I did hire a guide and was part of a van group (me and 4 others), and we did the 'Big circle line' 大环线 which covers all the essentials for 7 days. Cost iirc was 1500rmb/pax and if ur getting the whole van it will be cheaper for sure. It covers only transport, but the drivers are nice and if u can chat w them in mandarin u learn quite a bit.
Answered by Shirlene from SINGAPORE | Feb. 14, 2019 23:39

0

0

Reply
Thanks so much for your help! Do you still have the contact of the driver or know how we can get such a service? :)
Asked by fu eng goh from MALAYSIA | Mar. 26, 2018 02:34

Reply
Hi I am from Malaysia. When is the best time to visit Qinghai. i prefer cool weather.
Answers (1)
Answered by Phill from ITALY | Mar. 26, 2018 20:25

0

0

Reply
July and August is the best time for a visit, the weather is rather cool and comfortable! Nice trip!
Asked by mtchek from MALAYSIA | Oct. 26, 2017 19:02

Reply
I'll be in Xi'an next April and would also travel to Qinghai.
Which area in QH is the best place to meet Tibet people to see their yurts, yaks and others?
Answers (3)
Answered by Dainel from ITALY | Oct. 26, 2017 21:49

0

0

Reply
Well, you can go to Qinghai Lake, as I heard, there are many yurts and white yaks.
Answered by Alan | Oct. 27, 2017 02:04

0

0

Reply
You should go to Yushu.
Answered by K from UK | Mar. 10, 2018 10:31

0

0

Reply
Agreed... Go to Yushu and tour the surrounding countryside. In Summer 2017the Govt. stopped a lot of the nomads who live in the grasslands between Qinghai Lake and Gonghe from letting people stay in their tents. All the tent resorts had to be taken down and It's unknown whether the govt. will allow them.This summer or not. In the countryside around Yushu you can still visit and stay with nomadic families.