Golog Travel Guide
Golog Facts
Chinese Name: 果洛藏族自治州 (guǒ luò zàng zú zì zhì zhōu)
Population: 211,588
Area: 76,442 square kilometers (29,514 square miles)
Location: in the southeast of Qinghai Province, northwest China
Administrative Division: 6 counties: Maqin (Maqen), Banma (Baima), Gande (Gade), Dari (Darlag), Jiuzhi (Jigzhi), Maduo (Madoi)
Area Code: 0975
Zip Code: 814000
GDP (2019): CNY 4.618 billion (USD 0.669 billion)
Nationalities: Tibetan, Han, Hui, Salar, Manchu, Mongolian, Tu
The City with Snow Mountains & Special Tibetan Customs
Located in the southeast region of Qinghai Province, Golog Tibetan Autonomous Prefecture neighbors Gansu to the east and Sichuan to the south. Its neighbors within the province include Yushu to the west and Haixi, Hainan and Huangnan to the north. Golog is a magic, beautiful and desirable land with steep snow mountains, primitive forests, winding streams, mirror-like Haizi lakes, boundless grasslands and tens of thousands of cattle, sheep and horses. Zhaling Lake, Eling Lake, Donggeicuona Lake and Xingxiuhai Lake are like pearls shining in the Yellow River source regions. Every August, Golog holds Gesar Cultural Tourism Festival at which many troupes will play Tibetan performances especially the Tibetan Opera that tells the stories of hero Gesar. Traditional grassland sports competition like wrestling, horse racing will also be held. It is a good chance to experience local Tibetan customs and culture.
Golog Attractions - Things to Do
This is the hinterlands of the Qinghai-Tibetan Plateau. The Bayan Har (Bayankala) Mountains, Kekexili Mountains, Anyemaqen Mountains and Tangula Mountains zigzag through southern Qinghai, giving birth to three of the world's great rivers: the Yangtze, Yellow and Lancang Rivers.
Anyemaqen Mountains
The main peak of the Anyemaqen Mountains is Mt. Anyemaqen, being one of China's ten peaks open to foreign climbers. Gyaring (Zhaling) Lake and Ngoring (Eling) Lake are sister lakes, comprising the largest bodies of fresh water in the Yellow River basin. Around these two pools of liquid sapphire, are the hunting areas of the Huangheyuan International Hunting Ground.
Baima County
It is a green town with moderate climate and elegant natural scenery. Canyons, virgin forests and blockhouse style houses (Diaolou Building) and Buddhist temple buildings make this beautiful county a hot tourist destination.

Other Scenic Spots: Golok Mountain
How to Get to Golog
Xining is about 440 kilometers (273 miles) from Dawu Town, the seat of local's prefectural government. Visitors can take a bus from long-distance bus station, located on Jianguo Road in Xining along the Xining-Jiuzhi Highway. This is also the route to Golok Mountain for climbing.
The bus station in Dawu Town is located on Tuanjie Road and has daily buses to Xining and Chengdu.
Weather
-
The place enjoys a continental plateau climate, characterized by high altitude, cold weather, thin air, strong ultraviolet radiation and great temperature variation between day and night. It only has obvious cold and warm seasons. The cold season of Guoluo weather begins from October with an average temperature during the coldest month of -12.1℃ (10.2℉). Starting in June, the warm season lasts only three or four months, during which the weather is moderate with the warmest average monthly temperature being about 9℃ (48.2℉). The warm season (June to October) is the most favorable period to visit Guoluo, weather-wise. Tourists who love mountain climbing should go to holy Mt. Anyemaqen during late April to June or September to October.
Golog Travel Tips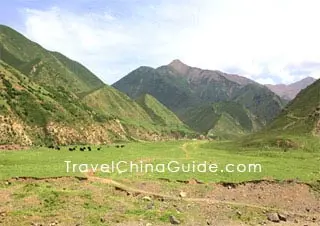 History: It was inhabited by Dangxiang (an ancient tribe in northwest China), a branch of the Qiang minority, one of the oldest tribes in China. Until 1946 Guoluo was led by the heads of more than two hundred tribes. Guoluo District was established directly under Qinghai Province in 1950. In 1954 the Guoluo Tibetan Autonomous Prefecture was established.



Physical Features: The prefecture has a vast expanse of territory, occupying more than one tenth of Qinghai's total land area. There are rivers and mountain ranges crisscrossing the region and alpine lakes inlaid among them. The terrain basically declines from the northwest to the southeast. The terrain of the somewhat higher northwestern region slopes gently, while the slightly lower southeastern region boasts many high mountains and deep valleys.



Special Local Products: Tibetan herbs, such as Chinese caterpillar fungus; Ginseng Fruit (Potentilla anserina), Chang, Yak jerky, crab apples, black lamb skins



Local Highlights: Tibetans make up nearly ninety-one percent of the total population of Guoluo Prefecture, a pastoral area with strong Tibetan flavor.
- Last updated on Apr. 08, 2021 -
Questions & Answers on Golog Travel
Asked by SenHN from VIETNAM | Jul. 20, 2019 22:46

Reply
Gyaring (Zhaling) Lake and Ngoring (Eling)
Can tourists allow to visit Gyaring and Ngoring lakes near Madoi now? I heard a news that these 2 lakes are closed to tourists and impossible to visit now on the way from Maqen to Madoi. Can you help to make sure it. Tks
Answers (1)
Answered by Sonia from USA | Jul. 22, 2019 19:58

0

0

Reply
Yes, they are closed forever in sake of ecological environment.
Asked by Goh from SINGAPORE | Feb. 21, 2019 19:23

Reply
Qinghai White Jade Temple (白玉寺), weather and temperature
Hi, I am planning to visit White Jade Temple and Sichuan in mid Jun this year.
May I check what will the weather, temperature be like? Do we need thick jackets or just normal jacket, windbreaker will do?

Thank you.
Answers (1)
Answered by Charlee from AUSTRALIA | Feb. 28, 2019 22:38

0

0

Reply
Well, based on the previous weather statistics, the temperature may range from 15C to 25C.
Generally speaking, you don't need to bring thick clothes. But if you want to climb the mountain, you should prepare a jacket and a thin sweater. In addition, long-sleeves, jeans, T-shirts are enough.
Asked by Linda from USA | Jul. 03, 2017 00:52

Reply
Are there flights now from Xining to Guoluo? Do you know the flight schedule?
Answers (1)
Answered by Joyce from RUSSIA | Jul. 05, 2017 02:45

0

0

Reply
No, I'm afraid that there is no direct flight. Instead of that, you can take a coach from West Nanchuan Road Coach Station, get off at Dawu Town directly. I remember that the bus schedules are 08:45, 09:30, 10:30, 11:30, 12:30, 14:00 and 18:00. Hope helpful!
Asked by Anne Zuckerman from CHINA | Apr. 30, 2016 04:10

Reply
I have been told a new airport opened in Guoluo. Are there flights now from Xining?
Can you tell me about the flights. I will be traveling around July 21st 2016 from Xining to Gouluo. Would like to know about flights before deciding whether or not to take the bus.

Thank you
Answers (1)
Answered by Kina from CANADA | May. 02, 2016 04:06

0

0

Reply
That is right. The Guoluo Airport has been finished, but it is reported to officially operate in July. Once open, air route from/to Xining shall certainly operate. Just pay attention to the latest news about it.
Asked by Vin from VIETNAM | Jun. 18, 2015 05:35

Reply
Transportation in Maqen??
Is there any buses between from Maqen to Maduo or Yushu? what is the bus schedule?

Is it easy if we want to hire a minivan take us to Maduo or Yushu?

Thanks
Answers (1)
Answered by David from PHILIPPINES | Jun. 25, 2015 02:09

0

0

Reply
As I know, there is no direct bus available; you are suggested to hire a minivan to get there. It should be easy. In Maqen county, some local people are operating such car rental service for this route. You can ask your hotel there to book it for you.