Salar Nationality

Population and Distribution: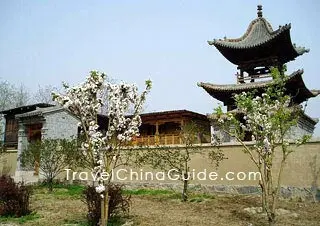 Residence of Salar Nationality
Salar ethnic group mainly inhabits the Xunhua Salar Autonomous County of Qinghai Province. However, they can also be found in the Gansu Province and the Xinjiang Uygur Autonomous Region. According to the census which was taken in the year 2000, it has a population of 104,503.

Language and Character:
They have their own Turkic language which is a subfamily of the Altaic language family that includes Turkish. Most Salar people can also speak Chinese and Tibetan and use Chinese script.

Life Style:
Having arrived and settled in the Qinghai Province 700 years ago, they originally made their living by hunting, forestry and livestock farming. More recently, they thrive on agriculture, handicrafts and horticulture.
Their staple diet is flour, supplemented with buck wheat, potatoes and other vegetables. They also eat beef, lamb and chicken. However, certain meats are avoided such as donkey and horse meat and meat from animals which have died of natural causes. Being Muslim, they are forbidden to drink alcohol. Therefore, it is customary for them to drink white and wheat teas. After it has been toasted and brewed, the wheat tea tastes like coffee.

Culture and Customs:
They enjoy giving song and dance performances. Their style of singing which consists of sustained vibrato notes is called 'Flower' and is influenced by Tibetan singing. During wedding ceremonies they perform 'Camel Dances' in groups of four.
Salar women are skilled at embroidery and paper cutting whilst Salar men are proficient horticulturists and builders. The court yards of Salar homes are made into flower gardens with fruit trees. If you are fortunate enough to be a guest in a Salar home, then you will be offered delicious fruit under the trees such as apricots, pears, apples and grapes.
There are many taboos and conventions in the Salar society. For example, when you visit a Salar family, the hosts will first offer you a cup of tea. You should hold the cup in your hands according to their custom. You will then be offered steamed bread which must be broken off and eaten slowly. The Salars hold mother's brothers in high esteem. It is impolite to pass in front of Salars whilst they are conducting their ceremonies. Also, it is considered to be rude to cough during conversation.
It is customary for the wedding ceremony to be conducted by the imam. The wedding rituals are interesting. For example, before the bride departs from her family home she must cry whilst singing to demonstrate her reluctance to leave. Also, friends and relatives of the bride escort her to the bridegroom's home and 'force' open his door. The occupants, the bridegroom's relatives, pretend to offer resistance. After the bride has crossed the groom's threshold, she then presents samples of her embroidery to demonstrate her dexterity.

Festivals:
Most Salar are Muslim and have similar customs to the Hui ethnic minority. Their traditional celebrations are the Corban, the Almsgiving and the Kaizhai Festivals.



More Ethnic Groups in Qinghai and Gansu Area:
Zang (Tibetan) Hui Tu Mongol Kazak Bonan Yugur
- Last updated on May. 06, 2019 -