Haidong Travel Guide
Haidong Facts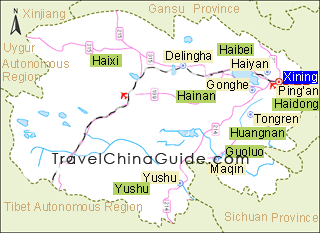 Full Name: Haidong Prefecture
Chinese Name: 海东地区 (hǎi dōng dì qū)
Location: Haidong Prefecture is situated in northeastern Qinghai Province, neighboring Gansu Province in the east. The capital city of the province, Xining, is bordered by Haidong in the west.

Population: 1,552,000
Area: 13,160 square kilometers (5,081 square miles)
Nationalities: Han, Tibetan, Hui

Administrative Division: 2 counties (Ping'an, Ledu); 4 autonomous counties (Minhe Hui and Tu Autonomous County, Huzhu Tu Autonomous County, Hualong Hui Autonomous County, Xunhua Salar Autonomous County)
Seat of the City Government: 229, Haidong Lu, Pingan Town, Pingan County
Bank of China: Lanqing Lu, Ping'an Town, Ping'an County
China Post: Yangjiaqiao Lu, Ping'an Town Ping'an County

Useful Telephone Numbers:
Tourist Complaints: 0972-8612403
Weather Forecast: 121
Zip Code Inquiry: 184
Haidong Attractions - Things to Do
Located 25 kilometers (16 miles) south of Ledu County, it is a building complex first constructed in the Ming Dynasty (1368-1644). It is a famous Tibetan Buddhist temple in Qinhai Province, but it bears more features of the Han Buddhism and its layout is similar to the
Forbidden City
in Beijing. The temple is famous for its cache of rare cultural relics, grand architecture and exquisite murals.

Other Scenic Spots: Beishan National Forest Park, Liuwan Site
| | |
| --- | --- |
| Huzhu Tu Autonomous County | Haidong, Qinghai |
How to Get to Haidong
Xining Caojiabao Airport is about 7.5 kilometers (4.7 miles) from Ping'an County of Haidong. Buses to its administrative counties are available from the Xining Long-Distance Bus Station in 1, Jianguo Lu in front of the Xining Railway Station. Along the expressway, Ping'an County can be reached from Xining in about twenty minutes.
Weather
-
Enjoying a semi-dry continental climate, this place features arid and cold weather at high altitudes, lot of sunshine and great temperature differences during the day. Haidong weather has an annual average temperature of 3.2-8.6℃ (37.8-47.5℉). Its northern mountainous area is colder and valleys along the Yellow River and the Huangshui River are warmer. The majority of rainfall occurs from July to September. May to September is the golden season to visit Haidong, especially in cool July and August when most places in China are extremely hot. Several local festivals and ceremonies are usually held during this period.
Haidong Travel Tips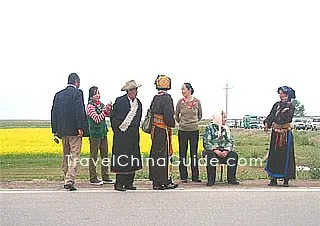 Tibetans in Haidong

History: According to archeological discoveries, this area was proved to be inhabited by human settlers. Before the Qin Dynasty (221BC-206BC), nomads of the Qiang lived here. In the early Western Han Dynasty (206BC-24AD), the troop of the court defeated the Huns in the west of the Yellow River, and a fortress was established in the city to protect against the invasion of nomad groups.

Physical Features: The region is located in the transition area between the Loess Plateau and Qinghai-Tibet Plateau. Medium and low mountains, hills and valleys constitute the main types of landform here. Offshoots of the Qilian Mountains stretch northwest and southeast through the region, together with the Datong River, the Huangshui River and the Yellow River.

Special Local Products: barley wine, Tibetan carpet

Local Highlights: Nadun Meet of the Tu ethnic minority usually lasts over two months from the mid seventh lunar month to the Ninth in order to celebrate the good harvest and make wishes for the future. Hua'er Hui (Folk Song Fair) in Qili Temple (Formerly Cili Temple) will attract people from near and far to participate in the song fair in the sixth day of the sixth lunar month.
- Last modified on May. 04, 2018 -
Questions & Answers on Haidong Travel
Asked by Mr.King from CHINA | Jun. 01, 2009 21:41

Reply
How I can hike to the Qinghai Lake from Haidong? Is there a shortcut to get to the lake?
Answers (1)
Answered by Ms.Evelyn from CHINA | Jun. 02, 2009 19:52

0

0

Reply
Haidong is located to the east of the Qinghai Lake. You can start from there to Xining first. And then follow the following route to get to the Qinghai Lake:
Xining - Riyue Pavilion (Sun-Moon Pavilion) - Fishing Ground - 151
151 is a holiday resort near the Qinghai Lake.
Then, you can start a hiking around the Qinghai Lake. You may follow the following route to get around the lake and finally go back to Xining:
151 - Heimahe Village - Shinaihai - Shatuo Temple - Bird Island - Quanji - Gangcha - Haergai - Xihai - Xining