Xining Transportation
Air
Xining Caojiabao Airport
, located at Gaozhai Township, Huzhu County, is about 17 miles (28 kilometers) away from downtown area. Built in 1991, the airport is a very important transitional center in Qinghai Province as well as in the Northwest of China. Untill now, airlines leading to Beijing, Guangzhou, Xi'an, Shanghai, Wuhan, Lanzhou, etc. have been opened.
Train
As the traffic hub of Qinghai Province, in the important northwest region of China,
Xining Railway Station
possesses 4 trunk and 17 feeder railway lines, radiating out in all directions. The world famous
Qinghai-Tibet Railway
traverses the city, taking on part of the transportations links between Tibet, Qinghai and Gansu Provinces. The Lanzhou-Qinghai,
Lanzhou-Xinjiang
and the Qinghai-Tibet railways meet here, transporting passengers to/from Beijing, Shanghai, Xi'an and Qingdao, Zhengzhou and Lhasa by non-bullet trains and transporting passengers to/from Lanzhou, Jiayuguan, Zhangye, Kumul, Urumqi by high speed trains.

Major Rail Lines from Xining to:
| | |
| --- | --- |
| Train at Xining Railway Station | Xining Railway Station |
Address of the Railway Station: Huzhu Road, Chengdong District in Xining city
Available Trains to Lhasa: Z265, Z323, Z917, Z165, Z21. Their duration is about 21-22 hours. Ticket fare is CNY815 for a soft sleeper, CNY530 for a hard sleeper, and CNY224 for a hard seat.
The letters of ratification to Tibet, which is issued by the Foreign Affairs Office of Tibet Autonomous Region, is required when foreigners buy tickets. Meanwhile, the letters of ratification to Tibet issued by the Tourism Administration or by the Business Department of Tibet Autonomous Region are also accepted. The later two are also applicable for Taiwanese compatriots.

See detailed Xining Train Schedule

Long-Distance Buses
Visiting the city by long-distance buses will make your trip more convenient, with a majority of passenger and freight being taken by highway. The Xining Bus Terminal has an advanced administrative systems and service establishments. With the investment of the local governments, five main arteries were constructed here. They connect to major cities and counties both within and outside of Qinghai Province.
Every day, before noon, long-distance buses spectacularly depart en rout to Dunhuang and Liujiaxia of Gansu Province, Suide and Xi'an of Shaanxi Province and Henan Province. As well as the afternoon, there are also buses to some parts of Gansu Province and Yinchuan of Ningxia Province.
Address: Western end of Jianguo Lu, separated from the Railway Station by Huangshui River.
Subway
At the moment, Xining has no subway system yet. Three metro lines will be constructed to serve the city in long-term plan: Line 1, Line 2 and Line 3. Line 1 will serve as the traffic artery, running from east to west across the city. The L-shaped line 2 will connect Beichuan and Dongchuan areas, while line 3 will link Xichuan and Nanchuan areas. As scheduled, Line 1 and the first phase of line 3 between Qingshui Road and Sanjiao Huayuan will be constructed first.

Line 1: Jinkai Road - Xicheng Street
Length: 18 miles (29 kilometers)
Opening Time: 2021
Route: Jinkai Road - Jinyuan Road - Mingxing Road - Jinqiao Road - Minhe Road - Bowen Road - Bayi Road - Chujiaying - Xining Railway Station - Qiyi Road - Huayuan Street - Dashizi - Central Square - Tongren Road - Xinning Square - Haihu Road - Wenhui Road - Tonghai Road - Sports Center - Huangshui Road - Taobei Village - No. 15 Road - Xicheng Street

Line 2: Bowen Road - Huayuantai Village
Length: 13 miles (21 kilometers)
Route: Bowen Road - Delingha Road - Ledu Road - South Street - Changjiang Road - Medical College of Qinghai University - Xinning Square - Qaidam Road - Menyuan Road - Tianjin Road - Jiangyuan Road - Weier Road - North Passenger Transport Station - Qinghai University - Qinghai Normal University - Huayuantai Village

Line 3:
Kumbum Monastery
- No. 21 Road
Length: 25 miles (41 kilometers)
Opening Time: 2023
Route: Kumbum Monastery - No.19 Street - Xujiazhai - Qingshui Road - Zongzhai 4th Road - Yuanding Road - Ruiyuan Road - Huasheng Road - Xunhua Road - Xingwang Road - Huangyuan Road - Zhuanchang Road - Liuyi Road - Changjiang Road - Changjiang Road - Central Square - Sanjiao Huayuan - Qilian Road - Chaoyang Community - Menyuan Road - Haihu Road North - Yanzhuang - Tonghai Road North - West Railway Station - Xigang - Yanxiaocun - No. 21 Road
City-Bus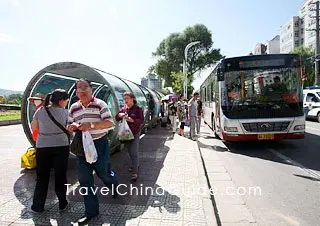 Bus stop and bus in Xining
A number of bus routes in the city offer visitors convenient tourist arrangements. Generally speaking, they can be divided into two kinds; first is the common regular self-service busses that reach the downtown districts and some suburbs. Before boarding, you need to prepare some change for the fare. On the other hand, the buses from No.101 to No.109 are pint-size, mainly connecting the city center with suburbs and the new zone of the Southern District. Except No.80 and No.81, the fare is CNY1 for one person.

For the minibuses, the cost is CNY0.5 per person within six stops and CNY1 for more than six stops.

Taxi
Taxi is an easy way to tour the city, and 5,000 cars are available here. The rate of local taxis is not expensive, so a large number of people would choose to travel by cab. Travelers touring in and around the city sometimes even hire a cab for an efficient trip. See the taxi charging standard below:
Starting Fare
CNY8 for the first 3km (2mi)
Charge between 3-10km (2-6mi)
CNY1.6/km
Charge beyond 10km (6mi)
CNY2.4/km
Waiting Fee
17:00 – 20:00
CNY0.48/minute
Other Time
CNY0.32/minute
- Last modified on Sep. 05, 2018 -
Questions & Answers on Xining Transportation
Asked by Kathy from USA | Aug. 08, 2019 08:24

Reply
Taxi fee at night time in Xining ? Can we get taxi easily at night time in airport?
Can I get a taxi at night time at airport easily?

How is taxi fee from airport to hotel sofitel, Xning at night time (9-10pm) ?

Kathy
Answers (1)
Answered by Garry from USA | Aug. 11, 2019 23:45

0

0

Reply
You can take taxi but it is not that easy and the fare is high. Actually, you can take shuttle bus line 1 to get off at Huitong Hotel with CNY21, and take taxi to your hotel. This airport shuttle bus line will operate until the last flight arrival.
Asked by Juan Matias Santiago Alaja from ESPAÑA | Aug. 07, 2019 16:10

Reply
from Xining railway station to tulou temple or city center
how can we go to the tulou temple form the railway stations by bus?

how can we go to the Nanchan Temple form the tulou temple by bus and back to the grand mosc area?

or simplier, is there a map with the lines and stations?

thank you so much for your help
Answers (1)
Answered by Marie from UNITED KINGDOM | Aug. 11, 2019 19:50

0

0

Reply
To Tulou Temple: You can take bus No.11/107 to Beishan Market Station, then walk north of 800m to it, which takes around 40 minutes with CNY1.

To Nanchan Temple: Take bus No.21/19 from No.13 High School Station to it. It takes around 35 minutes with CNY1.
What is grand mosc area?
Asked by Kathy from USA | Aug. 06, 2019 12:48

Reply
How much is a taxi fee from Xining airport to Sofitel hotel at night time (about 9pm) ?
Answers (1)
Answered by Mason from CANADA | Aug. 07, 2019 18:53

0

0

Reply
Generally speaking, it costs CNY 80 to 90 in the day time.
Asked by Yaya from THAILAND | May. 16, 2019 04:17

Reply
How much is taxi fare from Xining airport to Tongren/Rebkong?
Can I book a taxi in advance, so the driver will wait for me at the airport??
Answers (1)
Answered by Lily from USA | May. 16, 2019 21:04

0

0

Reply
In fact, the Tongren County is more than 130km from the airport and it is hard to find a taxi to there. You can take a bus from Xining bus passenger transport center to Tongren. The duration is about 2.5 hours and costs CNY40. The bus departs from 7:40 to 17:00 with an interval about 20 minutes.
Asked by Jacklynh from USA | Sep. 05, 2018 08:06

Reply
Xining to Dunhuang by Bus
please provide me with information on how to get to Dunhuang from XN by long distance bus. Thank you.
Answers (1)
Answered by Sarah from UNITED KINGDOM | Sep. 05, 2018 23:04

0

0

Reply
There is no direct bus between the two cities, you are suggested to take a flight directly.