Xining Railway Station
Xining Railway Station is the starting point of
Tibet Railway
which leads to holy Lhasa, and an important station along
Lanzhou-Xinjiang High Speed Rail Line
which goes to northwest Urumqi. The station is about 2 miles (3 km) from
Dongguan Mosque
, 19 miles (30 km) from
Caojiabao Airport
, and 20 miles (32 km) from
Kumbum Monastery
.
Address: Huzhu Road, Chengdong District in Xining city

Schedule and Ticket Booking
High speed trains to/from Lanzhou, Jiayuguan, Zhangye, Kumul, Turpan, and Urumqi and non-bullet trains to/from Beijing, Shanghai, Xian, and Lhasa in Tibet are operated at Xining Railway Station.

Major Rail Lines from Xining to:
(Last update on July 9, 2018)
High Speed Train Schedule
To
Nos.
Travel Time
Ticket Price (CNY)
First/ Second Class Seat

Lanzhou West

D2696, D2750, D2688…
21 departures from 07:50 to 22:32
1h11m - 1h27m
93/ 58

Urumqi

D2701, D2703, D2711, D55
from 09:16 to 12:02
9h43m - 10h19m
784/ 490.5
Normal Speed Train Timetable
To
Nos.
Travel Time
Ticket Price (CNY)
Soft Sleeper/ Hard Sleeper

Urumqi

Z41, Z105, T307…
6 departures from 15:54 to 20:47
14h3m - 16h9m
552/ 361

Beijing West

T176, Z22, Z152 from 12:05 to 14:25
18h43m - 24h1m
656/ 428

Shanghai

Z42, Z166, K378, K2188 from 08:35 to 21:05
26h2m - 33h26m
717.5/ 464.5

Xian

k4612, K178, Z274…
16 departures from 08:35 to 22:50
10h28m - 14h22m
357/ 214

Lhasa

Z265, Z6811, Z21...
7 departures from 12:27 to 22:25
20h48m - 22h25m
826/ 540

The above schedule is for reference only. For real-time schedule and ticket booking, please click the arrival stations.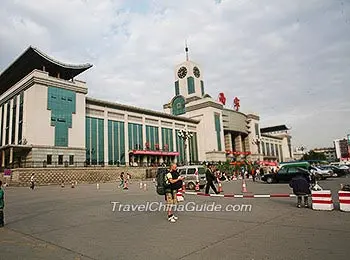 Xining Railway Station
Station Plan
Xining Railway Station is made up of a three-storey terminal building, and two squares to its south and north. The terminal building can remind passengers of flying lanneret and hada (a strip of silk the local
tibetan
used to welcome guests), showing the boldness and enthusiasm of the local people.

2F: waiting hall, ticket office, check points, hot drinking water, toilets, charging devices

Mezzanine on 2F: fast food and Chinese food restaurants, café, and shops for special local products.

1F: platforms, ticket office, service desk, toilets

-1F: arrival hall, parking lot

-2F: parking lot

South square: long-distance bus stations, bus station

Underground: underground passage, parking lot, taxi stands
How to transfer between Xining Train Station and downtown/nearby cities

By city bus: 1, 3, 5, 7, 9, 11, 16, 17, 20, 22, 27, 28, 31, 32, 35, 36, 40, 62, 103, 104, 105, 106, 107, night bus no. 501
City bus stations are located at the east side of the south square. Passengers arriving by rail can go through the -1F underground passage to get there, and then take a bus to other downtown places. There are direction signs showing the way to the bus stations.

By taxi:
Passengers arriving by taxi will be dropped at the south square. The taxi pick-up stand is at the west side of the underground passage.
| From/ To | Duration (Minutes) | Cost (CNY) |
| --- | --- | --- |
| Kumbum Monastery | 40 | 90 |
| Dongguan Mosque | 10 | 10 |
| Caojiabao Airport | 45 | 80 - 100 |

By long-distance bus:
Two long-distance bus stations are located to the east and west sides of the south square. Coaches to/from far cities including Lanzhou, Jingtai, Baiyin, Luoyang, Yinchuan and nearby cities such as Chaka, Qilian, Banduo, Minhe, and Ledu are available here.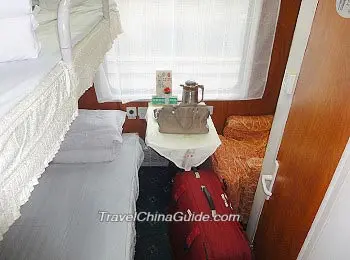 Travel by a Luxury Soft Sleeper Cabin
How to get to famous downtown places from Xining Railway Station

Dongguan Mosque:
Take bus no. 5, 22, 33, or 103 to Dongshaomen, and then walk 200 yards (180 m) westward to the mosque.

Kumbum Monastery:
Take special bus line at the station to the monastery. Duration is about 1.5 hours and ticket fare is CNY 3 per person.

Xining Airport:
Take direct airport shuttle bus East Line from this railway station. The operating hours are 05:30, 07:00 - 20:00. The trip takes around an hour. The bus fare is CNY 21 per person.

Qinghai Lake
:
Take bus no. 106 to Bayi Coach Station where you can take a coach to Qinghai Lake. The duration is 1.5 hours and ticket price is around CNY 40 per person.
Or you can charter a car to have a Qinghai Lake circling tour. It costs CNY 550 – 650 per day in peak period between July and August, and CNY 400 – 500 per day in low season.
Facilities and Services at the Station

Ticket office:
Currently, 2 tickets offices are in service at Xining Railway Station and they are located on 1F and at the west side of the 2F. About 20 ticket windows are available for passengers to purchase, change or refund tickets.

Waiting hall:
The waiting hall on 2F is divided into two parts for bullet train ticket holders and ordinary train ticket holders respectively. Besides, both maternal and infant waiting room and waiting room for the old, weak, sick and disabled are provided in the waiting hall. Inquiry center, hot drinking water and toilets are spread out in the waiting hall. You can also find the reading room and stores for local special products there. A mezzanine on 2F mainly serves as commercial areas where restaurants and shops can be found.

Service desk:
There is a service desk on 1F. You can go there to inquire about the train arrival and departure information, ask about the transportation to/from downtown, make a complaint, or ask for help when encounter unexpected situations.
Print