Haixi Travel Guide
Haixi Facts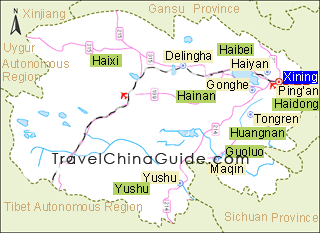 Chinese Name: 海西蒙古族藏族自治州 (hǎi xī méng gǔ zú zàng zú zì zhì zhōu)
Population: 600,000
Area: 325,800 square kilometers (125,792 square miles)
Location: in the west of Qinghai Province, northwest China
Administrative Division: 3 counties (Wulan, Dulan, Tianjun); 3 county-level cities (Delingha, Golmud, Mangya)
Area Code: 0977
Zip Code: 817000
GDP (2019): CNY 66.611 billion (USD 9.655 billion)
Nationalities: Han, Mongolian, Tibetan
A Hot Tourism City in Qinghai Highlighting Chaka Salt Lake
Haixi Mongol and the Tibetan Autonomous Prefecture is located in the western portion of Qinghai Province, in the northern Qinghai-Tibet Plateau. The prefecture neighbors Gansu to the north and Xinjiang to the west. Government offices are located in Delingha City, 514 kilometers (319 miles) from the capital city of Qinghai, Xining. 78% of the whole Haixi is occupied by the Qaidam Basin which endows Haixi with many salt lakes and abundant oil, natural gas, non-ferrous metals, asbestos and coal resources. It is certain that no cities or prefectures in Qinghai have more diversified and charming tourist destinations than Haixi. The original scenery of the source of the Yangtze River, unique Yadan landform, vast Gobi, millennium glaciers, ancient tombs, Kunlun Mountain known as the holy land of Taoism, Hoh Xil Nature Reserve which is home to numerous wild animals, crystal Chaka Salt Lake are all showing the unique charm of Haixi.
Haixi Attractions - Things to Do
Dulan International Game Land
Covering an area of over 44,000 hectares (170 square miles), these game lands feature two structured hunts. The game land is opened to the public every year between April and May and September thru October.
Headwaters of Yangtze River
The Yangtze River's water source lies close by Geladandong Peak and Tuotuo River.
| | |
| --- | --- |
| Plain in Haixi | On the way from Chaka to Golmud |
Qaidam Basin
The Qaidam Basin is one of the most renowned land formations in the Ya-dang area. Numerous saltwater lakes make the area an even more attractive destination. Visitors should not miss the scenery at the Lenghu Administrative Committee area.
Yardangs
Yardangs, wind-eroded sandbanks, are located in northwest Qaidam Basin, known as 'Treasure Bowl'. With an average altitude of 3,260 meters (10,696 feet), Yardangs cover an area of about 21,000 square kilometers (5,189,213 acres). The area boasts the largest Yardang landform clusters in China. 'Yardang' means wind-eroded sandbanks in the Uygur language. The west wind in Qaidam Basin can be called the greatest sculptor, creating its masterpiece in the vast inhospitable Gobi. 7,500 years ago, the crust consisting primarily of sand and salt eroded into sandbanks by the west wind. Long periods of wind erosion carve the Yardangs into beautiful statues with different postures. Seen from a distance, the Yardangs take on an endless variety of fantastic shapes. They may be very similar to a towering castle, a crouching camel, a lofty mountain, tents in a battlefield and a fleet. Some even look as if whales are playing in a vast sea while thousands of sea lions worship the sun. The wind-eroded landform is a marvelous natural wonder in Qinghai Province.
| | |
| --- | --- |
| Entrance Fee | Free |
| Best Travel Time | May to August |
| Transportation for Reference | Rent an SUV or jeep, drive southeastwards from Golmud for about 50km (31mi), you'll amongst the Yadangs. Move forward for around 24km (15mi) to Windy Hills (Da Feng Shan), which gathers the most fascinating Yardangs. For a single journey, it takes around 1-1.5 hours. |
How to Get to Haixi
1. Golmud Airport is seated in No. 4, Chaidamu Road, northwest of Haixi Mongol and Tibetan Autonomous Prefecture, 12 kilometers (7.5 miles) west of the downtown district of Golmud Center. Flights connect with Xining, Xi'an, Zhengzhou and Lhasa.

2. Delingha Airport is located in the southwest of Delingha City, Haixi Mongol and Tibetan Autonomous Prefecture, it is about 29 kilometers (18miles) away from downtown Delingha. There are flights departing from Delingha Airport to Xining, Golmud and Lanzhou.

3. Taxis provide the primary source of transportation within Golmud. Generally, traveling within the city limits will cost CNY 10.
| | |
| --- | --- |
| Gobi in Haixi | Chaka Salt Lake |
Weather
-
Haixi has a climate that is typical of continental plateau regions. Because of this, Haixi weather is dry throughout the year and has indistinct seasons. Winter is chilly and long, and summer cool but short. Most of the area's precipitation falls between May and September. The suggested sightseeing time is from May to September.
Haixi Travel Tips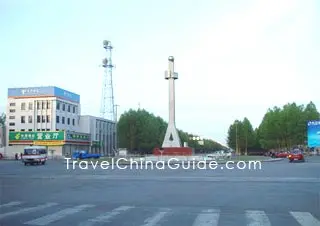 Golmud City

History: Haixi Prefecture was once inhabited by the Qiang, a minority group from northwestern China. It was ruled by the Tubo Kingdom throughout the Tang Dynasty (618-907), with the Yuan Gvernment (1271-1368) taking partial control of the area during the Song Dynasty (960-1279).



Physical Features: The Qaidam Basin, which lies in the midst of the Kunlun Mountains, Aeoin Mountains and Qilian Mountains, is one of the main landforms within this prefecture. The land rises into a plateau at the north foot of the Tanggula Mountains, and much of the rest of the land is distributed between the Alps, rolling hills, the Gobi Desert, plains, and lakes.



Local Highlights: The Nadam Fair is held each year in prairie of Qingshuihe in Golmud City.



Special Local Products: Thangka Paintings, Folk Embroidery, Fritillary Bulbs, Licorice Root
- Last updated on Aug. 17, 2023 -
Questions & Answers on Haixi Travel
Asked by Kittithat from THAILAND | May. 12, 2023 09:03

Reply
Trip 27Jun-3Jul in Qinghai
Hi, If I want to travel to Hoh Xil nature reserve for 2 days and then travel to Haixi-Delingha for nature landscape like Yardang geo park, Qaidam basin, Qilian mountain, Kunlun mountain, Chaka lake, Aiken spring, Aerial view Qaidam salt lake.

Please advise us the plan for 2 persons which we will be travelling on 27Jun-3Jul.

Answers (3)
Answered by Hailey | May. 14, 2023 23:30

0

0

Reply
As I know, it is not allowed for foreign visitors to travel to Hoh Xil nature reserve.
Answered by long termer | Aug. 17, 2023 06:10

0

0

Reply
What about foreign residents?
Answered by Andy | Aug. 17, 2023 19:50

0

0

Reply
It is not allowed, either.
Asked by Anna from CANADA | Mar. 24, 2021 19:00

Reply
Getting to Haixi and Emerald Lake
We will fly to Xining and then want to explore the emerald lake and other sights in Haixi prefacture. What would be the best city to get to from Xining to then hire a driver to take us around? Or are there other ways to get to Emerald lake? Renting a car is not an option.

Thank you!
Answers (1)
Answered by Catherine | Mar. 28, 2021 23:45

0

0

Reply
Well, as I know, there is no public transportation from Xining to Haixi and Emerald Lake. In order to for your convenience, you are advised to hire a private car or share a car with other tourists.