Hoh Xil Nature Reserve
Hoh Xil means 'beautiful girl' in Mongolian. Hoh Xil Nature Reserve is one of the largest, highest and most abundant nature reserves in China. It is also one of the world's best-preserved nature reserves. In the reserve, the snow-capped mountains, grasslands, clear lakes with reflections of white clouds, and groups of wild animals form a breathtaking scenery. Hoh Xil Nature Reserve is located in Yushu Tibetan Autonomous Prefecture, about 200 kilometers (125 miles) west of Golmud City in Haixi Tibetan Autonomous Prefecture, Qinghai Province, and borders
Xinjiang Uygur Autonomous Region
and
Tibet Autonomous Region
. The reserve has a total area of around 11,120,000 acres. In 2017, the reserve was inscribed as a world natural heritage. Besides, the famous movie
"
Kekexili: Mountain Patrol" was filmed at Kekexili Nature Reserve.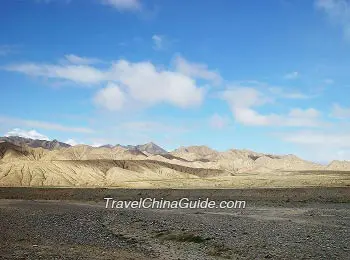 The World's Third Largest No-Man Land
Hoh Xil National Nature Reserve has an alpine climate because of its altitude of about 16,404 feet. Influenced by a strong west wind all the year round and due to a lack of water and oxygen, it is dry and cold, and is not inhabitable for humans.
The Last Land that Remains in its Original State
With the absence of humans, Hoh Xil has preserved its primitive state. The reserve boasts a particularly beautiful landscape including valleys, glaciers, frost mounds, stone forests, and boiling springs. The vast undulating hills and plains give wide vistas. In addition, rivers of all sizes cross on nearly all the whole reserve. There are 107 lakes with an area of over 247 acres, and over 7,000 smaller lakes. Of all the lakes, Ulan Ul Lake, with an area of over 130,000 acres is the largest and is also the fourth largest lake in Qinghai.
The Kingdom of Wild Animals
The reserve is rich in wildlife species and most are the endemic species of Qinghai-Tibet Plateau area. It has more than 230 kinds of wild animals and 202 species of plants. A vast number of wild yaks, Tibetan antelopes, wild donkeys, white-lipped deer and brown bears, which are native to the Qinghai-Tibet Plateau, create a unique scenery in the area. Among them, Tibetan antelope is especially rare and under State protection. If you are lucky, you may see antelope running fast in droves with a graceful posture. You can also learn more of the lives of rare wild animals of the plateau.
Travel Tips:

As the environment in Hoh Xil is fragile, tourists can enjoy its scenery by driving a car or riding a bike along the Qinghai-Tibet Highway on its eastern edge. You are not advised to go into the central area. When taking the
Tibet Railway
, you will also have a chance to appreciate this amazing land.

Those who are not fully adapted to the plateau climate should acclimatize in Golmud City before going to Hoh Xil.

You are recommended to go travel in the area with experienced support, such as a mechanic, local guide and doctor.

Do not go too close to the wild animals, especially wild yak. Be careful of Mongolian gazelle and Tibetan antelope, as they like racing with cars.

Avoid strenuous exercise. Rest frequently and, if necessary, take medicine for high altitudes.

Due to its special climate, it is best to go there between July and September.
How to get to Hoh Xil Nature Reserve
The best way to go to Hoh Xil National Nature Reserve is to charter a car from Golmud. It will cost at least CNY 500 per day for a common car, and CNY 1,000 per day for an SUV.
- Last modified on May. 10, 2019 -