Chaka Salt Lake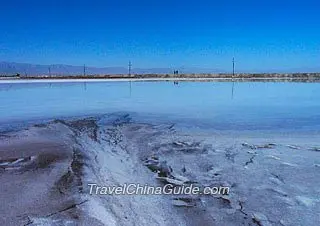 Chaka Salt Lake, Haixi
Situated in Chaka Town, Ulan County, Haixi in China's western Qinghai Province, the Chaka Salt Lake (Caka Salt Lake) is in the western part of the Chaka Basin, 298 kilometers (85 miles) from
Xining
, capital of Qinghai. This natural crystallized saline lake is regarded as the eastern gateway to Qaidam Basin, which reserves the largest salt mine in the world. Lying at an altitude of 3,059 meters (10,036 feet), the lake is oval shape and covers an area of 105 square kilometers (40 square miles), ten times larger than the
West Lake
of Hangzhou. However, it is the smallest among the several salt lakes in Qaidam area, but different from others for its coexistence of both solid and liquid salt. The snow-white lake bed and the crystal blue water against the azure sky win it the reputation of 'Mirror of the Sky'. Travel to such a beautiful world of salt embedded in the snowy mountains and verdant meadows, tourists would inevitably feel like they are in a fairyland.
Chaka Salt Lake has the longest history of exploitation (over 3,000 years) among all the salt lakes in the Qaidam Basin. Due to the large reserves, mining is not at all difficult as natural salts can be obtained by just uncovering the top layer of the lake. Large scale mining is done mechanically nowadays with many grades of salt sold around China and they are even exported to Japan and Nepal.
The climate around the lake is dry and cool. Even in the middle of summer, the average daytime temperature is just about 19.6

C (67

F) and the mean annual precipitation is 210 millimeters (8 inches). The lake's surface area is greatly affected by the seasons. It may reach up to 105 square kilometers (40 square miles) during the rainy seasons and reduce in size during the dry seasons.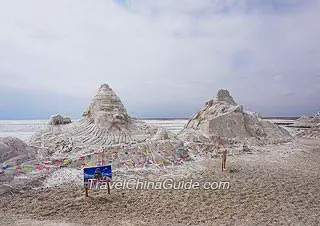 Salt Sculptures
There are halite layers at the bottom of the lake and which reaches 15 meters (16 yards) at the thickest point and averages 5 meters (5.5 yards). Brines extracted will recrystallize into halite layers a few years later and with its large supply from the lake, it is really inexhaustible! The grains of salt are of superior quality that they are edible once processed. The storage of salt now reaches about 5 million tons and it is said that it will last for 85 years for the whole China with a population of over 1.4 billion people!
There are many giant sculptures scattered along the lakeside upon entering the scenic area. These are formed from the deposit of salts and brine over a long period of time and they are fondly called the luxurious art of the land. Tourists may swim or just lie on the lake without life buoy or life jacket. Substantial salt and mineral substances accumulated in the lake over a long period, making the buoyancy force eight times higher than seawater and nearly the same as that of the Dead Sea.
The beautiful sunrise and sunset sceneries are highly recommended. The best time to visit would be from July to August. It is believed that with the summer breeze, inhaling the humid air with its salt content is especially good for the lung.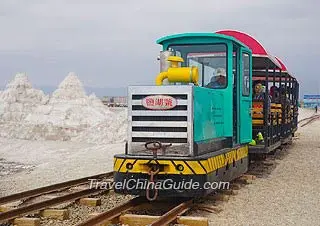 Railway for Salt Mining
There is a long railway track extending to the center of the lake. Visitors can walk along the track to view the splendid scenery on the water. The magnificent mining scene of the large modern salt dredgers is the most impressive.

Tips:
1. The lake is truly a film killer. Prepare enough memory card or film before the trip.
2. The salt in the lake can be tasted, but do not take too much for its hygiene concern.
3. Wear sunglasses and a hat due to the strong ultraviolet rays.
4. Prepare some medicine for the weak and the senior to deal with altitude sickness.
How to Get to Chaka Salt Lake
1. Take bus from Xining Xinninglu Bus Station or Xining Bus Station (close to Xining Railway Station) to Chaka Salt Lake (CNY 60).
2. Charter a car from Xining. It costs around CNY 400 for a round trip.
3. Take bus from Xining Bus Station to Ulan or Delhi (Delingha). It passes by Chaka.
4. In the peak season every year depending on the tourist amounts, there will be a tourist train Y961/2 connecting Xining and Chaka on service. Generally every day the train departs from Xining at 08:25 and arrives in Chaka at 12:23; it returns from Chaka at 17:00 and arrives in Xining at 21:13. Please check the information locally to make confirmation.
See
real-time train schedule
Admission Fee
Entrance Ticket:
May-October: CNY 60; April: CNY 30
Sightseeing Train: CNY 50
Opening Hours
07:00-18:30 from April to October
Recommended Time for a Visit
Half a day

Further Reading:

Qarhan Salt Lake

Qinghai Lake
- Last modified on Apr. 04, 2019 -
Questions & Answers on Chaka Salt Lake
Asked by Tanvirul Islam from BANGLADESH | Jun. 03, 2019 16:12

Reply
How long it will take from Xining - Qinghai Lake - Chaka town via taxi? What will be the taxi fare?
Answers (1)
Answered by Andrew from CANADA | Jun. 03, 2019 18:51

0

0

Reply
It is recommended to hire a private car directly and it takes about CNY600 per day.
Asked by Ken from USA | Feb. 18, 2019 07:26

Reply
Hello when I visit can I fly my drone to get some great looking videos for Chaka Salt Lake?
Thank you.
Answers (2)
Answered by Constance from USA | Feb. 18, 2019 19:34

0

0

Reply
Yes, as I know, you are allowed to fly the drone.
Answered by Ken from USA | Feb. 21, 2019 02:10

0

0

Reply
Thank you. It will look great to see it from above.
Asked by HUYENVU90 | Jan. 06, 2019 17:50

Reply
I plan to visit Chaka Salt lake in the end of April, how is the weather at that time?
is it the time to have good photo?
Answers (1)
Answered by Carter from USA | Jan. 07, 2019 18:20

0

0

Reply
Well, according to the previous weather statistics, it would be a little bit cold at that time. Generally speaking, the suggested sightseeing time is June to September. :)
Asked by Jacklyn from USA | Sep. 24, 2018 22:14

Reply
How is the weather in Nov? I would like to visit Chaka Salt Lake on first week of Nov.
What would the weather be like? And any recommendation on Hotels around the area? Thanks
Answers (1)
Answered by Tyler from USA | Sep. 24, 2018 23:30

0

0

Reply
As I know, the lake is not open in November. Anyway, the weather is cold and you need to take your warm clothes like sweaters and winter pants.
There are three hostels around the lake and many hostels near Chaka Bus Station. You can go there and have a check.
Asked by Lucy from ENGLAND | Sep. 27, 2017 07:03

Reply
How do you get from Qinghai Lake to Chaka Salt Lake?
Hoping to stay close and cover both in one day.
Answers (1)
Answered by Cecilia from FRANCE | Sep. 27, 2017 22:48

0

0

Reply
Sorry to tell you no public transport is available and it's a little difficult to visit the both within a day. You are suggested to hire a local car to travel from Qinghai lake to the lake, which may take around CNY800 for a single trip.