Qarhan Salt Lake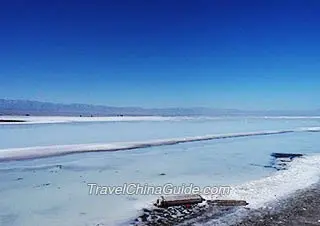 Serene Qarhan Salt Lake

Millions of years ago, Qaidam Basin was under a vast tract of ocean. Prolonged crust movement formed a large salt lake, Qarhan Salt Lake. The lake is around 750km (466mi) from Xining city and nearly 60km (37mi) from Golmud city. It covers an area of 5,856 square kilometers (2,261 square miles). As the largest salt lake in China, it is also one of the most famous inland salt lakes in the world

Situated in Qaidam Basin, near Golmud City, in the west of Qinghai Province, the lake stretches 160 kilometers (99.4 miles) from east to west, and 20-40 kilometers (12-25 miles) from south to north. It is rich in salt, potassium resources and other minerals. China's biggest potassium production industry originated here. According to some experts, the salt reserves can last 1,000 years.

The hot and dry climate produces a high level of salt concentration causing a mass of salt crystals to form beautifully carved transparent salt clusters to glitter like jade. Appearing in an infinite variety of figures like flowers, corals, pagodas, pearls, pavilions, animals or ivories with different positions, these crystal-clear salt clusters decorate the lake like a fairyland attracting many local and foreign visitors every year.

Ten Thousand Zhang Salt Bridge (Lofty Salt Bridge)
Ten Thousand Zhang Salt Bridge, the most marvelous attraction here, is 32 kilometers (20 miles) long (ten thousand Zhang in Chinese measurement) crossing the whole lake. In fact, it is a section of Qinghai-Tibet Railway connecting Golmud and Dunhuang and part of Qinghai-Tibet Highway, wholly made of salt crystals. The salt surface is 15-18m (49-59ft) in depth, hard enough to take the load of the railway/highway. The 'bridge' is like a jade belt passing through the lake, surprising people with its beautiful surroundings and extraordinary construction, without guardrails or piers. It is a must-see scenic spot upon arrival.

Qinghai Potash Fertilizer Plant: It is on the coast of the lake. You can visit the manufacture of potash fertilizer in the plant for free. Go there yourself or contact the service office at Golmud Railway Station. They will arrange shuttle buses for your visit.

Qarhan Salt Lake Museum: It is in the Development Branch of Qinghai Salk Lake Industrial Company and within walking distance of Qinghai Potash Fertilizer Plant. There are a variety of salt statues of different shapes. They are like pearls, blossomed flowers, and crystals.

This lake is a world of salt, dazzling white and extending as far as the eye can see. On a clear day, tourists can view a hazy mirage on the plateau. What a great feast for the eyes!



Tips:
1. As this area is exposed to strong sunshine, you are strongly advised to use sunscreen cream, sunglasses or sunhat to protect yourself.
2. Accommodation Recommendation:
A) Haixi Hotel, at No. 12, Tuanjie Road, Delingha City, is a nice place to stay.
B) Xuelian Hotel is at Qingxin road, Delingha City. It is around 1,000m (3,281ft) from the city center and 2,000m (6,562ft) from the local railway station.
3. Local snacks, such as roasted whole sheep, tsampa, and milky tea, should not be missed. In summer and autumn, you will have a chance to taste all kinds of milk products.

Entrance Fee
Free
Opening Hours
The whole day
Best Travel Season
April to October
Recommended Visiting Duration
Half a day
Transportation
1. Take a train from Beijing Lanzhou, Xining, Lhasa, or Chengdu to Golmud. Upon arrival, rent a car or take a taxi to the lake scenic area.
2. There are regular buses departing from Mt. Everest Building (Zhufeng Building) in Golmud to the Development Branch of Qinghai Salk Lake Industrial Company. Upon arrival, you can walk to the scenic area.
3. Take a taxi or rent a car at Golmud to the lake scenic area within 1-1.5h.

Further Reading:


Qinghai Lake


Chaka Salt Lake
- Last updated on Apr. 18, 2019 -