Tibetan Opera and Tea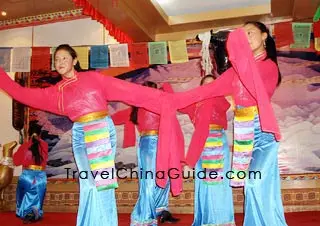 Tibetan Opera
Buddhist Teachings in Tibetan Opera
Tibetan opera, Ace Lhamo or Lhamo, which means Fairy in Tibetan, is the traditional opera of Tibet. It is said that the art tradition was created by Drupthok Thangthong Gyalpo, a monk and ridge builder in the 14th century. Drupthok Thangthong Gyalpo organized the first performance with the help of seven pretty girls to raise fund to build bridges in order to improve transportation and facilitate pilgrimage. The tradition was passed down and developed into Tibetan opera, popular throughout the region. Usually performances were held on various festive occasions, such as Shoton, in the session in which professional and amateur troupes are summoned to Lhasa to entertain the Dalai Lama and monks in Potala, Drepung or Norbulingka.
Buddhist teachings and local history are the sources of Tibetan Opera's inspiration, so most of its repertoire is based on them. The traditional drama is a combination of dances, chants, songs, and masks. The highlight of Lhamo is its mask. Usually on the forehead of the mask there is a motif of the Sun and Moon. From the mask, the role of the player can be identified. A red mask refers to the King; a green the queen; a yellow lamas and deities, etc. A Tibetan opera performance follows fixed procedures. Each performance begins with the purification of the stage and a blessing to the God. A narrator sings a summary of the story in verse. Then performers enter and start dancing and singing. The performance ends with a ritual of blessing.
Tibetan Tea
Tibetan Butter tea is the indispensable beverage of everyday life for the locals. It is good for people in many ways: to help keep body warm, allay one's hunger, aid digestion, promote a healthy cardiovascular system, cleanse the body of accumulated lactic acid, and rejuvenate inner strength and increase stamina.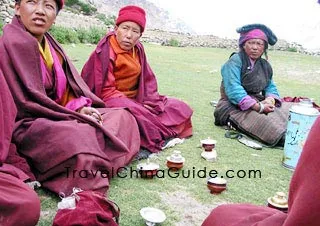 Tibetan Butter Tea
The ingredients of Butter tea are butter, brick tea, and salt. In every local family, there is a slim wooden cylinder which is used for churning up tea. A wooden piston is used to push and pull inside the cylinder where butter, salt, and freshly-brewed brick tea are mixed. After a minute or two of mixing it is poured into a kettle, so that it can be kept warm over a fire, and be ready for serving at any time.
Tea-churning is a daily ritual for the locals. They are accustomed to finish several bowlfuls of butter tea before starting to work for a day. Butter tea is also served to guests. Generally speaking, guest cannot decline with thanks but have to drink at least three bowlfuls of butter tea before leaving. In order to show courtesy to ones' host, the tea should be taken slowly and meanwhile tell the host that the tea tastes wonderful. It is customary to leave a little at the bottom of tea cup when finished.
Tibetans like drinking tea very much. Besides salted butter tea, sweet milk tea is another popular alternative, especially at their wedding feasts. Hot boiling black tea filtered and decanted into a churn, fresh milk and sugar are then added. After about a minute of churning the tea will be ready for serving and a cup of reddish white drink will turn up in front of you.
- Last updated on Jul. 12, 2022 -