Tibetan Medicine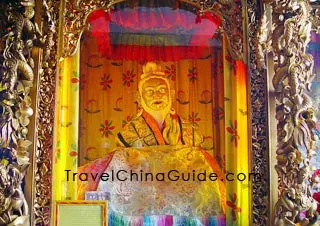 Statue of Youthck Yontan Gongbo

As one of the oldest medical traditions in the world, Tibetan medicine is gradually being brought into the limelight as Tibetan culture draws much public attention both at home and abroad. Dating back 2500 years, the Tibetan medical tradition has developed its own unique healing practices. In the 8th century, the renowned physician, Yutok Yonten Gonpo, produced the Four Medical Tantras, known as Goo-Shee, after combining the medical knowledge of Tibet with that of China, India, Nepal and Persia. His descendant, the younger Yuthok, wrote eighteen supplemental medical works. At that time the traditional principles of Tibetan medicine had been established. Mentsekhang (the Tibet Traditional Hospital), founded in 1916 by the 13th Dalai Lama, was and still is the local physicians' training center.

By synthesizing knowledge from the above medical systems with their own, the locals have come up with their own approach to medical science. Ignorance of the five basic elements, namely earth, air, fire, water, and space, which interact with each other, is deemed as the cause of disease and disorders in Tibetan medical tradition. The cure lies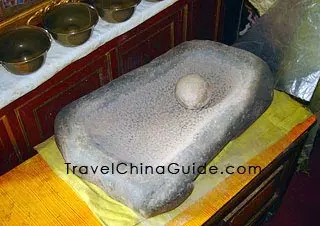 Appliance used to grind medicine

in the capability of balancing these elements. Good health also depends on the proper balance of diet, behavior, environment, and psychological and social factors, according to local medical system. The locals even applied Thangka illustrations many centuries ago to explain their medical theory through intuition. Some of the ancient medical Thangkas can still be found in Mentsekhang in Lhasa today. (Thangka, seen in every monastery and family shrine in Tibet, is actually kind of local scroll-banner painting and a unique art of local culture. Thangka generally falls into several categories according to techniques involved, namely painted Thangka, paster Thangka, and etc. Among them painted Thangkas are most commonly seen. )

Diagnostic techniques used in Tibetan medical tradition basically involve interviewing of the patient, urinalysis, and pulse reading. A doctor first speaks to the patient and finds out his medical record. Urinalysis helps the doctor to confirm the nature of illness by the color and odor of the urine specimen and the size, color, amount and persistence of bubbles after vigorous stirring of the specimen. Reading the pulse is a crucial factor for diagnosis as the doctor checks it to further define the illness. Herbal and mineral medicines are the main treatments while other physical therapies, like acupuncture and phlebotomy (Phlebotomy - the act or practice of opening a vein by incision or puncture to remove blood as a therapeutic treatment. Also called venesection.) may also be used after the illness is clearly diagnosed.