Tibet Attractions
Note: Please click each region of Tibet to get more attractions.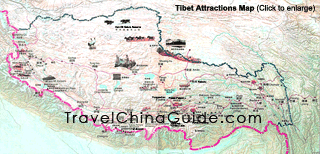 Click to enlarge the above attractions map,
or go for more Tibet maps

Chambaling Monastery
The monastery, in Chamdo Town, was founded in 1444 by one of Tsong Khapa's disciples.
| | |
| --- | --- |
| Potala Palace | Namtso Lake |

Jokhang Temple
At the center of the old Lhasa, Jokhang Temple is the spiritual center of the region.

Potala Palace
Located on the Red Hill of Lhasa, it is the symbol of the city, known to the world for its grand constructions, elegant buildings, exquisite artworks and pious religious atmosphere.

Namtso Lake
Located near Damxung, it is the highest saltwater lake in the world and the second largest saltwater lake in China.

Mt. Kailash
and
Lake Manasarova
Mt. Kailash and Lake Manasarova in the region of Purang are the "Sacred Mountain and Holy Lake" of the Buddhism, Hinduism and the indigenous religion-Bon.

Lake Rakshastal
Lake Rakshastal in Tibetan means the "Demon Lake" or "Poisonous Dark Lake", because its salty water is undrinkable for human beings and animals. But the lake scenery is beautiful.

Ruins of Guge Kingdom
The ruins lie on a hilltop near a river and cover 180,000 square meters.
| | |
| --- | --- |
| Ruins of Guge Kingdom | Yarlong Tsangpo River |
Various plants growing in different climatic zones can be found here, such as banana trees, palm trees and snow lotus. Its thick forest is densely wooded by cypress, tree fern and Himalayan Fir, which makes the land worthy of the title "Natural Green Gene Pool" and "Natural Nature Museum".

Yarlong Tsangpo River
Originating from a glacier on the northern Himalayas, it is the highest river on the earth.

Samye Monastery
Situated in Dranang, Samye Monastery was completed in 779 under the patron of Trisong Detsen.

Yamdrok Yumtso Lake
Yamdrok Yumtso (or Yamdrok-tso), one of the three holiest lakes on this holy land, lies at Nhagartse, located about 100 kilometers (62 miles) to the southwest of Lhasa.
| | |
| --- | --- |
| Samye Monastery | Tashilhunpo Monastery |

Tashilhunpo Monastery
Lies 2 kilometer (1.2 miles) west of Shigatse city, the monastery is a very influential monastery.

Mount Everest
Lies at the border between China and Nepal, Mount Everest, also known as Mt. Qomolangma, meaning Mother Goddess of the Universe in local labguage, is the highest peak in the world.
How to Travel from Nepal to Tibet
| | |
| --- | --- |
| Mount Everest | Rongbuk Temple |
If you'd like to find a package that contains the attractions above, please visit our
Tibet Tours
.

See more about
Top 10 Things to Do in Tibet
- Last updated on Apr. 07, 2020 -
Questions & Answers on Tibet Attractions
Asked by Hemant from INDIA | Feb. 14, 2014 22:28

Reply
I am an indian, wants to tour tibet on my bike is it possible?
Answers (1)
Answered by Lisa from CANADA | Feb. 15, 2014 00:29

1

2

Reply
No, it is not allowed. You have to join a tour to travel there, although there is only yourself in the group.
Asked by Kendell from USA | Dec. 15, 2013 20:35

Reply
How high above sea level is the potala palace
Answers (1)
Answered by Lee | Dec. 16, 2013 01:01

0

3

Reply
Around 3700km
Asked by Allen from USA | Sep. 17, 2013 10:22

Reply
Tibet Tribal Permit
I'm American Citizen and planning to visit T around October, 15 2013. My friend in China will be arranging private tour to T for us. It would be very much appreciated if some one could shade some light to my questions related to theTribal Permit.
1. My visa should be ready this Friday, September 20. I heard that I could just take photos of my passport and visa and send to my friend in China by iphone and she can apply for the Tribal Permit?
2. I heard that it takes 20-30 days to get the permit? Is it correct? If that is correct is it going to be an issue with my timing as I can only send a copy of my visa to my friend this Friday and she can start apply for permit on September 22. That is 23 days to October 15.

Answers (1)
Answered by Peter from USA | Sep. 21, 2013 04:23

1

1

Reply
When I traveled there, I followed the steps the tour agency told me to prepare for it. As I know, different tour agency has their rules. So it is suggested to ask your friend directly for the detail and correct information.
The permit needs to apply at least 20 days before your tour.
Asked by Yoga from SINGAPORE | Jun. 02, 2013 04:44

Reply
Electrical plug outlets in Shanghai -> Lhasa train
Hi, Can anyone who has recently travelled on the Shanghai -> lhasa train trip tell me if there are any electrical plug outlets in it? thank you!
Answers (2)
Answered by Ann from MEXICO | Jun. 02, 2013 04:48

2

1

Reply
Yes, you can find it in the train, so please do not worry about it.
Answered by Kenya from USA | Aug. 02, 2013 03:05

1

1

Reply
Just returned from visiting China, Beijing, Xi'an, Zhengzhou and Shanghai and the answer to you question is YES, The trains are modern, clean, fast and you will locate outlets.
Asked by Yoga from SINGAPORE | Jun. 01, 2013 08:42

Reply
Namtso lake summer temperature june
What is the temperature like in Namtso lake in Mid-june? What kind of winter wear should I pack? I will be spending a night there as part of my tour.
Answers (1)
Answered by Yong from SINGAPORE | Jun. 02, 2013 01:14

2

1

Reply
The average temperature is around 3 to 15C during that time.
If you want to stay there a night, it is suggested to take your down jacket because it will still be cold at night.