Tibet Attractions

Free entrance in winter: From Nov. 1, 2018 to Mar. 15, 2019, visitors can enjoy a free entrance of most 3A, 4A and 5A scenic areas in Tibet, including Potala Palace, Pagsum lake, the Great Canyon of Yarlung Tsangpo River, Everest National Park, and Norbulingka.
Note: Please click each region of Tibet to get more attractions.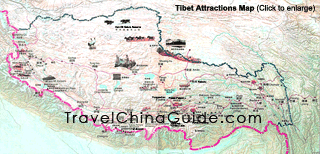 Click to enlarge the above attractions map,
or go for more Tibet maps

Chambaling Monastery
The monastery, in Chamdo Town, was founded in 1444 by one of Tsong Khapa's disciples.
| | |
| --- | --- |
| Potala Palace | Namtso Lake |

Jokhang Temple
At the center of the old Lhasa, Jokhang Temple is the spiritual center of the region.

Potala Palace
Located on the Red Hill of Lhasa, it is the symbol of the city, known to the world for its grand constructions, elegant buildings, exquisite artworks and pious religious atmosphere.

Namtso Lake
Located near Damxung, it is the highest saltwater lake in the world and the second largest saltwater lake in China.

Mt. Kailash and Lake Manasarova
Mt. Kailash and Lake Manasarova in the region of Purang are the "Sacred Mountain and Holy Lake" of the Buddhism, Hinduism and the indigenous religion-Bon.

Ruins of Guge Kingdom
The ruins lie on a hilltop near a river and cover 180,000 square meters.
| | |
| --- | --- |
| Ruins of Guge Kingdom | Yarlong Tsangpo River |
Various plants growing in different climatic zones can be found here, such as banana trees, palm trees and snow lotus. Its thick forest is densely wooded by cypress, tree fern and Himalayan Fir, which makes the land worthy of the title "Natural Green Gene Pool" and "Natural Nature Museum".

Yarlong Tsangpo River
Originating from a glacier on the northern Himalayas, it is the highest river on the earth.

Samye Monastery
Situated in Dranang, Samye Monastery was completed in 779 under the patron of Trisong Detsen.

Yamdrok Yumtso Lake
Yamdrok Yumtso (or Yamdrok-tso), one of the three holiest lakes on this holy land, lies at Nhagartse, located about 100 kilometers (62 miles) to the southwest of Lhasa.
| | |
| --- | --- |
| Samye Monastery | Tashilhunpo Monastery |

Tashilhunpo Monastery
Lies 2 kilometer (1.2 miles) west of Shigatse city, the monastery is a very influential monastery.

Mt. Everest
Lies at the border between China and Nepal, Mt. Everest, also known as Mt. Qomolangma, meaning Mother Goddess of the Universe in local labguage, is the highest peak in the world.
How to Travel from Nepal to Tibet
| | |
| --- | --- |
| Mt. Everest | Rongbuk Temple |
If you'd like to find a package that contains the attractions above, please visit our
Tibet Tours
.
- Last modified on Sep. 17, 2018 -