How to Travel from Nepal to Tibet?
Updated September, 2018
Travelling from Nepal to Tibet can be done in two ways nowadays, by air or by road, and flying is most popular choice.
Currently, two airlines operate flights between Kathmandu and Lhasa, Sichuan Airlines (3U) and Air China (CA). For the route from Kathmandu to Lhasa, Sichuan Airlines flies every Monday, Wednesday, Friday and Sunday, while Air China flies every Tuesday, Thursday and Saturday. Thus flights from Kathmandu to Tibet are available every day.
Overland travel is only available by road through the Rasuwagadhi - Gyirong border, which has been open to foreign travelers since August 2017. (The old route of Kodari - Zhangmu border has been damaged and closed since the Nepal earthquake in 2015 and it may still take years to repair). The road on the Nepalese side (Kathmandu to Gyirong) is in rough and poor condition and takes around 8-9 hours driving. During the rainy season (July - October), there may be long delays due to landslides. The road condition on the Tibetan side (Gyirong - Dingri - Everest Base Camp) is quite good.
What Travel Documents are required for entering Tibet from Nepal?
1) Passport with at least six months validity
2) China Group Visa issued by the Chinese Embassy in Kathmandu
3) Tibet Travel Permit copy
How to get a China Group Visa in Nepal?
All foreign tourists entering Tibet from Nepal have to apply for a China Group Visa from the Chinese Embassy in Kathmandu. It is a single entry visa, valid for 30 days. A China Visa obtained previously will automatically become invalid if you go to Tibet from Nepal, so you do not need to get a China Visa in your country in this case.
An important difference is that if you will enter Tibet from China mainland cities like Beijing or Shanghai instead of Nepal, you will have to obtain a China Visa in your own country at least 30 days prior to your trip.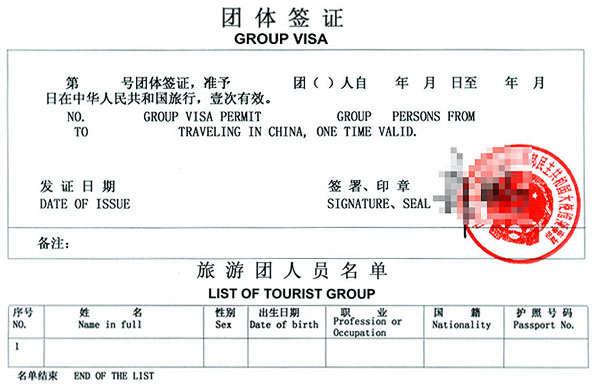 Sample of China Group Visa issued by the Chinese Embassy in Kathmandu
What is a China Group Visa?
The China Visa issued in Nepal is a special type, called China Group Visa. Instead of a normal visa attached to a page in your passport, the China Group Visa is a sheet of paper with the name/ names of travelers in your group. With this visa, you can visit Tibet as well as China mainland cities like Beijing and Shanghai. You need to schedule your China mainland tours together with your Tibet itinerary beforehand.
Although labeled as a Group Visa, it is not necessary for you to be part of a group. Even one person is called a group and can apply for Group Visa. As the Group Visa is on one sheet of paper, all travelers listed on this document need to enter and exit China at the same time and on the same flight. In case of your own group with over two travelers, some might have a different tour plan and will not enter and exit together, in that case you must notify your travel agency in advance, so that they can help you apply for your Group Visa separately.
Three Steps to get a China Group Visa in Nepal
Step 1
You provide a copy of your passport to your travel agency 30 days prior to your trip. The travel agency submits this copy and your confirmed itinerary to the Tibet Tourism Bureau to apply for a China Visa Invitation Letter and Tibet Travel Permit. When these have been issued, copies of the two documents will be sent to your local travel agency in Nepal.
Step 2
Upon your arrival in Nepal, you can apply for your China Group Visa with your original passport, China Visa Invitation Letter and Tibet Travel Permit from the Chinese Embassy in Kathmandu in person or through a local travel agency. The Chinese Embassy only accepts visa application on weekdays (Monday to Friday, 09:00-11:00), except holidays and it takes a minimum of 3 working days to get the visa. An express visa service is no longer available. As per current rule, you are suggested to arrive at least 5 days before your departure from Kathmandu to Tibet and you also need to consider weekends and holidays.
Step 3
You need to bring your Passport, China Group Visa and Tibet Travel Permit copy with you when you travel from Nepal to Tibet. Your local guide in Tibet will bring your original Tibet Travel Permit when picking you up on your arrival in Tibet and help you through the immigration procedure.

Tips:
The Tibet Tourism Bureau and the Chinese Embassy in Kathmandu do not accept individual applications for permits and visas. You need to arrange your Kathmandu to Tibet tour through travel agencies.

For your information, TravelChinaGuide.com can arrange a Nepal Tibet tour for you, and can help you deal with all necessary travel documents and visa applications.



Recommended Nepal to Tibet Tours:

11 Days Independent Kathmandu - Nagarkot - Kathmandu - Gyirong Border - Everest Base Camp - Dingri - Shigatse - Gyangtse - Lhasa