Nagqu Attractions
Nagqu lies in the north of Tibet. It neighbors on Chamdo on the east, Lhasa on the south, Ngari on the west and Xinjiang on the north. In this region, the far-flung Changtang Prairie and mysterious Northern-Tibet uninhabited area always make a very deep impression on tourists.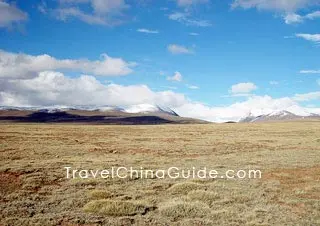 Changtang Prairie
The Changtang Prairie covers most of Nagqu. It is one of the regions that have good ecological environment. And the Life of King Gesar, the world's longest epic created by the Tibetans, is also widely sung there. The Tibetan Railway crosses the prairie. So, tourists can appreciate the good view in the trains. Herdsmen graze cattle there seasonally. They created colorful nomadic culture. On the prairie, not only can the rock paintings of the distant past and the site of ancient Xiangxiong Kingdom be found, but also Mani rocks carved with Buddhist sutras, the Buddhist sutra streamers, pagodas, flocks and herds, and herdsmen's tents can be seen. The nylon tents, stripped with red, blue, yellow, green and white, are extraordinarily eye-catching.
In the uninhabited area live the wild animals under first-class national protection, including wild yak, Tibetan antelope and wild ass. The continuous snow mountains accompanied with the blue sky seems very solemn. The famous Samdain Kangsang Snow Mountain is just one of them. Being one of the twenty-five highest mountains of Tibet, it's given the religious character. Also the Daguo Snow Mountain located in Nima County is considered as a holy mountain by Tibetan people.
Big and small lakes are inlaid between mountains and canyons. Among those, the
Heavenly Lake Namtso
is the most notable one. Situated between Damxung County of Lhasa and Baingoin County of Nagqu, Namtso Lake is the second largest saltwater lake in China, after Qinghai Lake. It's considered to be one of the three holy lakes in Tibet. Many pilgrims go there and walk around the lake praying for good fortunes annually. Additionally, selected as one of the five most beautiful lakes in China, it attracts a lot of tourists as well.
Siling Co is the second largest lake of Tibet, after the Namtso Lake. In Tibetan, Siling Co means devil lake. It lies on the border of Baingoin and Xainza counties. There are seven main rivers flowing into it, which compose a land-locked lake group. The lakeside prairie is vast. The picturesque grassland scenery leaves unforgettable impressions.
| | |
| --- | --- |
| Heavenly Lake Namtso | Continuous snow mountains |
Additionally, in the east of Nagqu, there are many unique Karst caves. The most marvelous one is the Maimo Cave in Baqen County. People nickname it Fairy's Private Apartment. On the both sides of the cave mouth stand two stelae like the guardians of the cave. Entering the cave, you can find natural stone ladders and small caves. The two biggest ones are Red and Green caves. They both are very very long, which are well worth exploring.
- Last updated on Jul. 18, 2022 -