Tibet Trip from Hong Kong
504: 14 Days Private Tour of Hong Kong - Guangzhou - Kunming - Lijiang - Shangri-La - Lhasa - Tsetang - Lhasa
Tour Type:
Private Tour, any parts of the itinerary can be customized
Guide & Driver:
English-speaking guide, experienced driver with an air-conditioned vehicle
Highlights:
Feel vibrant atmosphere & explore bustling markets freely in Hong Kong.
Explore the nearly 1000-year-old town Lijiang - a UNESCO World Heritage site.
Admire the sheer natural beauty in the lost city of Shangri-La.
Follow us on a Buddhist pilgrimage to Tibet & appreciate profound culture.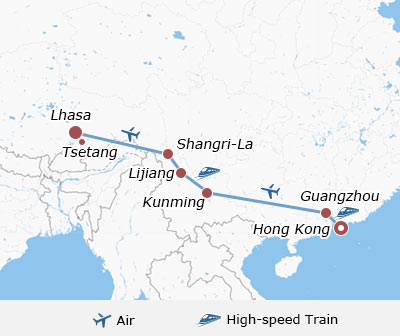 Day 1
Arrival in Hong Kong
Arrive in Hong Kong today, and then follow our public transport tips to the hotel.
Hong Kong enchants visitors from all over the world for its iconic skyline, vibrant markets, stunning night views, happy amusement parks, and all sorts of food. On this private tour, you will have two days to explore this international metropolis freely. As most Hong Kong residents are proficient in English and English signposts are found everywhere, you can easily handle all the activities on your own.
To ensure you a worry-free tour, we have especially arranged comfortable hotel accommodation for 2 nights with daily breakfast.
Public Transport Tips:
1. Upon your arrival at Hong Kong Airport, you can take bus A21 and get off at Granville Road, then walk for 460 meters to the 5-star InterContinental Grand Stanford Hotel.
2. From airport to the 4-star Regal Kowloon Hotel, you may also take bus A21, get off at Mody Road and walk for 500 meters to get there.
Explore Hong Kong on your own with our suggested sightseeing route by public transport. (B)
Victoria Bay
Today is free for your self-exploration. The Hong Kong Island Tour is very popular and recommended. As one of the landmarks in Hong Kong, the
Victoria Peak
is also the highest point of the city. From here, you can get an enchanting panoramic city view. If you are interested, you can also experience the city's oldest mode of public transport, the classic red tram. However, it may take some time to queue up.
Transportation Tip to Victoria Peak:
You may walk to MRT Tsim Sha Tsui Station. Take the metro to Central Station and get out from Exit E. Then walk to Central Star Ferry Pier or Hong Kong City Hall, and you can find the buses up to Victoria Peak.
The next recommended stop is
Repulse Bay
, where you can see beautiful sea views and enjoy sunbath. To reach this site, you can take a bus down to the Central and take the bus No. 6 at the Exchange Square and then get off at 127 Repulse Bay Road. After the visit, you may take bus No. 73 from Repulse Bay Station and get off at
Aberdeen Wholesale Fish Market
to see the traditional local fishermen's lifestyle.
Continue your visit by taking bus No. 73 to Stanley Village. Here you can explore the
Stanley Market
, a wonderful place to buy some souvenirs or gifts. The bus No. 973 at Stanley Village to Tsim Sha Tsui (the terminal station) can take you back to the neighborhood of both the InterContinental Grand Stanford Hotel and the Regal Kowloon Hotel.
Meals: Western buffet breakfast
Day 3
Hong Kong to Guangzhou by High Speed Train
Further explore Hong Kong, and then take a one-hour high speed train to Guangzhou; pick up and transfer to hotel. (B)
Your tour from Hong Kong will be extended to Guangzhou today. Please check out from hotel before 12:00. We have already booked the high speed train ticket for you and you just need to board the train from West Kowloon Railway Station with your passport. After about one hour train ride, you will arrive at Guangzhou South Railway Station, where your tour guide will wait for you and transfer you to the hotel.

Meals: Western buffet breakfast
Visit Dr. Sun Yatsen's Memorial Hall, Yuexiu Park, Temple of the Six Banyan Trees, and Shamian Island. (B+L)
Five-Ram Statue in Yuexiu Park
This morning, your private guided tour will first start from the
Sun Yat-sen Memorial Hall
. Located on the southern slope of Yuexiu Hill, the memorial hall was built in memory of Dr. Sun Yat-sen, the pioneer of China's democratic revolution. Next, you will go to the
Yuexiu Park
, the largest park in Guangzhou. Take a stroll here, and you can see the Five-Ram Statue, the symbol of the city and enjoy the surrounding greenery.
Then we will head to the
Temple of Six Banyan Trees
, first built in the Southern Song Dynasty (420-479 AD). The most outstanding architecture of the temple is a nine-story quadrangular wooden pagoda which has actually 17 floors inside. The temple also collects a lot of ancient paintings, fine stelas and stone inscriptions. The serene and religious atmosphere in it may bring purification to every visitor. The last destination today is the
Shamian Island
, a former concession island housing over 150 European-style buildings, a good place to take a stroll and appreciate classic architecture.
Meals: Western buffet breakfast, Lunch
Day 5
Guangzhou to Kunming by Air
Fly to Kunming and transfer to hotel; Visit Zhuanxin Wet Market and Green Lake Park. (B)
This morning, your guide will send you to Guangzhou Airport and you will fly to Kunming, the 'Spring City' in China. Your local guide in Kunming will meet you at the airport and escort you to the hotel for check-in.

After that, the guide will lead you to the Zhuanxin Wet Market, the largest and also the most popular wet market in Kunming. It offers all kinds of fruits, vegetables, local specialties, delicious street food and even fresh flowers. Another reason of the market being preferred by locals is that hundreds of wild mushroom species will be sold here from May to October. In general, this market is full of local atmosphere and many Kunming people call it "the real old Kunming food paradise". Next, we will head to the Green Lake Park, with a beautiful environment, which boasts an 'Emerald in Kunming City'. If you happen to visit in winter, the red billed gull from Siberia will come here to spend the winter, offering an impressive scenery of the spring city!

Meals: Western buffet breakfast
Day 6
Kunming to Lijiang by High Speed Train
Visit Stone Forest; take a 3.5-hour high speed train to Lijiang and transfer to hotel. (B+L)
Chinese People
After breakfast, you will start your Kunming exploration from the most iconic attraction, the
Stone Forest
, where various shapes of karst formations make countless labyrinthine vistas. In this UNESCO World Heritage Site, you will be amazed at a large group of karst limestone pillars and peaks standing for millions of years.
In the afternoon, we will transfer you back to Kunming train station and you will take a 3.5-hour bullet train to Lijiang, a time-locked place boasting ethnic cultures, ancient towns and precipitous gorges. Your local guide and driver will wait there and then transfer you to the hotel.
Meals: Western buffet breakfast, Lunch
Visit Baisha Village, a local Naxi Family, and Baisha Murals; enjoy afternoon free time to explore Lijiang Old Town. (B)
Lijiang Old Town
Today's Lijiang tour starts from the
Baisha Village
. This is a quite old village full of serenity. As the earliest settlement of Naxi people, the village features some ancient Naxi style residential houses. Wandering through the alleys, you can enjoy a laid-back atmosphere and experience the local culture by visiting a local Naxi family. Also, you will pay a visit to the highlight of this tranquil old village,
Baisha Murals
. The picturing of the murals lasted for more than 300 years from the end of the Ming Dynasty to the early Qing Dynasty. The 500-year-old murals combine the culture of Han, Tibetan and Naxi ethnic groups, reflecting the history of the area and the different religious life of Buddhism, Confucianism and Taoism.
After the visit, we will go back to
Lijiang Old Town
. Lunch will be arranged by yourself and the whole afternoon will be left for you to explore the bustling and lively ancient town freely.
Once a transit station of the Silk Road and the ancient Tea Horse Road, Lijiang has a long history of more than 800 years. Stepping on the cobble streets, you can not only appreciate various traditional architecture here, but also meet some old arched bridges, fancy boutiques, stylish cafes, and delicious street snacks. Stroll through the old town, find a cafe and immerse yourself in the ancient town and dive deep into the Naxi civilization. The old town also features a vibrant nightlife as many bars are optional.
Meals: Western buffet breakfast
Day 8
Lijiang to Shangri-La by Private Car
Drive to Shangri-La, and visit Tiger Leaping Gorge, First Bend of the Yangtze River, and Stone Drum Town along the way. (B+L)
Today you will take a full day sightseeing on the way to Shangri-La. The first stop is the
Tiger Leaping Gorge
which is believed to be one of the deepest gorges in the world and is famous for its steep and narrow valley, turbulent current and splendid scenery. Then we will proceed to the First Bend of the Yangtze River where the running river suddenly takes a big turn of 120 degrees to the shape of a "U". At the first sight of the bend, you will be shocked by the power of nature and see the three parallel rivers of Yangtze River, Lancang River, and Nu River.
You will then encounter the Stone Drum Town which is named after the drum-shaped marble stele in the town. Historically, the town was an important communication center for the brisk trade of tea and horses between inland China and Tibet region. Finally, you will arrive at Shangri-La and check in at the hotel.
Meals: Western buffet breakfast, Lunch
Visit Potatso National Park, including Bita Lake and Shudu Lake, and Songzanlin Monastery. (B+L)
Songzanlin Monastery, Shangri-la
Today you will enjoy the charming landscape at
Potatso National Park
, China's first national park, boasting serene lake views, wetlands, forests, meadows, rivers, valleys, and rare animals and plants. We will go sightseeing at Bita Lake and Shudu Lake, the highlights in Potatso. The crystal Bita Lake is beset with rolling mountains like a green diamond. Here the most amazing view is said to be in May when fish are all drunk and float at the surface of the lake after eating the petals of azaleas. About 10 km (6.2 miles) from the Bita Lake is the Shudu Lake, which is also surrounded by mountains, and the vast meadow is dotted with flocks and herds.
After lunch, you will visit the
Songzanlin Monastery
which is the largest Tibetan Buddhist monastery in Yunnan Province. Originally built in 1679 and constructed in traditional Tibetan style, it is known as the miniature Potala Palace.
Meals: Western buffet breakfast, Lunch
Day 10
Shangri-La to Lhasa by Air
Fly to Lhasa; transfer to Tsetang and check in at the hotel. (B)
Today your private tour will come to Tibet, one of the most alluring travel destinations in China with ever-changing landscapes. You will take a flight to Lhasa today, where your local guide will pick you up outside the baggage claim area of the airport and afterward transfer you to check in the hotel in Tsetang. Due to the high altitude, someone may feel a little bit uncomfortable when first arriving in this land. Therefore, we kindly suggest you have a good rest and do not smoke or take a bath on the first day.

Meals: Western buffet breakfast
Visit Yumbu Lakang, Trandruk Monastery, and Samye Monastery; drive to Lhasa. (B+L)
Today we will explore the birthplace of Tibetan Buddhism culture and have a glimpse of some famous Tibetan Buddhist temples. You will visit the
Yumbu Lakang
first, which is located on a hilltop overlooking a valley. The monastery was first built about 2,100 years ago, even 800 years earlier than the well-known Potala Palace. As the first palace in Tibet, its deep history and spectacular views are worth your effort to climb the winding trails up. Then we'll arrange the e
Trandruk Monastery
for you, one of the earliest temples in Tibet and you will see the treasure of the temple - the 800 years Pearl Thangka, made of 29,026 pearls. After that, we will transfer you to visit the
Samye Monastery
which was the first Buddhist monastery built in Tibet, developing the first monks in Tibetan history. And its main hall combines the Han, Tibetan, and Indian architectural styles. Finish the visit, and we will head for Lhasa and check in the hotel once arriving.
On the way to Lhasa, you may see some piles looking like giant pine cones in shape. Do you know what they are? Aha, they are dung of yaks. Local Tibetans mix dung with some dry soil and broken bits of local grass, dry it in the sun and pile it up, then the odor can be removed. The dried yak dung is used locally to replace firewood. More inconceivably, the yak dung is a great natural non-toxic detergent to clean the thick oil stains left by buttered tea on bowls.
Meals: Western buffet breakfast, Lunch
Visit Norbulingka Park, Tibet Museum, and Sera Monastery including monk debating. (B+L)
Local People in Norbulingka Park
Today's private schedule starts from the
Norbulingka Park
, a large complex park composed of palaces and gardens. As the once Summer Palace of successive Dalai Lamas, it now opens to the public and you can view the typical Tibetan architecture and some valuable plants here. Next, we will head to the
Tibet Museum
, where the precious cultural relics will show you the glorious local history and the deep companionship between Han and Tibetan People since the Tang Dynasty (about 1,300 years ago).
After lunch, continue to visit the
Sera Monastery
. As one of the largest monasteries in Lhasa, the Sera Monastery is well-known for the vast storage of Buddhist statues, sutras and frock. It is said that there are more than 10,000 Buddhist statues in the monastery. Another highlight in the monastery is the monk debating, passed down for 600 years. Every afternoon (except for Sunday), monks debate the contents of the morning's lectures at a yard. At 3 p.m., dozens of red-robed monks walk in, and they were divided into different groups, some one-on-one, and some one-to-many. The standers asked questions and the respondents sat on the floor, all with imposing gestures.
Meals: Western buffet breakfast, Lunch
Visit Potala Palace, Jokang Temple, Barkhor Street and a Nunnery. (B+L)
Our Clients at the Potala Palace
In the morning, you will visit the magnificent
Potala Palace
, the world's highest palace. As the symbol of Lhasa and Tibet, it was initially built in the Tang Dynasty about 1,300 years ago and rebuilt in the 17th century. The palace is comprised of two parts: the Red Palace as the center for religious ceremonies and the White Palace as the wings for monks' activities. Here you will not only be amazed at the spectacular architecture but also a wealth of collections including stupas, statues, murals, thangkas, and scriptures.
After lunch, you will be guided to visit the
Jokhang Temple
. Located in the center of the city, the Jokhang Temple is the holiest temple, the final destination of a pilgrimage for Tibetan Buddhists. The sacred monastery houses a statue of Buddha brought by Princess Wencheng from the Tang Dynasty and that's also why the temple is the spiritual heart of Tibet. The street encircling the Jokhang Temple is also worth your lingering. Walking through the famous
Barkhor Street
, you will see shops and stalls on both sides selling various handicrafts and local snacks.
The last stop today is the only Nunnery in Lhasa area. Before the establishment of the People's Republic of China, this nunnery was mainly for Tibetan nobles. They sent their daughters here because of dowry avoidance. The aristocratic women in the nunnery were exempt from hard labor, and even had servants. But now, it is mainly for common women Buddhists and you can explore more interesting history following your professional guide.
Meals: Western buffet breakfast, Lunch
Day 14
Departure from Lhasa
Transfer to airport and see you off; a pleasant trip home! (B)
Today your China tour just ends and we will transfer you to Lhasa Airport for your return flight. If you need any help with flight booking, feel free to contact us. We hope our service has given you a featured experience on this private China tour package and wish you a nice trip home!

Meals: Western buffet breakfast
B-- Breakfast
L-- Lunch
D-- Dinner
This trip can be customized to meet your individual needs!
| Destinations | Luxury Hotels | Standard Hotels |
| --- | --- | --- |
| Hong Kong | InterContinental Grand Stanford Hong Kong | Regal Kowloon Hotel |
| Guangzhou | China Hotel | Ocean Hotel |
| Kunming | Green Lake Hotel | Jinjiang Hotel |
| Lijiang | InterContinental Lijiang Ancient Town Resort | Duofu Resort |
| Shangri-la | The 5th Meteorite·Light-year Hotel | Floral Hotel Le Fu Ge Dan Shangri-La |
| Tsetang | Xiangqu Garden Hotel | Xiangqu Garden Hotel |
| Lhasa | Shangri-La Hotel | Taehf Phodrag Tibet Culture Theme Hotel |
Tour Prices
Christmas & 2024 Special:
12% off
- Book before Dec 31, 2023
Tour Prices with Luxury Hotels
2-3 travelers
4-5 travelers

USD4669

USD4108

USD4299

USD3783
Tour Prices with Standard Hotels
2-3 travelers
4-5 travelers

USD3689

USD3246

USD3319

USD2920
Prices are per person on twin sharing basis.
The prices in red reflect 12% discount.
Any part of the itinerary e.g. tour length, activities & hotels can be tailored to your individual interests.
Price Includes
Domestic airfares & train fares
Hotel accommodation with breakfasts
Lunches as itinerary specifies
Private English-speaking guides
Private drivers & air-conditioned vehicles
Entrance fees to tourist sites
Tibet Travel Permit
Price Excludes
International airfares
Train fare of Hong Kong/Guangzhou
Entry Visa fees
Personal expenses
Tips or gratuities for guides and drivers
Why Travel With Us
Itineraries you may also like: