Lijiang Mural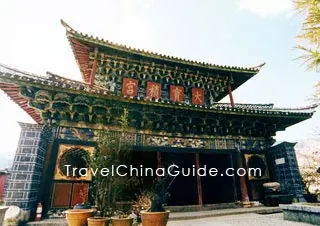 The Temple Decorated with Murals, Lijiang
Ten kilometers (six miles) northwest of
Lijiang Old Town
, there are several ancient villages, including Baisha, Dayan, Shuhe, Yangxi and Xuesong. There, the invaluable Lijiang Mural is stored, preserved and displayed in 15 venerable temples, such as Juexian, Wande, Guiyi temples and Sanbi Garden. Altogether, the mural used to include more than 200 pieces of fresco. However, hundreds of years of historical vicissitudes have left only 55 pieces in good condition.
Most of the temples were built from the early days of the Ming Dynasty (1368-1644) to the early Qing Dynasty (1644-1911), and the Lijiang Mural was created at the same time, over the course of about 300 hundred years. It was an era of rapid economic development, mutual acculturation of multinational culture, and the growth of religions of the area. Accordingly, Lijiang Mural was an artistic representation of this cooperation, communication and progress. The authors of these paintings had come from different nations, including the local Naxi Dongba painters; the Taoist painter Zhang from the Central Plain; Tibetan Lama artist Guchang; Han painters Ma Xiaoxian and Li Zeng; and many other artists who were unknown to the public.
| | |
| --- | --- |
| Naxi Fresco | Dongba Religion Murals |
The originality and figures of the mural paintings reflect the different religious cultures and artistic forms of Buddhism, Lamaism, Daoism and the Naxi Dongba religion, as developed in a Naxi school. Therefore, Lijiang Mural is quite different from other frescos. Each painting includes at least one hundred portraits, but perspective is used very well, and the close, middle and establishing images are clear. The various lifelike portraits are not only Buddhas but also ordinary people such as bureaucrats, criminals, tourists and executioners. Many of the scenes and subject matters are drawn from daily life-people are shown fishing, riding horses, weaving, dancing and casting iron. The painters used different methods of portrayal within the different elements of the fresco, such as flesh, garments, jewelry, weapons and many other components. The style of these true-life frescos is rural and unconstrained; the colors are strong and have intense contrast but are also unified. These special paintings fully demonstrates the superb artistic skills, outstanding creativity and rich imaginations of these excellent craftsmen. The vivid and exact figures, flowing lines, well-defined colors and powerful effects of the exquisite details make the Lijiang Mural not only the rare treasure of art, but also forceful proof of national solidarity and an important source of information for research on national religions, arts and history.
The most famous frescos are known as Baisha Mural of the Dabaoji (Great Treasure) Palace and the Colored Glaze Temple (Liuli Dian) in
Baisha Village
.
Entrance Fee
CNY 30 for visitors with the receipt of the maintenance fare of Lijiang Old Town;
CNY 110 for those without the receipt.
Opening Hours
8:00 - 17:30
How to get to Baisha Village from Lijiang Old Town
1. Take bus 6 to Baishaxiang Renmin Zhengfu.
2. Take a taxi straight to the village and the fare is CNY 40 or so.
- Last updated on Apr. 12, 2021 -
Questions & Answers on Lijiang Mural
Asked by Janet Truong | Apr. 06, 2015 21:28

Reply
I wonder that if Lijiang Mural and Baisha Mural are the same place?
Answers (1)
Answered by Kate from THAILAND | Apr. 08, 2015 21:27

1

0

Reply
Yes, they are the same place. The Baisha Mural is a representative of Badong Culture and the village is around 16km from LJ city.
Asked by Tatyana from ISRAEL | Mar. 06, 2013 10:27

Reply
I saw interesting photos of Dongba village. But I cannot find exact location and name.
They are with wooden statues and stone sculptures and coloured pictures, and the whole road of coloured images, some of them fantasy, some erotic.

I only know that it's 15-20 km north to Lijang, somewhere near Yulong Shan. Can it be LJ Mural or you know it as some other place?
Thank you
Answers (4)
Answered by Teddy from FINLAND | Mar. 06, 2013 21:02

0

0

Reply
Hi, you may refer to this location exactly according to your description. The Mural gathers at Baisha Village and it laocted at the foot of Yulong Shan. And the site is about 16km from LJ city. However, I don't find anything related to Dongba Village.
Answered by Tatyana from ISRAEL | Mar. 07, 2013 00:48

0

0

Reply
Hi! I published here 3 photos with the names of "Dongba village - don't know the name"
If it's inappropriate here, they can be deleted, but I'd really like to visit the place and I'm leaving for China in less than 2 weeks, so your help to identify the place will be greatly appreciated.
Answered by Helen from AUSTRALIA | Mar. 07, 2013 03:38

0

0

Reply
Hi, it is the Dongba Palace on the East Street of LJ Ancient City (Old Town). All the sculptures or colored pictures originate from Dongba Religion and there is famous and attractive Dongba Culture.
Try to find some information on the website to know whether it is the one you are looking for:
http://language.ljgc.gov.cn/html/6/category-catid-6.html
Answered by Tatyana from ISRAEL | Mar. 08, 2013 14:35

1

0

Reply
Hi,Helen! No it's not in Lijiang Town, it's 15-20 km to the north. But thanks for the site, I'll probably ask there.
Asked by Alek from MALAYSIA | Dec. 03, 2012 02:22

Reply
Photography in Baisha Temple
Is photography allowed in the temples in Baisha ? If not allowed, where can I get better-than-tourist grade photos (in post cards) of the murals ? Are they available in colour slide transparency (just like what they have in Beijing's Forbidden City) or professionally taken pictures ?
Answers (1)
Answered by Tom | Dec. 03, 2012 03:43

0

0

Reply
Taking photos is not allowed for these murals. In there, you can only see temples and other constructions. If you want to find the photos, you can ask the local people, I think they can help you.