Lashi Lake (Lashihai)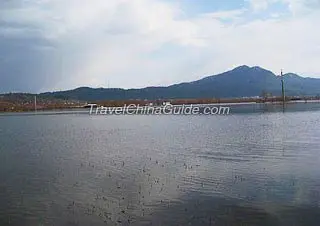 Lashi Lake
Lashi Lake, on the southern slope of the Jade Dragon Snow Mountain and 10 km (6.2 miles) from
Lijiang Old Town
, is part of the Lijiang – Lashihai Plateau Wetland Nature Reserve. It is a paradise for migrant birds and thousands of them stay here over winter every year. It is also the origin of the Ancient Tea Horse Road.
Despite being called Lashihai (Hai means sea), it is actually a lake cut off by Lashi Dam. Lashi is a word in ancient Naxi language, meaning a "new desolate dam". The lake was formed in the Pliocene epoch and is around 5,330 hectares (20 square miles). It is on an altitude of about 2,437 meters (7,995 feet). Because of the lake, the wetland nature reserve was established in 1998.
Now Lashi Lake is famous for viewing migrant birds by boat and also experiencing the Ancient Tea Horse Road on horses.
Viewing Birds by Boat
Annually, 30 thousand of about 57 species of birds come here during winter. Among them, nine species are endangered, such as the bar-headed goose, black-headed crane and Chinese Merganser. The best time for bird viewing is in December. Even when there are no birds, boating is still worth trying due to the beautiful scenery around the lake.
Enjoying the Ancient Tea Horse Road on Horse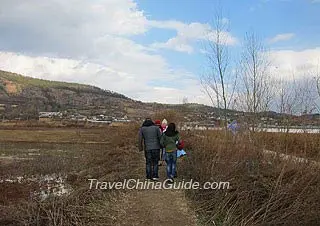 Part of Ancient Tea-Horse Road
Riding to experience the Ancient Tea and Horse Road is the other must-try activity to get close to the local special culture. The ancient Tea and Horse Road, similar to the Silk Road, was an important trading route in the southwestern part of China and the horse was a significant form of transport on this route. Different from the tall and big horses on the grassland, the horses in Yunnan are small, but good at long-distance transporting. Consequently, it may feel different during the ride.

Presently, only a small section of this old road is available for traveling. Visitors will pass some Naxi villages, virgin forest, the Beauty Spring (Mei Quan), the Holy Well Source, the Cliff Dying for Love and the Seven Fairies Lake.

Beauty Spring & Holy Well Source & Seven Fairies Lake
The water in Beauty Spring, the Holy Well Source and the Seven Fairies Lake is the melted snow from Jade Dragon Snow Mountain. The local Naxi people's daily life is based on the Beauty Spring. The Holy Well Source is a holy place for Naxi people's sacrifice. The Seven Fairies Lake is the end of the current tea-horse road. This lake is the source of Beauty Spring and Holy Well Source, as well as the water source of Lijiang Ancient Town. The water flows to this lake and then separates into different branches to Lashi Lake and Lijiang.
The Cliff of Dying for Love
The Cliff of Dying for Love faces the
Jade Dragon Snow Mountain
. The cliff is named so, because many corpses of those dying for love can found at the cliff's bottom. There is a beautiful story concerning this cliff. It is said that a long time ago, one loving couple could not get married because of the families' opposition. As a result, they decided to jump off the Spruce Plateau. They felt tired on the way to the plateau, so they just jumped off the cliff here, hand in hand. To commemorate them, the cliff was named as Cliff of Dying for Love.
Nearby Zhiyun Temple
In addition to these popular activities, the local Zhiyun Temple, a quiet place without crowds, is a great option for travelers. The temple is located to the north of the Lashi Lake. Built in 1727, it was the residence of two Living Buddhas and has five yards now. Except for some Buddha statues, visitors can find many daily use items of the Living Buddha, such as clothes, bronze seals, ivory chopsticks and clothes for religious rites. A gingko, an old pine tree and an oriental cherry in the yard all witness the development of this temple. The temple now has free entry.
How to get to Lashi Lake
1. Take bus 31 or 32 from Lijiang Old Town to Shidi Gongyuan.
2. Or hire a car to Lashi Lake. The car trip takes about 30 minutes and the fare is around CNY 30 to 50.
| | |
| --- | --- |
| Entrance Fee | CNY 20 |
| Opening Hours | 8:00 - 17:00 |

Tips: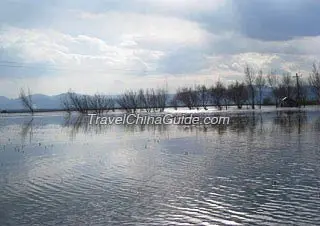 1. For hiring a car, you are advised to order directly from the owner of the hostel, or book with a reliable local tour agency. Their services usually include the car to the lake, horse riding and bird viewing tours. Booking with them directly will save money and avoid you being cheated.
2. If you take a bus to the lake on your own, you need to find horse ranches and some boats in the lake independently. There are 18 ranches, so you need to bargain when making choice. (This method is not suggested, because it is too difficult to tell which one is best.) For bird viewing, you need to rent a boat. Now, each ranch can provide three horse-riding lines and one boat line. The horse-riding charges CNY 200-360, the boating charges no more than CNY 200.
3. Hiring a car to Zhiyun Temple for a single journey costs about CNY 25.
4. Travelers who want to ride need to bring some clothes easy for riding. Put your personal things and valuables in a safe place. You must listen to the grooms' orders. Please hold the rain tight to avoid falling off when the horse is running. Sunglasses and sun cream are necessary.

Top 10 Things to Do in Lijiang
- Last updated on Mar. 22, 2021 -
Questions & Answers on Lashi Lake
Asked by Aaron from SINGAPORE | Dec. 07, 2015 10:35

Reply
How do I travel around Lashi Lake? By bicycle or scooter?
Answers (1)
Answered by Kina from TURKEY | Dec. 07, 2015 21:10

0

1

Reply
Hey, Aaron. It is best to ride a horse to tour around, which takes around 3h to the origin of the lake. I didn't see scooters, and bike riding may not be that pleasant because the road conditions in some sections are just so so.
Asked by Masyita | Nov. 15, 2015 09:36

Reply
How to go to Lashi Lake from Lijiang Old Town?
And how much it costs? Is it okey to visit during winter?
Answers (1)
Answered by Alisa from CANADA | Nov. 16, 2015 02:24

1

0

Reply
It is best to take a taxi to arrive and the fare is CNY30-50. And it is fine to travel in winter, during Dec. amd Feb. when you will see many birds.